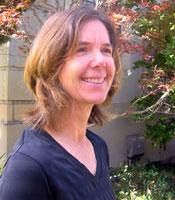 Research Corporation for Science Advancement has named Occidental College Chemistry Professor Eileen Spain a Cottrell Scholar in recognition of her status as an outstanding teacher-scholar with an excellent record of research.
Most Cottrell Scholars are chosen from the ranks of faculty at large research universities; professors from small liberal arts colleges like Occidental make up less than 10 percent of those chosen for the honor.
Spain, who teaches quantum mechanics, spectroscopy and nanochemistry and studies various physical and chemical interfacial phenomena, is no stranger to national recognition: she was honored in 1997 by a Presidential Early Career Award for Scientists and Engineers from the National Science Foundation in 1997 and was one of seven chemistry professors to receive a 2003 Henry Dreyfus Teacher-Scholar Award.
Spain was eligible for the Cottrell award because she previously received a RSCA early career grant through the Cottrell College Science Award program in 1995, just as she started teaching at Oxy. Until just recently, only those early career grant recipients who worked at Ph.D.-granting institution were eligible for the honor. RCSA has expanded the program to include faculty working at what are known as primarily undergraduate institutions, or PUIs.
"As a Cottrell Scholar I will have an equal opportunity to apply for additional Cottrell awards now available under the enhanced program," Spain says. "I am very gratified with this national honor and look forward to the opportunity to apply for specialized grants and to serve in an advisory capacity with this accomplished group of physicists, chemists, and astronomers." 
Cottrell Scholars are regularly invited to attend the annual Cottrell Scholar Conference in Tucson and can participate in the activities of the CS Collaborative, a cross-disciplinary network of Cottrell Scholars who work in teams on educational projects with potential high impact.
"The CS program would not be complete without participation of this exceptionally talented group of established PUI faculty who, after receiving CCSA support, were nationally recognized with other prestigious teacher-scholar awards from several foundations and professional organizations," said RCSA Program Director Silvia Ronco. "It is our honor to have this distinguished group join the Cottrell Scholar community. Undoubtedly, the program will benefit enormously from their diversity of perspectives and opinions."