Submitted by kwall_admin on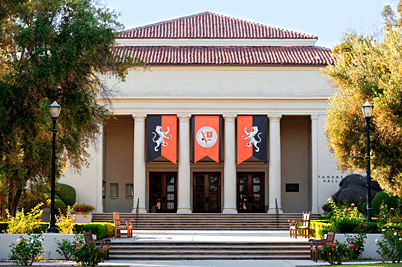 April is already showering Occidental students with prestigious awards.
Physics and chemistry major Anton Molina '15 of Daly City has received a 2014 Barry M. Goldwater Scholarship, and biology major Kalia Bistolas '15 of Wilsonville, Ore. and kinesiology and chemistry major Maya Herzig '16 of Vancouver, Wash. received honorable mentions.  Molina is the 36th Oxy student to win a Goldwater since 1990. The scholarship is for sophomores and juniors who plan to pursue careers in mathematics, the natural sciences or engineering. The award covers up to $7,500 annually for undergraduate tuition, fees, books and room and board. 
Christina Seyfried '15, an economics and diplomacy and world affairs double major has been selected as a Davis Project for Peace recipient. Seyfried and a peer from another academic institution will work in Ghana this summer implementing their project, Let There Be Light. The project will involve planting one hectare of Jatropha curcas, a plant native to the American tropics that produces seeds with an oil content of 37%. The oil from the plant's seeds will be used to create bio-fuel to use for sustainable energy for the school in the town of Kadelso. The venture will also provide employment for some of the town's residents. The award is open to first-year students through graduating seniors.
In addition, Mario Castillo '13 of Downey, a diplomacy and world affairs major, has been awarded the Humanity in Action Fellowship. The fellowship brings together an international community of college students and recent graduates to explore different national histories of discrimination and resistance to injustice as well as examining other contemporary issues affecting minority groups. Castillo will participate in a month-long program in Europe this summer.
Finally, Henry Dickmeyer '15 of Seattle, an economics major, has received the American Educational Research Assn. Fellowship Award. This is only the second year the AERA has provided these undergraduate fellowships, which include conference registration, accommodations and meals and other outreach experiences. Dickmeyer is on his way to the AERA Undergraduate Student Education Research Training Workshop, which will be held from April 3 to April 5, 2014, in Philadelphia.