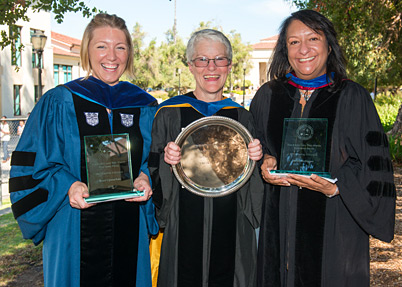 Two of Oxy's top teaching prizes have been awarded to three faculty members selected by their peers and by students for their outstanding work in the classroom, in conducting research, and in the life of the College.
Biology Professor Gretchen North is this year's winner of the Graham L. Sterling Memorial Award. Established in 1972 in memory of former trustee Graham Sterling, the Sterling Award is bestowed each year on one or more professors with a distinguished record of teaching, service, and professional achievement, as selected by faculty colleagues.
"Gretchen's scholarly record is truly remarkable," said Dean Jorge Gonzalez, who presented the awards at Convocation. "Her recent publications have been cited more than 100 times, including articles that featured her students as co-authors. She truly embodies the qualities we seek in a professor, colleague, mentor, and friend."
Psychology Professor Jaclyn Rodriguez and Associate Professor of Religious Studies Kristi Upson-Saia are the winners of the 2012 Linda and Tod White '59 Teaching Prize. Established in 2008, the White Prize is awarded based on the votes of sophomores, juniors and seniors, who are asked to nominate teachers who have the ability to engage students and increase their learning, as well as showing a real concern for individual students.
"Students love her teaching," Gonzalez said of Rodriguez, who has served as associate dean and remains director of the Interdialogue Program.  "They find her challenging but incredibly sympathetic. They often speak of how her classes gave them a voice that they have never had before."
Students also rave about the enthusiasm Upson-Saia brings to her subject, the history and literature of early Christianity, and the rigor of her courses, Gonzalez said. "They say they work harder for her than they have ever worked before, and they find it inspiring."