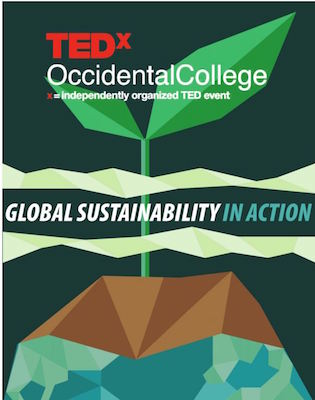 Global development and sustainability issues will be the focus of Occidental College's April 2 TEDx conference, a day-long student-run event on the Occidental campus. 
The conference – Occidental's second TEDx event – will bring together speakers for a variety of disciplines to discuss their ideas on how the international community can harness the rapid acceleration of change to address our most pressing issues, from human rights violations and climate change to poverty. 

This year's conference will feature six external speakers: Ani Zonnedveld, founder and president of Muslims for Progressive Values (MPV); Jedidiah Jenkins, executive editor of Wilderness Magazine; Carlos L. de la Rosa, field biologist and director of Costa Rica's La Selva Biological Station for the Organization for Tropical Studies; producer, director, and writer Joan Scheckel; Kenyan photo-activist Boniface Mwangi; and Valerie D'Costa, head of infoDev at the World Bank.
In her talk "Islam: As American As Apple Pie," Zonnedveld will speak about how MPV, her grass-roots, faith-based human rights organization, advocates for a balanced lifestyle that intertwines American and Islamic values. Jenkins will explain the science behind time perception in discussing "How to Slow Down the Passing of Time."
In his talk "Bioliteracy and Sustainability: Can't Have One Without the Other," De la Rosa will discuss the need for worldwide bioliteracy to maintain a harmonious relationship with the environment. Mwangi will discuss how "Love is the Answer" through his own vivid photographs, while D'Costa will discuss how and why we should consider the opinions of those most in need when creating solutions in her talk "Think Circles, Not Pyramids." More information is available on the TEDx conference website. 
Five Oxy students and one faculty member also will be speaking: geology major Donovan Dennis '16 from Great Falls, Montana; economics and diplomacy and world affairs (DWA) double major Emily Linebarger '16 from Tahlequah, Oklahoma; biophysics major Noorsher Ahmed '17 of San Jose; DWA major Gaea Morales '18 from the Philippines; undeclared Jacques Lesure '19 from Stone Mountain, Georgia; and Myralyn (Mimi) Nartey, an adjunct faculty member in urban and environmental policy.
"I have grown immensely from this experience," says Linebarger via email. "Writing a TEDx talk is a very personal, raw experience, and I've had to ask myself some very difficult questions in the process. I think I've become more humble, more brave, and more self-critical than I was before."
This year's conference is made possible due to a dedicated team of three faculty advisors and 12 Oxy students. Other than faculty advisor Sanjeev Khagram, John Parke Young Professor of DWA, and 2014 Occidental TEDx speaker Sherry Dean, Sr. Fellow-Young Initiative professor of DWA, this year's TEDx team is completely new. Faculty advisor and license holder Sophal Ear, associate professor of DWA, joins Dean and Khagram on the team. The student team consists of biology major Emiko Schwab '16 from Garden Grove; critical theory and social justice (CTSJ) major Gabrielle Seiwert '17 from Chicago; art history and visual arts (AHVA) major Josephine Pesce '18 from Astoria, New York; DWA major Nikolai Birch '18 of Mill Valley; economics major Ty Hranac '18 of Seattle; American studies major Jemma Parsons '16 of Ojai; DWA major Adrianna Housman '18 from Staten Island, New York; DWA major Sam Kowitch '18 of Portland, Ore.; mathematics major Nicole Lin '18 from Guangzhou, China; undeclared major Abel Tiong '18 from Singapore; Aabha Sachar '19 from United Arab Emirates; and Jessalind Tsui '19 of Honolulu.
"TED and its mission have always been very dear to my heart," says Tsui via email. "The power and inspiration TED talks have brought to my community and me have been truly empowering and life changing. And so to have the ability to extend this wonderful organization that promotes the generation of ideas and positivity to the Oxy community was an opportunity I simply could not miss."
TED, a nonprofit organization, started in 1984 by bringing together leaders in the fields of technology, entertainment and design. After its initial success, TED expanded its platform to the local level with the TEDx conferences. The TEDx conferences allow students and local leaders in various fields to share their ideas on a wide range of issues. Currently, the global program has more than 30,000 TEDx events in 130 different countries in its library.  

"You'll learn a lot about things you wanted to know, and even more about things you didn't know existed," Linebarger says. "I can guarantee that you will leave [the conference] a changed person."
The conference will take place in Choi Auditorium and the McKinnon Center for Global Affairs in Johnson Hall from 9 a.m. to 4 p.m. Tickets are $10 for Oxy students and students from other institutions and $20 for Oxy faculty/ staff members and external attendees. Tickets are currently on sale in the Academic Quad from 11:30 a.m. to 1:45 p.m. Monday, March 28 to Friday, April 1 and online.