Submitted by kwall_admin on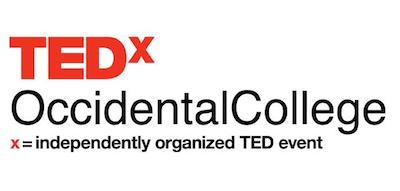 TEDx is coming to Occidental on March 29. Join leaders from Los Angeles and around the world as they engage with the Oxy community in a thought-provoking dialogue about "Reinventing the American Dream in a Global Age" at the all-day campus event.
TEDxOccidental 2014 will include short talks and TED Talks videos designed around the day's theme. "The American Dream has remained a concept centered on individual ambition, independence and success," said Alexander Urry '16, TEDxOccidental co-manager. "Yet today's world is increasingly shaped by communities, both virtual and physical, and notions of sustainability. Navigating this community-centric world forces us to ponder our individual definitions of success and how our personal goals relate to the world around us."
Funded by the Young Initiative for the Global Economy, Oxy's TEDx will gather leaders from various sectors to discuss this momentum toward greater connection and our future steps as a global community.
Speakers include entrepreneur and venture capitalist Dave Berkus '62; Occidental Assistant Dean for Community Engagement Ella Turenne, an artist, activist and educator; Alberto Retana, former director of community outreach for the U.S. Department of Education; Gamal Palmer, senior director of leadership development for the Community Leadership Institute of Greater Los Angeles; Dr. Richard Pestell, a leader in the global anti-cancer community; Peggy Liu, chairperson of JUCCCE, a coalition to accelerate the greening of China, and a member of the World Economic Forum's Global Agenda Council on Sustainable Consumption; and several current Occidental students.
On-site registration for the conference will begin at 8:30 a.m., followed by breakfast at 9. The TED Talks will begin at 10 a.m. The final event of the day will be a post-dinner celebration at 6:30 p.m.
You can pre-register here. The cost is $55 including meals, after-party and special swag bag.
For more information, go here.