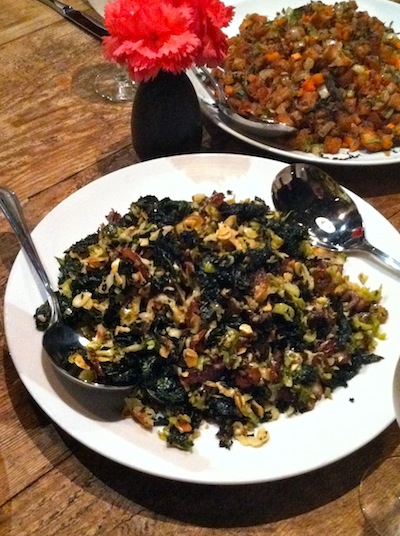 Restaurateur Catherine An '02 offers up two recipes for Thanksgiving side dishes she created with her mother, Crustacean executive chef Helene An: Roasted Brussels Sprouts With Roasted Kale, Almonds, Dates, Garlic and Wine Wasabi; and Mama's Sticky Rice Stuffing With Shiitake Mushrooms and Chestnuts. 
An found her psychology degree from Oxy a natural fit with her career co-managing her family's restaurants, which include Vietnamese fusion spot Crustacean in Beverly Hills (famed for its "Secret Kitchen") and Tiato in Santa Monica. "I think most people who are inclined to go into psychology have an interest in people, and it transfers over into the hospitality industry," she says. "So much of what I do is managing people, whether it's staff or dealing with clients, so I think it helps me there."
Adding that she has the psychologist's interest in helping people, An says, "In terms of the restaurant aspect of it, I get to help people by helping them eat in a healthy way, like making Brussels sprouts more interesting and tasty."
Roasted Brussels Sprouts With Roasted Kale, Almonds, Dates, Garlic and Wine Wasabi
"I invented this dish for Tiato restaurant because I wanted a really delicious healthy side that people could choose with any of their proteins," says An, managing partner in House of An and owner of An Catering and Tiato in Santa Monica, and the youngest of the five An sisters who manage the family's restaurants. "I think what makes it really special is the wasabi-lime sauce that gives it a little of that Asian kick and flair."
Wasabi Garlic Lime dressing:
1 1/2 cups water
1 cup sugar
1 cup lemon juice
1 tablespoon finely chopped garlic
1 tablespoon sambol chili paste
1 tablespoon white vinegar
1 pinch wasabi
Salt and pepper to taste
1. Combine all ingredients, shake vigorously and let sit. Shake again before serving.
 

Roasted Brussels sprouts:
2 lbs. Brussels sprouts
1 lb. kale
1/4 cup roasted sliced almonds
1/4 cup white wine
1 cup julienned dates
1 teaspoon finely chopped garlic
Extra virgin olive oil
Salt and pepper to taste
1. Saute kale with garlic, olive oil, white wine, and salt and pepper lightly, then roast in 350-degree oven and set aside.

2. Cut Brussels sprouts in half and toss with olive oil and salt, then roast in 350-degree oven. Wait until cool enough to handle, then julienne.
 

3. Combine all ingredients and toss lightly with dressing right before serving.
 
 
Mama's Sticky Rice Stuffing With Shiitake Mushrooms and Chestnuts
Note: This recipe is for a 10-pound turkey, but also works well for stuffed chicken (for chicken, reduce all ingredients by half).
"Sticky rice with Chinese sausage has always been a family favorite," explains An. "It was my grandfather's favorite thing to eat, my father's ... so every holiday we have sticky rice. In Vietnam, we stuffed it in chicken or geese. Once we came to America and Thanksgiving was the culture, we adapted it and did it for turkey. Growing up, it has always been my favorite holiday thing to eat, whether for Thanksgiving or Lunar New Year."
An adds that her mother, Helene, "loves adding the chestnut because it's sweet and healthy. She also likes sticky rice instead of bread because it's gluten-free."
2 cups dry black mushrooms (presoak in hot water for one hour)
2 ½ cups boiled chestnuts (cooked until tender)
4 cups boiled sweet rice, cooked well (also called Asian sticky rice or botan rice)
4 cups Chinese or Italian sausage (ground)
2 cups diced white onion
2 tablespoons finely chopped fresh lemongrass
1 tablespoon tapioca
½ cup olive oil
1 tablespoon oyster sauce
2 teaspoons pepper

2 teaspoons salt

1 teaspoon soy sauce
1. Sauté white onion in olive oil for about five minutes on medium heat until golden brown.
2. Turn off heat. Add black mushrooms, ground Italian sausage, chestnuts, lemongrass, oyster sauce, pepper, salt, and soy sauce to onions.
3. Mix all ingredients together evenly. Mixture is now ready for stuffing.
If you'd rather not cook, you can order these dishes and others, including turkey brined with citrus and home-grown Asian herbs, here or by calling (310) 866-5228 by Monday, November 19. "We'll give an Oxy discount," An promises.