Submitted by kwall_admin on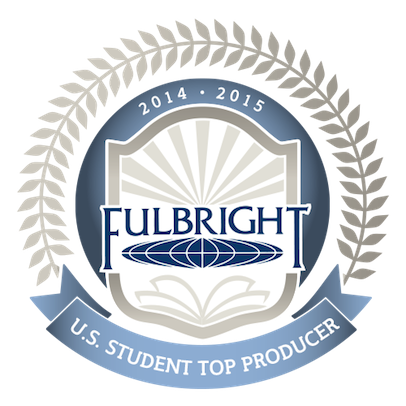 For the ninth consecutive year, Occidental College is one of the country's top producers of student Fulbright Awards, according to the Chronicle of Higher Education's annual Fulbright rankings. 
Thirteen Occidental College seniors and alumni won Fulbrights in 2014 to work and study abroad, breaking Oxy's single-year record of 12 set the previous year. The 13 are among the 74 Occidental students and alumni who have won Fulbrights since 2003.
Occidental ranks third overall among liberal arts colleges, according to the Chronicle rankings, tied with Amherst and Oberlin. Only Pitzer (19) and Smith (15) produced more Fulbrights last year.
Seven of the 2014 winners were awarded Fulbright study/research grants, the largest number ever awarded to Occidental candidates in one year. Nine recently graduated seniors received Fulbright awards, as well as four other alumni. Out of Occidental's 19 finalists (from an initial applicant pool of 55), two-thirds won awards.
In addition, it was the first year Occidental grads have won Fulbright grants to New Zealand and Switzerland. New Zealand only selects nine grantees each year, and Occidental seniors received two of those. Occidental seniors also received the College's first English teaching assistantship (ETA) grants to Greece and Ecuador.
"While this is very exciting news for Occidental College, and our Fulbright recipients, it also demonstrates the hard work, dedication and selfless amount of time our faculty give when working with national awards candidates," said Sue Pramov, Oxy's director of national awards.
The 2013-14 Fulbright candidates worked with an interdisciplinary group of program advisors—Huss Banai, assistant professor of diplomacy and world affairs; Chris Craney, professor of chemistry; Laura Hebert, associate professor and chair of diplomacy and world affairs; David Kasunic, associate professor and chair of music; and Clair Morrissey, assistant professor of philosophy—as well as a larger group of 38 faculty mentors.