Submitted by kwall_admin on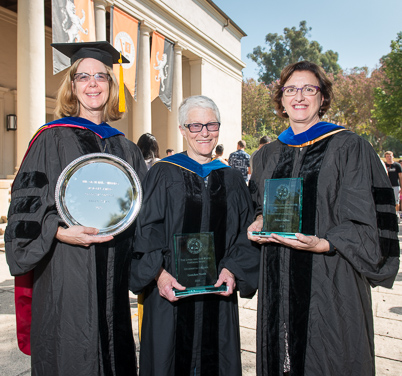 A chemist, an English major turned biologist, and a Spanish language scholar were presented with Occidental College's top teaching awards at the College's annual Convocation ceremony Aug. 26.
Chemistry Professor Eileen Spain received the Graham L. Sterling Memorial Award, while Biology Professor Gretchen North and Spanish and French Studies Professor Felisa Guillen were honored with the Linda and Tod White Teaching Prize.
Established in 1972 in memory of former College trustee Graham Sterling, the Sterling Award is presented each year to a professor with a distinguished record of teaching, service and professional achievement. The White Teaching Prize is awarded to faculty members nominated by students for engaging teaching methods and effective intellectual or scholarly mentorship. The prize is made possible by a generous gift from trustee emeritus Tod White '59 and his wife Linda White.
Spain, a member of the Occidental faculty since 1995, "has contributed to the College in many ways, not only with her remarkable teaching and record of service but with her impressive record of scholarship," said Dean of the College Jorge Gonzalez in presenting the award. "She is living proof you can spend your career at a liberal arts college and have a remarkable record of research."
Spain, who teaches quantum mechanics, spectroscopy and nanochemistry and studies various physical and chemical interfacial phenomena, is no stranger to awards. Earlier this year, Research Corporation for Science Advancement named her a Cottrell Scholar in recognition of her status as an outstanding teacher-scholar with an excellent record of research. Spain was one of seven chemistry professors to receive a 2003 Henry Dreyfus Teacher-Scholar Award and was honored in 1997 with a Presidential Early Career Award for Scientists and Engineers from the National Science Foundation.
An English major as a Stanford undergraduate who earned her Ph.D. in biology at UCLA, North was a Sterling Award winner in 2012.  "Her belief in her students' abilities lead them to achieve results they never thought were possible," Gonzalez said. " Her commitment to her students doesn't end when they graduate; they frequently come back and seek her advice. Her door is always open." North's research focuses on plant physiological ecology, with an emphasis on the water relations of arid-land plants and plants in the rainforest canopy; she also investigates cellular and subcellular mechanisms of plant water uptake and transport. She has taught at Oxy since 1997.
Guillen, who teaches courses in Spanish and in medieval, Renaissance, and baroque Spanish literature, also is a classroom veteran, having taught at Occidental since 1990. "She is committed to helping every one of her students," Gonzalez said. "Many first-generation students remark on her critical role in their success. Her student rave about her ability to make them work very hard … She also is passionate about community engagement." In 2009, Guillen was awarded a Teaching Development Fellowship from the National Endowment for the Humanities for a project titled "Links to the Past: A Digital Connection to Spain's Literary History." A graduate of the University of Madrid, she earned her doctorate at UC Santa Barbara.