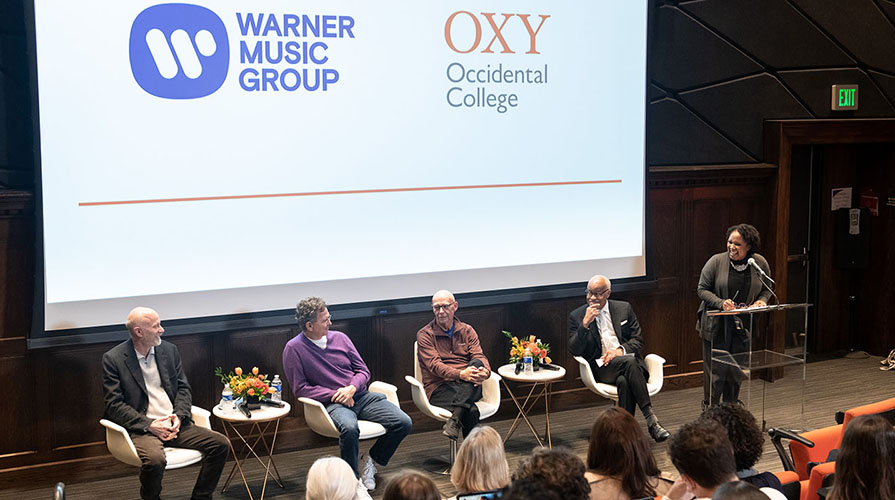 Three top executives from Warner Music Group (WMG)—two Oxy alumni and a parent of a current student—provided insight into the rapidly evolving music and entertainment industry and offered some practical advice on how to break into the business in a March 28 panel presentation at Occidental.
More than 100 students and young alumni filled Choi Auditorium to hear WMG CEO Steve Cooper '68, WMG President of TV & Film & Live Theater Charlie Cohen '78, and Atlantic Records Chairman and CEO Craig R. Kallman P'25 give candid answers to questions from Occidental President Harry J. Elam, Jr., who moderated the panel.
At the end of the event co-sponsored by the Hameetman Career Center and the Occidental College Alumni Association, students and alumni–many of them majors in Oxy's growing Music and Media Arts and Culture departments– introduced themselves to the trio, asking questions and learning more about the two new WMG internships available to Oxy juniors and seniors.
All three executives agreed that the only constant in the entertainment industry is change. "The method of delivery to the consumer is constantly evolving and changing," said Cohen, a diplomacy and world affairs major and baseball player at Oxy. If your organization remains static "you are already digging your own grave," agreed Cooper, an economics major who graduated with honors.
"We can already see the world evolving to something far more interactive … so we're already investing heavily in all these related technologies and related fields," Cooper continued. "You literally have to be able to start looking over the horizon if you want to be successful in the long haul."
As far as practical advice, Oxy students interested in entertainment already have an advantage, Cohen said. "You couldn't be in a better city. Los Angeles is still where most of Hollywood is centered." Both he and Kallman urged students to take advantage of the Oxy network (which also includes such figures as Oscar-winning producer Lindsey Collins '94, music attorney John Branca '72, Ashly Burch '12 [who the
Washington Post
calls "the most prominent woman in video games"], musician Nite Jewel [Ramona Gonzalez '09], entertainment attorney Bob Johnson '77, music and entertainment manager Ian Montone '89  and up-and-coming director Cooper Raiff '19.)
When researching colleges for his son, who also is interested in music, the fact that Billboard ranks Oxy's music production program as one of the best in the country helped steer him toward Eagle Rock, Kallman said.
All three urged students to persevere. "In all instances, there's something to be said for brains combined with persistence," Cooper said. "A lot of people give up way too easily. You can learn a lot more from rejection than acceptance. I encourage everyone to be really, really persistent."
It's not an easy business, he added. "At Warner, while it's a very welcoming organization, we expect the best out of everybody every day of the week. It's tough to become the best, and it's even tougher to stay there. ... You've got to have an incredibly strong desire to be the best, to be hardworking, persistent, ask for help and acknowledge your mistakes. It's the only way we grow."
But it's worth it, all three agreed. "No day is the same—it's really an exciting environment," Cohen said. "I feel lucky. For me, music was the calling," Kallman added. "It's fun to go to work," Cooper said.