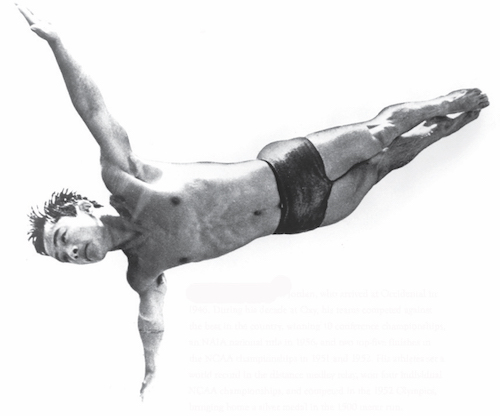 Dr. Sammy Lee '43, the first Asian American male to win an Olympic gold medal for the United States and an inaugural member of the Occidental College Athletic Hall of Fame, died on Friday at age 96.
Lee died of complications from pneumonia at a Newport Beach Hospital, his son, Sammy Lee II, told City News Service.
Lee, a pre-med chemistry major and All-American diver at Oxy, topped the 10-meter platform diving competition at the 1948 Olympic Games in London and added a bronze medal in springboard diving. He repeated as platform champion at the 1952 Helsinki Olympics, becoming the oldest diver to win a gold medal and the first American to win consecutive gold medals in platform diving.
A doctor and ear, nose and throat specialist, he served in the U.S. Medical Corps for eight years, including multiple tours in Korea (South Korean President Sygman Rhee was a patient). He went on to a distinguished coaching career, heading the 1960 U.S. Olympic swim team, the 1964 Japanese and Korean teams, and coaching Olympic medalists Pat McCormick, Bob Webster, and Greg Louganis.
Born in Fresno to Korean immigrants, Lee grew up in Highland Park. As a boy, he was once confronted by neighbors who demanded that he and his family move out. He remembered a friend, a German immigrant, telling them, "One day, you'll be proud the Lees were your neighbors."
His Olympic dreams began as a 12-year-old, when he was inspired by the 1932 Olympic Games in Los Angeles. After graduating from Franklin High School, he enrolled at Occidental (his sister Elizabeth was a 1937 Oxy graduate, and his father had attended the old Occidental Academy in 1908-09). Lee dominated conference competition for four years, graduating undefeated, and won the national AAU diving championship in September 1942. Both the 1940 and 1944 Olympic games were cancelled because of World War II, so it wasn't until 1948 that he was able to compete in his first Olympics. (You can see a 2012 interview with him here.)
Over the years he received various appointments from Presidents Eisenhower, Nixon, Ford, Carter and Reagan, including the President's Commissioner on White House Fellows, the President's Council on Physical Fitness and Sports, and Presidential Representative to the 1956 Melbourne Olympics, 1972 Munich Olympics and 1988 Seoul Olympics.
In 1968 Lee was elected to the International Swimming Hall of Fame, followed by his induction into the U.S. Olympic Hall of Fame in 1990. He was a member of the inaugural group of athletes inducted into the Occidental Athletic Hall of Fame in 2012.
He is survived by his wife of 66 years, Rosalind; his daughter Pamela '77, her husband Wesley Ayers and grandson Samuel Ayers; and his son Sammy '82 and wife Gina, grandson Alexander, and granddaughter Samantha.
A celebration of the life of Dr. Sammy Lee will be held on Saturday, January 14 at 2 p.m. in USC's Town and Gown Ballroom, 665 Exposition Boulevard, Los Angeles. The Lee Family has asked that memorial gifts be made to Occidental's new Aquatics Center project, which is expected to break ground next year. Gifts can be made online. (Under "Designation," choose OTHER and write in Sammy Lee.)