Submitted by kwall_admin on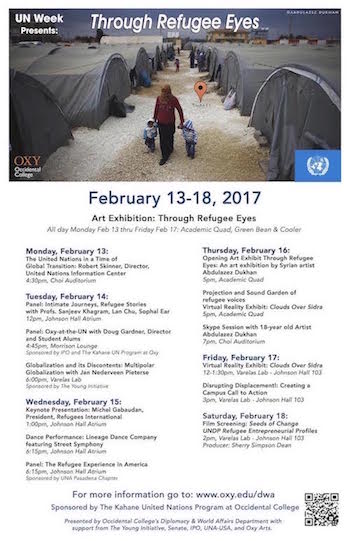 A virtual version of a refugee camp created by an 18-year-old Syrian refugee artist now living in Greece will be the centerpiece of United Nations Week at Occidental College February 13-18.
Artist and photographer Abdulazez Dukhan fled Syria in 2015, traveling through Turkey to Greece, where he now lives in a refugee camp. A portion of his "Through Refugee Eyes" project will be on display Feb. 16, when he is scheduled to speak via Skype to students at 7 p.m. in Choi Auditorium.
In addition to near life-size replicas of his images of refugees printed on fabric, the virtual camp experience in the Quad, Samuelson Pavilion and the Green Bean Coffee Lounge will include a gallery of his works displayed on easels and a slide show of his art. Participants walking through the Quad will have the opportunity to experience the sights and some of the sounds of camp life from 4 to 9 p.m.
The installation has been curated by artists Sherry Simpson Dean, Miranda Cristofani, Theresa Kennedy and Andrea Capachietti, all local artists known for their worldwide humanitarian efforts expressed through media, arts and culture.
"We feel our theme for the week, Through Refugee Eyes, is now more important than ever," says Dean, of Occidental's Diplomacy & World Affairs Department.  "We will be addressing the Syrian refugee crisis, one of the most prominent issues facing the international community, in an effort to shed light on the injustices being inflicted on the most vulnerable."
In addressing the crisis, "We wanted to communicate messages directly from refugee populations, emphasizing art and culture, while providing high-level speakers on policy and rapidly unfolding legal issues," Dean says.
Other U.N. Week events include:
A lecture on "The United Nations in a Time of Global Transition" by Rob Skinner, director of the U.N. Information Center in Washington, D.C. Skinner will frame current U.S.-U.N. relations with emphasis on the new administration and expectations about how this transition will play out over the first year of the new Secretary Generals term. (4:45 p.m., February 13)
A discussion and Q&A with three professors from Oxy's Diplomacy & World Affairs Department -- Sanjeev Khagram, Lan Chu, Sophal Ear – who bring to their analysis of the refugee crisis their own personal experiences as refugees from Uganda, Vietnam, and Cambodia, respectively. (12 noon, February 14, McKinnon Center for Global Affairs)
A discussion of Oxy's Kahane United Nations program with program director Doug Gardner and past participants in the country's only residential undergraduate U.N. program. (4:45pm, February 14, Dumke Commons)
A keynote talk on the Syrian refugee crisis by Michel Gaubadon, president of Refugees International. President of Refugees International since 2010, Gaubadon previously served as the United Nations High Commission on Refugees (UNHCR) Regional Representative for the United States and the Caribbean. (11:15 a.m., February 15)
A performance by dancers from Pasadena-based Lineage Dance, a non-profit dance company founded to raise awareness of timely issues, accompanied by musicians from Street Symphony. (6:30 p.m., February 15, McKinnon Center for Global Affairs)
A panel discussion on the Refugee Experience in America with Farah Usa of the International Refugee Assistance Project (herself a refugee from Iraq, today a U.S. citizen) and Lizzie Foydel, New York-based policy counsel for IRAP. (6:45 p.m., February 15, McKinnon Center for Global Affairs.)
U.N. Week is sponsored by by Occidental's Kahane United Nations Program and presented by the Diplomacy & World Affairs Department with support from the Kahane Fund, The Young Initiative, International Programs Office, Oxy Arts, UNA-USA and IRAP.