Submitted by kwall_admin on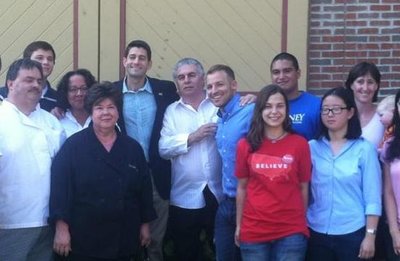 This fall, 33 Oxy students are learning in a classroom that stretches from Honolulu to Boston as they work full time for presidential and Senate candidates from both sides of the political aisle.  
They are participants in Campaign Semester, the only program in the country that offers a full semester of college credit for working on a political campaign.
Coordinated by politics professors Peter Dreier and Regina Freer, Campaign Semester gives Occidental students an opportunity to learn about political campaigns and elections through first-hand experience.
"Oxy's Campaign Semester students are getting on-the-ground training in the real world of politics," Dreier, the E.P. Clapp Distinguished Professor of Politics and chair of the urban & environmental policy department, said. "Some of their candidates will win, and others will lose. But either way, this will be a life-changing experience for many of them. They work harder than they've ever worked before, but they love the excitement, they learn new skills, and they learn that they can do things they never thought they could do."
The program is open to all Oxy students, regardless of major. (This year four majors are represented, from economics to Spanish literary studies.) Students work long hours for 10 weeks in one of 10 or 12 key "battleground" states of their choosing. Their participation involves a wide range of activities, including voter registration and turnout, volunteer coordination and media relations.
"Working on the campaign thus far has been a fun and educational process. I am excited each and every day, as I believe Mitt has a great shot of winning Ohio," said Jordan Dias '14, a politics major from Sylmar who is working with the Romney campaign in Columbus. "I have made phone calls, knocked on houses door to door, mailed out Romney merchandise, bracketed at Obama events, and performed data entry duties for the office. I am very thankful to have the opportunity to work on the campaign and I'm excited to impact the future of the United States."
Dias prizes the picture he had taken with Republican vice presidential pick Paul Ryan, who calls "the great Jack Kemp" '57 his mentor.
"I am having a great experience so far," said Karthik Raman '15 of Fremont, who is campaigning for Barack Obama '83 in Philadelphia. "I've been able to really see how the grassroots aspects of the campaign operate, and it's been really rewarding to be able to reach out to the community and see how much this campaign means to people." 
"I have only been here for a couple of weeks, and I have already learned so much," said Shannon O'Hara '15 of La Cañada, who is working for former Gov. Linda Lingle's GOP Senate campaign in Honolulu. "It's a very fast-paced job. I mostly work on the database system that keeps track of all the registered voters and supporters. On occasion, I will go to some events with the governor, which are always really cool because when I hear her speak, her inspiring words motivate me to work harder."
"I am a novice when it comes to politics and I knew I would learn more about politics working on a campaign than anywhere else," she added.
Mason Atkins '15 of Newbury Park is working in the campaign finance department of  Elizabeth Warren's Democratic Senate campaign in Boston. "We use an online database to store and access donor info that I am becoming very familiar with," he said. "I also send out envelopes with unsigned donation checks as well as prepare T-shirt and bumper sticker envelopes, like the field interns.  Mostly, my job is to assist the finance assistants in the planning of events for the campaign.  Generally these events raise $20,000 and up, with the number of guests ranging from 100 to 150 people." 
The internships will end on Election Day, after which the students will return to the Occidental campus for an intensive five-week seminar to put their campaign experiences in broader context. In addition to volunteering full time, the students compile a detailed weekly journal and, during the on-campus seminar, complete assigned readings, write a research paper based on the campaign (e.g. the role of the media, voting analysis), and give a public presentation of their Campaign Semester experience.
Campaign Semester got started in fall 2008 because so many students wanted to volunteer for the Obama presidential campaign. Nineteen Oxy undergrads ended up toiling in six states. "During the last two weeks, we were lucky if a 20-hour day was the norm," recalled Katie DeMocker '10, who was stationed in Arizona. But "I have never been more proud to be a part of anything in my entire life."
This is the third year Occidental has offered Campaign Semester; the last time was during the 2010 mid-term elections. In all, students are working for 10 different presidential and Senate campaigns in nine states.