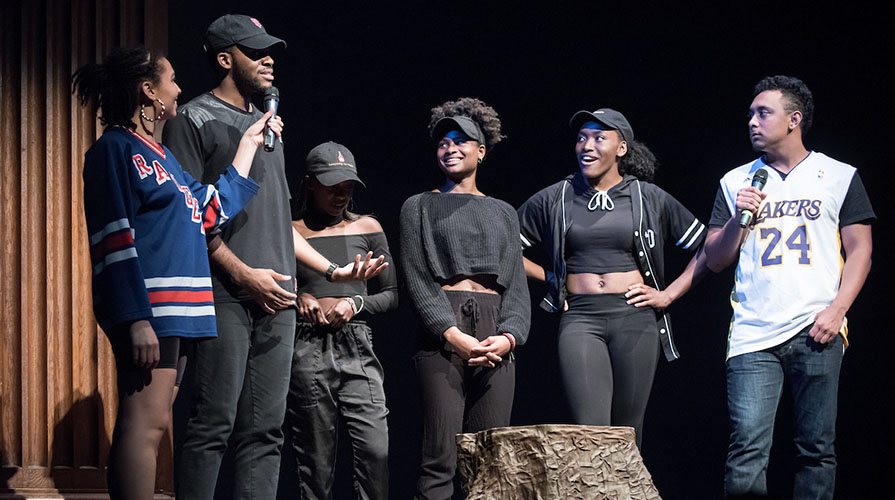 This year's Black History Month expands opportunities to virtually commemorate Black history and achievement, on campus and beyond.
Throughout the month, faculty, students, staff and alumni will be engaging in dialogue as part of the Intercultural Community Center's (ICC) Spring 2021 Discussion Series. Participants will learn more about racial bias, including how to mitigate it, through Jennifer Eberhardt's book Biased: Uncovering the Hidden Prejudice That Shapes What We See, Think, and Do. Small group discussions about the book will be facilitated by staff from the Division of Student Affairs and students who work as ICC Equity Ambassadors.
On January 28 at 4 p.m. PST, Dr. Monique Liston will give a talk titled "Anti-Blackness is Real, But Another World is Possible." Dr. Liston is an unapologetic Black woman who also identifies as a warrior scholar, joyful militant, evaluator, sister, and friend. She is the founder of UBUNTU Research and Evaluation, a professional learning community led by Black women. This event supports the initiatives outlined in Occidental's Black Action Plan, a multi-pronged approach designed to meet some of the most significant and persistent needs among our Black students, including how to address racial bias and implement anti-racist practices at all level of the College. The event is sponsored by ICC and the Division of Students Affairs. Register here.
The Oxy community is invited to join Adrienne Adams '18 for "Black Gay Mail," a discussion hosted by the Africana Research Cluster at USC on February 4 at 2 p.m. PST. Adams will moderate a panel on Transnational Postal Connections in the 1980s & 1990s with speakers Alan Bell, Ajamu X and Gregory D. Viktorianne. 
ICC and the Occidental Theater Department present a writing workshop for Black students titled, "Home as Space and Place" facilitated by Alex Tha Great (ATG) on February 9 at 4:30 p.m. PST. RSVP here.
Join the Institute for the Study of Los Angeles' (ISLA) scholar in residence, Dr. Alison Rose Jefferson, in collaboration with the Black Alumni Organization (BAO), on February 17 for a lecture on the civic commemorative justice project, Belmar History + Art with the City of Santa Monica that reconstructs the historic Black neighborhoods experience in the South Beach area. Following the lecture will be an interdisciplinary panel of scholars, memory workers, artists, and historians whose work engages with preserving Black life. Aaliyah Davis '17, BAO's archivist, will be moderating. Register for the event here.  
The Division of Student Affairs brings the "Defamation Experience" to Oxy on February 18 at 4 p.m. PST and all members of the Occidental community are invited. Attendees will witness a riveting courtroom drama by award-winning playwright Todd Logan and explore the highly charged issues of race, class, religion, gender, and the law—all before participating as the jury through facilitated post-show discussions. RSVP here.
The CORE program and SLICE are screening the documentary film, I Am Not Your Negro on February 18. In 1979, James Baldwin wrote a letter to his literary agent describing his next project, "Remember This House." The book was to be a revolutionary, personal account of the lives and assassinations of three of his close friends: Medgar Evers, Malcolm X and Martin Luther King, Jr. At the time of Baldwin's death in 1987, he left behind only 30 completed pages of this manuscript. Filmmaker Raoul Peck envisions the book James Baldwin never finished. More details to come.
This year's Black Alumni Association Stafford Ellison Wright Symposium welcomes Scholar-In-Residence Keisha N. Blain, a writer and historian at the University of Pittsburgh. Blain is also the president of the African American Intellectual History Society. The Symposium will include two events open to the public: a lecture by Blain on "Black Women and the Struggle for Human Rights" will take place on February 23 at 5 p.m. PST and a conversation between Blain and Professor Robin D.G. Kelley of UCLA titled "Black Internationalism and Radical Politics" will take place on February 25 at 5 p.m. PST.
A yearly tradition returns in a virtual format: the Black Student Association (BSA) presents Apollo Night on February 26. This is BSA's biggest event of the year and celebrates the talent of the Oxy community during Black History Month. Student performances will include singing, dancing, poetry and more, with winners receiving prizes. Students interested in participating should submit their work by February 19. For more information, follow the BSA Instagram account.
Emmons Wellness Center and Black Womxn Thrive will celebrate Black hair during the second annual "Love Your Hair" event on February 28. Students can learn various techniques (hair masks, oil treatments, protective hairstyles, etc.) to care for natural, curly, kinky, wavy, and coiled hair. This program will also discuss how hair care is part of self care. More details coming soon.
Throughout the month, Oxy's social media accounts will highlight some of Oxy's notable Black alumni. Follow us on Instagram and Facebook to celebrate their achievements and share in the Oxy pride.