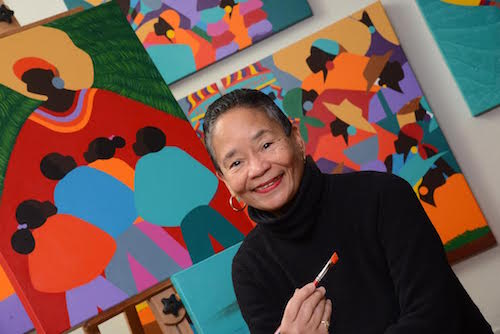 Award-winning multicultural visual artist, author, poet and educator Synthia SAINT JAMES will speak and sign copies of her books at a March 30 presentation at Occidental College.
A 4 p.m. meet-and-greet with the Los Angeles-based SAINT JAMES on Mosher Patio outside the Norris Chemistry Building will be followed by a 5 p.m. lecture in Mosher Hall and a 6 p.m. patio book signing and reception. All three events are free and open to the public. Prints of the artists' work will be on sale at the reception, and the artist has generously offered to donate 40 percent of all sale proceeds to student scholarships at Occidental.
SAINT JAMES is perhaps best known for the cover art for Terry McMillan's best-selling book Waiting to Exhale and Iyanla Vanzant's Acts of Faith, as well as her designs for the U.S. Postal Service's 1997 and 2016 Kwanzaa stamps (of which more than 300 million have been sold).
However, the self-taught artist – who sold her first painting while working as an accounts receivable clerk for a New York mortgage insurance company – also is the illustrator or author and illustrator of 17 children's books featuring her unique style of human figures without facial features depicted in vibrant colors.
Her work has been commissioned by The House of Seagram, Coca Cola USA, Maybelline, Barnes and Noble, AARP, Essence Communications, National Coalition of 100 Black Men, Glendale Memorial Hospital, and the YWCA of Greater Los Angeles, among other clients. Her paintings also have been displayed in several U.S. embassies overseas.
She also is the author of several poetry and affirmation books, a cookbook, a play and the autobiographical book titled Living My Dream: An Artistic Approach to Marketing (which was nominated for a NAACP Image Award in 2012). Her awards include the prestigious Trumpet Award, a Coretta Scott King Award, and an honorary degree from Saint Augustine's University. 
Books available for purchase and signing at the March 30 reception will include Creative Fixings from the Kitchen: Multicultural Delights; Honey Suckle Kisses; The I Wills According to Saint James: Book One; and Living My Dream.