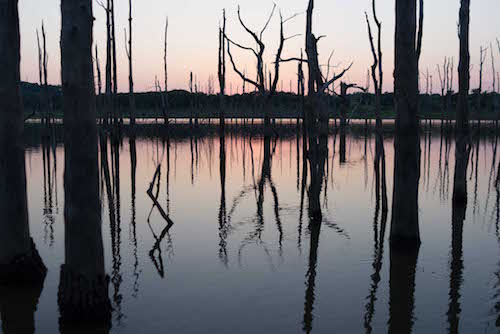 A Nov. 17 screening and discussion of Wah.shka, a video/photography collaboration between Indigenous artists Keli Mashburn and Marcella Ernest, will be the centerpiece of a special Native Heritage Month presentation at Occidental College. 
Wah.shka will be shown in Choi Auditorium in the McKinnon Global Center on the Occidental campus at 5 p.m. Nov. 17, with a public reception in the McKinnon's Center's Global Crossroads following at 6:30 p.m.
The presentation "will be a critically important contribution to the national dialogues concerning biocolonialism, Indigeneity, language retention and visual representations in a global context," says Nancy Marie Mithlo, associate professor of art and art history at Occidental and chair of American Indian studies at the Autry Museum of the American West.
Wah.shka, an Osage tribal word that means "to do one's best," is concerned with Indigenous rights and responsibilities in the face of increased urbanization and environmental destruction, Mithlo explains. As in the current case of Indigenous opposition to the Dakota Access pipeline in North Dakota, the general public often views the involvement of tribes in land development as an obstruction of property rights that inhibits economic development.
"To Native people, land is not about property and ownership in a Western sense, but is revered for its central role in the production and maintenance of social, economic and religious beliefs," Mithlo explains. "Land invokes language, song, belonging, rights, and cultural responsibility. Wah.shka uses art to express the ability of Native people to thrive through ceremony, traditions, and cultural connections, while creating a dialogue between tribal, state and federal governance and local populations to communicate cross-cultural values."
Mashburn, an Osage who uses experimental techniques to produce black and white photographic prints, and Ernest, an Ojibwe known for her experimental films and video performances, collaborated on Wah.shka to harness the power of Indigenous metaphors for living to provide inspiration and guidance not only for Native American communities but for communities globally.
Wah.shka is an extension of the successful 2015 Venice Biennial exhibit Ga ni tha curated by Mithlo and sponsored by the Native Arts and Cultures Foundation, the Canada Arts Council and The Osage Nation Foundation. Wah.shka will be featured at the 2017 Biennale, co-curated by Mithlo and Mary Bordeaux.
Event sponsors include the departments of Art and Art History, History, Media Arts and Culture, and Music, the Center for Community Based Learning, Office of Community Engagement, Institute for the Study of Los Angeles, Keck Program for Undergraduate Research, Mellon Arts and Urban Experience, Office for Equity and Inclusion, and the Remsen Bird Fund.