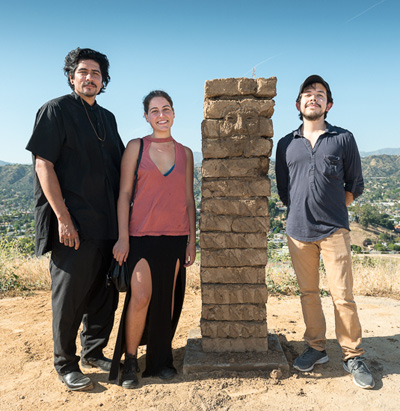 In an unusual artistic collaboration with students and staff, Wanlass Artist in Residence Rafa Esparza marked the culmination of his residency with the unveiling of his site-specific installation HERE Thursday in four sites on the Occidental College campus.
At each of the four locations – the highest point on campus, a patio, a lawn and an olive grove – Esparza erected columns of adobe brick that incorporate portraits of four members of Occidental's dining services and facilities staffs. The brick was made from campus dirt by the artist and Occidental students enrolled in two art classes, one taught by Esparza.
"Early on, I had this idea of finding a way of featuring the workers in facilities and dining services and the intimate connections they have to the daily life of the campus," Esparza said on the summit of Fiji Hill, where the unveiling began in front of a small crowd of students, staff and faculty.
Each sculpture was introduced by the student who conducted an oral history with the staff member portrayed – recordings now housed in the College archives. On Fiji Hill, Ana Victoria Alfonso '17, a critical theory and social justice major from Miami, introduced kitchen assistant Freddie Ortiz. "We shared a mutual enthusiasm about collaborating and creating something that celebrates Latino bodies and narratives," Alfonso said.
"I love this piece," Ortiz replied as butterflies flitted through the crowd. "It was a beautiful process to be able to communicate something that doesn't get shared that often. I'm grateful to have been a part of this project – it's super cool."
Down the hill on the Weingart Patio, Esparza erected a sculpture of Ana Margarita Calderón, for 30 years a member of the housekeeping staff, complete with a representation of the crocheting she works on during breaks. Maria Hernandez '19, a Latino/a and Latin American Studies major from Dallas, recalled in Spanish how as a homesick first-year student Calderón's smile and encouragement made a huge difference – as it has for generations of Oxy students.
"I'm very happy to be included," Calderón replied in Spanish. "This is a big thing for me, that students appreciate my work."
As part of the processional viewing, Esparza went on to unveil sculptures of housekeeper Claudia Mendoza on the terrace outside the Hameetman Career Center, and cook Lidia Esparza in the Olive Grove. Having the opportunity to learn more about Esparza's life was "sort of incredible and amazing," said César Martínez '17, a media arts and culture major from Los Angeles.
Esparza, a Los Angeles native whose work is featured in the Whitney Biennial in New York, works in a variety of mediums, including installation, sculpture, drawing, painting and performance. In his Occidental residency, titled Manos de Obra (Rituals in Land), he taught students how to craft adobe bricks, a skill he learned from his father.
The Wanlass Artist in Residence is a semester-long residency program that allows an artist to investigate aspects of their practice and share it with the College campuswide. The program encourages cross-campus collaboration and thoughtful sustained interaction between artist and students.
The Wanlass Artist in Residence Program is administered by Oxy Arts, the College's multidisciplinary arts initiative dedicated to engaging the Oxy community in socially conscious dialogue about contemporary arts practices. It is made possible by generous support from the Kathryn Caine Wanlass Charitable Foundation.