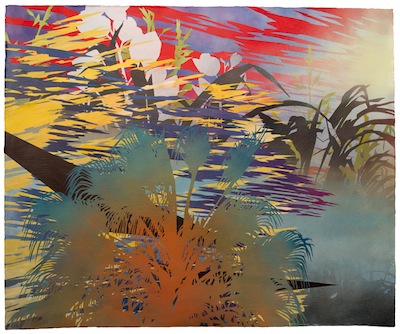 Occidental is pleased to present Devon Tsuno: Watershed, an exhibition of new work by emerging artist Devon Tsuno. 
Tsuno is a Los Angeles native who uses elements of the city's urbanscape to create signature iconography. The exhibition will be on view from February 5 through March 8 in the College's Weingart Gallery.
Watershed examines Tsuno's deep relationship with regional waterways, especially the San Gabriel and Los Angeles rivers and their tributaries. Through his research and experiences the artist, a lifelong local fishing enthusiast, developed an interest in the non-native plant life that has grown up in the waterways and has become part of the ecosystem. Tsuno photographs the various watershed elements and distills the images to form his highly layered paintings and prints.
A series of paintings, prints and artist books will be included in the exhibition. The paintings are created from a rich mix of media including acrylic and aerosol paints and handmade papers sourced from the Netherlands, India and Japan. Tsuno's most recent experimentations have resulted in a series of prints created with a risograph, a 1980s-era printing system designed for high-volume photocopying and printing that uses a technology similar to fax machines. Tsuno also has created a series of books in collaboration with Occidental's Book Arts classes exclusively for the exhibition using both risograph and letterpress techniques. The book project will evolve over the span of the exhibition. 
Devon Tsuno: Watershed is the first exhibition presented by OxyArts, Occidental's recently launched arts initiative. The exhibition on display from 10 a.m. to 5 p.m. Monday through Saturday, with a public opening reception on Wednesday, February 5 from 5 p.m. to 8 p.m. The Weingart Gallery is located on the Occidental campus at 1600 Campus Road in Eagle Rock.