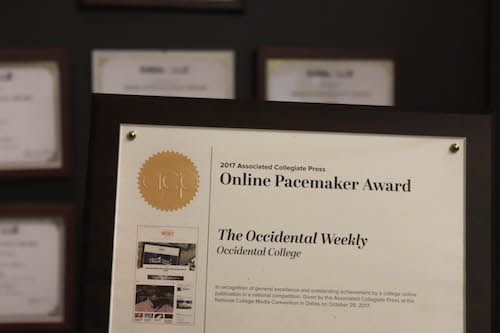 The Occidental Weekly once again has been awarded one of the country's top awards for college journalism in the Associated Collegiate Press' annual competition.
The Weekly was presented with the ACP's 2017 Online Pacemaker award, the only small liberal arts college among 14 winners that include online student newspapers at UCLA, the University of Michigan, the University of Minnesota, Syracuse and Penn State.

"It's an honor for The Occidental Weekly to shine among other colleges despite not having a journalism department," said Editor-in-Chief Flora Adamian '18, a diplomacy and world affairs major from La Crescenta. "I think this goes to show how important and useful the liberal arts education can be — we have the critical thinking, creative, and interdisciplinary skills to compete with huge schools that have extensive journalism programs."
"I'm incredibly proud of the passion and dedication that our staff members exhibit on a daily basis, and especially proud of last year's leadership (Wellesley Daniels '17 and Jane Drinkard '17) and our tech wizard, Yinbo Gao '18, without whom this award would not have been possible," Adamian said. "It's an incredible feeling to have our hard work validated and celebrated by a third party."
Each year, the Associated Collegiate Press presents collegiate journalism's preeminent award, the Pacemaker. There is category for each type of publication – online, newspaper, yearbook and magazine. Entries are judged based on a wide range of criteria: coverage and content, quality of writing and reporting, leadership, design, photography and graphics.
This is the second time in three years that the Weekly has brought home top honors in online college journalism, and the third Pacemaker award overall since 2012. The 2017 Pacemaker is the latest in a series of awards gathered by the Weekly, including recognition from the Society of Professional Journalists and the American Scholastic Press Association.

Founded in 1893, the Weekly is one of the oldest college newspapers in California. Weekly alumni include KPCC's Ben Bergman '04, currently a Knight-Bagehot Fellow at Columbia University Graduate School of Journalism; Andrea Elliott '96, Pulitzer Prize-winning reporter for The New York Times; Yvette Cabrera '94, investigative reporter for ThinkProgress, Washington, D.C.; and Steve Coll '80, Pulitzer Prize-winning reporter, former Washington Post managing editor, and current dean of the Columbia Journalism School.