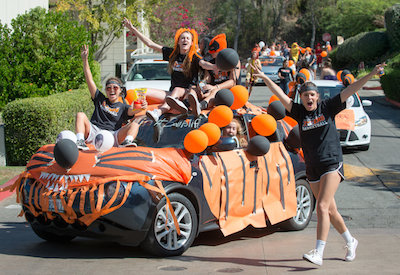 Please join us for a weekend celebration of the Occidental College family at Family and Homecoming Weekend, this Friday and Saturday, Oct. 16-17. 
Parents can share time with their students, attend sessions presented by the Oxy Parents Association and the Hameetman Career Center, cheer on the Tigers, attend a class and explore their students' home-away-from-home.
For alumni, family members and other fans, there are many opportunities to cheer on Tiger athletes, including the football game against Chapman University on Saturday night. You can also watch the men's soccer team take on Whittier, the women's volleyball team play Southwestern (Texas) and Caltech, and the men's water polo match against traditional rival Pomona-Pitzer.
Show up early on Saturday –- the Tiger Tailgate and Oswald's Carnival are sure to be great fun.
There's something for every Tiger in this weekend's diverse programming. Take part in a campus tour to see what's new, or one or more of our open houses, and attend How Oxy Works in 2015 to learn how Oxy's senior administrators approach their interesting and challenging work. And, of course, soak up the vocal stylings of the Glee Club at the Family Weekend and Homecoming concert.
While the academic year has just begun, you'll find students fully engaged in their academic career. Get a taste of college life by participating in Student for a Day, an opportunity to attend classes with students and find out what it's really like to be in the classroom at Oxy.
If you've toted along the little ones, Oxy Children's Theater is a sure hit (with those young at heart, too).
Throughout the weekend, Oxy staff and volunteers will be on hand to help. If we don't know the answer, we'll be able to find someone who does.
A full schedule and locations will be available at check in, as well as here. We look forward to seeing you on campus!