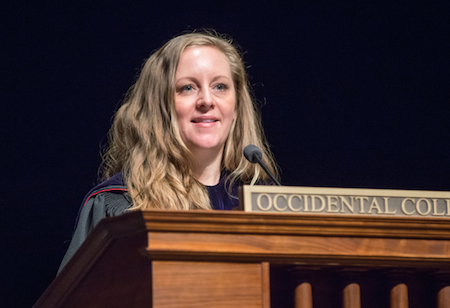 Occidental College sociologist Lisa Wade and her Nevada State colleague Gwen Sharp will be presented with the American Sociological Association's Distinguished Contributions to Teaching Award at the association's meeting in Chicago Aug. 22.
The prestigious annual award, which recognizes outstanding contributions to the teaching of undergraduate and/or graduate sociology, is being presented to Wade and Sharp for their work on the popular and widely cited Sociological Images blog.
"Gwen Sharp and I are grateful for the recognition from ASA and thrilled that sociologists find the website useful," Wade said.  "It is our hope that we make instructors' jobs a little easier and the classroom a little more vibrant for students. If that's what this award means, then we couldn't be happier."
Launched by Wade in 2007, Sociological Images now attracts more than 500,000 visits a month from scholars and the general public for its incisive analysis of what popular American culture reveals about gender roles, race relations, and other major issues.
The blog has its own Wikipedia entry, a Facebook page with more than 75,000 followers, and drawn wide praise. Sociological Images is "an insightful, thought-provoking site that can be used by sociology instructors and students in a number of key areas," said Teaching Sociology. The blog "is ruining my life," best-selling author and writer Peggy Orenstein quipped. "I can spend hours looking at their images tracking … well, everything."
The blog also has demonstrated its clout: An April 2011 post by Wade about the marketing of padded, "push-up" bikini tops to young girls prompted Abercrombie & Fitch first to change the market for the item, then remove the product from its website altogether after the post went viral.
This is not the first recognition for Wade and Sharp's work: they were awarded the 2012 Public Sociology award from the University of Minnesota's Department of Sociology, as well as the American Sociological Association section on Communications and Information Technology 2012 award for Public Sociology.
A graduate of UC Santa Barbara who earned her MS and Ph.D. from the University of Wisconsin, Madison, Wade is an associate professor of sociology at Occidental. Her research involves the relationship between social inequality and the body, especially as sexuality becomes a marker of difference and an arena of social control. She has published extensively on U.S. discourse about female genital cutting, has documented the dynamics of hook up culture, and considered the social significance of the body.  With Myra Marx Ferree, she is co-author of a much-anticipated and just-released textbook, Gender: Ideas, Interactions, Institutions.
She is also a regular contributor to Ms., Jezebel, and GlobalPolicyTV.  She has been quoted in the New York Times and on CNN and National Public Radio. She has appeared on MTV, been a guest on KPCC, and was named by about.com as one of "Five Superstar Women Sociologists You Should Know."
Wade was honored with the Pacific Sociological Association's Early Career Award for Innovation in Teaching Sociology in recognition of her creative and novel teaching methods, and is the recipient of Occidental's Linda and Tod White Teaching Prize.