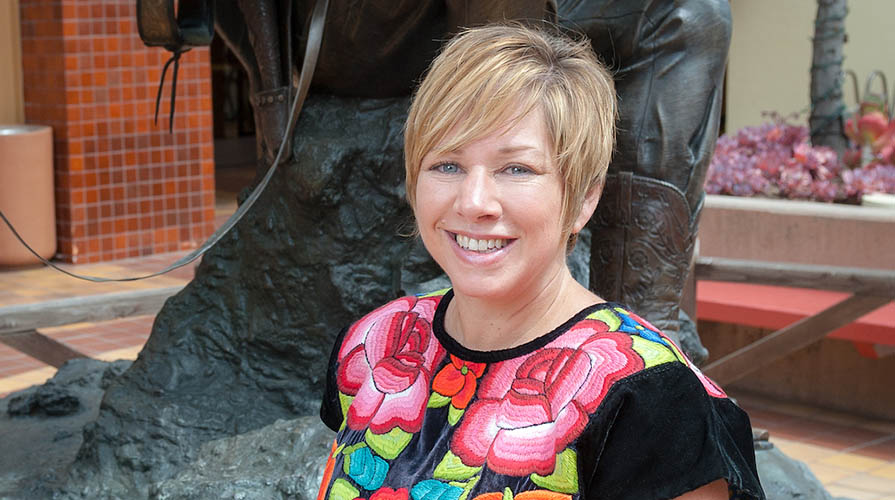 History Professor Lisa Sousa's groundbreaking social and cultural history of gender relations among indigenous people of New Spain has been recognized with top awards from the American Historical Association and the American Society for Ethnohistory.
The Woman Who Turned into a Jaguar, and Other Narratives of Native Women in Archives of Colonial Mexico (Stanford University Press, 2017) has been awarded the AHA's 2018 Friedrich Katz Prize in Latin American and Caribbean History and the ASE's Erminie Wheeler-Voegelin Prize for the year's best book of ethnohistory.
"I am honored that the book received these prestigious awards from the American Historical Association and the American Society for Ethnohistory," Sousa said. "I have been privileged and humbled to have worked in archives and communities in central Mexico and Oaxaca, and I am grateful to the many friends and colleagues in Mexico and the United States who shared their expertise and insights. I also appreciate the support of the College in sabbatical leaves and faculty travel grants that allowed me to conduct research and write the book."
In its citation, the ASE's Wheeler-Voegelin Prize Committee calls Sousa's book a "splendid achievement" and "a model of ethnohistory at its best."
"Employing an extraordinary range of sources, from pictographic to alphabetic manuscripts in three indigenous languages, as well as in Spanish, Sousa's methodology casts a comparative lens across more than 100 indigenous communities," the citation says.
"In so doing, she reveals that Native women were dynamic historical actors who retained marked degrees of agency in their everyday lives and households, even in the face of patriarchal critiques and intervention from the Catholic church. In graceful prose, this book—the first to engage the history of Mexica, Mixtec, and Zapotec women—extends itself beyond the immediate to offer a unique contribution to Native American history across the sixteenth, seventeenth, and eighteenth centuries."
The ASE presented Sousa with the Wheeler-Voegelin Prize at its annual conference in Oaxaca, Mexico, earlier this month.
The AHA's Katz Prize, which honors Friedrich Katz, an Austrian-born specialist in Latin American history, is awarded each year to the best book published in English focusing on Latin America and the Caribbean. Sousa will be presented with the award at the AHA's 133rd annual meeting in Chicago in January.
Sousa, who received her doctorate from UCLA, has been a member of the Occidental faculty since 1997. A specialist in colonial Latin America, indigenous peoples of Mexico and women's history, she teaches courses on colonial and modern Latin America. She recently completed an appointment as a Getty Research Institute Scholar in Residence.
Sousa is a co-translator and editor of The Story of Guadalupe: Luis Laso de la Vega's Huei Tlamahuiçoltica of 1649, a translation and analysis of the earliest Nahuatl-language account of the apparition of the Virgin of Guadalupe (Stanford, 1998). Sousa also co-translated and co-edited Mesoamerican Voices, a volume of Nahuatl, Maya and Mixtec language writings from colonial Mexico and Guatemala, published by Cambridge University Press in 2005.