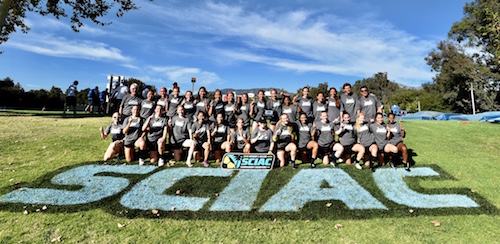 The Occidental women's soccer team's historic season came to an end in the first round of the NCAA Division III Playoffs Nov. 10. Chelsea Cole of Trinity (Texas) broke a 0-0 tie in the 52nd minute with the game's only goal at Hardin-Simmons University in Abilene, Texas.
"We gave the No. 13-ranked team in the country a scare," Oxy head coach Colm McFeely said. "We had a few chances and had we put one away, it could have a different outcome. I'm so proud of this team and the tremendous season they produced week after week--and there's more to come."
Oxy advanced to the NCAA Tournament for the first time in program history by beating Pomona-Pitzer in a penalty shootout for its first SCIAC Tournament Championship in program history.
Oxy's run earned the team several SCIAC awards. McFeely and his assistant coaches (Jaime Acuna, Tayler Renshaw, Amanda Mills, Kellee Murayama, Robert Jorgensen and Grace Sponaugle) were named the SCIAC Coaching Staff of the Year.
Isabella Bonomi '22 of Palo Alto was named the SCIAC Newcomer of the Year, Karla Alas-Lopez '20 of Reseda, Nicole Castro '19 of Mill Creek, Wash., and Sydney Tomlinson '19 of Bellevue, Wash., were named First Team All-SCIAC, and Elleni Bekele '20 of Long Beach was named Second Team All-SCIAC. Tomlinson was also named SCIAC Tournament MVP for her work in leading the Tigers to road wins over Cal Lutheran and Pomona-Pitzer.
Oxy played outstanding defense all season, giving up just six goals all season. The Tigers finish the year with a 10-3-5 overall record.
The playoff game against Trinity was mostly evenly played with each team getting 10 shots. Layla Devlin '22 of Brooklyn, N.Y., had a good header on the net to try to tie the game in the 62nd minute on a set piece, but it was saved.
Moments later Devlin played a through ball to Bonomi that she couldn't quite catch up to in time to have a 1-on-1 with the Trinity goalkeeper.