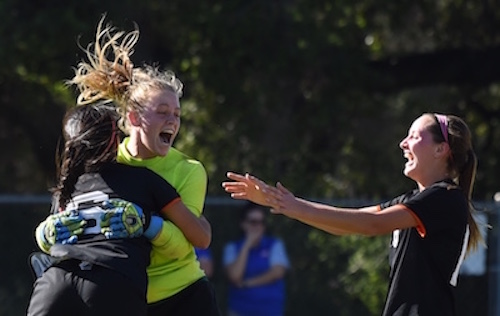 It will be the Tigers vs. the Tigers this Saturday as the Occidental women's soccer team takes on No. 16 Trinity (Texas) in Abilene, Texas in the first round of the NCAA Division III Playoffs.
The 1:30 p.m. PST game at host Hardin-Simmons University will mark Oxy's first-ever appearance in the NCAA playoffs. Oxy won its first SCIAC Tournament Championship in program history in a penalty shootout at Pomona-Pitzer on Nov. 3, earning the SCIAC's automatic bid to the Division III playoffs. Oxy has a record of 10-2-5 overall and finished second in SCIAC regular season play at 8-2-4.
If Oxy wins on Saturday, it will play the winner of the Puget Sound and No. 7 Hardin-Simmons match on Sunday at 1 p.m. PST.
Playing just hours after the women clinched their spot in the playoffs, Oxy's men's soccer team came up a little short in their bid to do the same thing, falling 1-0 to Chapman in the SCIAC Tournament championship game in Kemp Stadium.
It was a bittersweet ending for the men, who finished their outstanding season as the first Oxy men's squad to advance to the SCIAC Tournament final with a record of 14-6 overall.
On the women's side, the first round matchup between the Oxy Tigers and the Trinity Tigers will be a defensive battle. Oxy has given up just six goals on the season and Trinity (16-1-1 and undefeated in conference play) has given up only one.
The Tigers are led by senior co-captains and All-SCIAC selections goalkeeper Sydney Tomlinson of Bellevue, Wash., and midfielder Nicole Castro of Mill Grove, Wash., both of whom played key roles in the victory over the Sagehens. Tomlinson was named the SCIAC Tournament MVP.
It took 110 minutes and a penalty shootout before the Tigers could put away Pomona-Pitzer. "It was an unbelievable team effort with grit, character and a team spirit that is the heart and soul of champions," Oxy head coach Colm McFeely said.
Castro, Kialani Mackey '21 of Edmonds, Wash., Katherine Kim '19 of Oak Park, Grace Hildner '22 of Aurora, Colo., Karla Alas-Lopez '20 of Reseda and Elleni Bekele '20 of Long Beach all scored as Oxy went 6 for 6 in the shootout. The Sagehens missed their final shot high, sending the Tigers storming onto the field in victory.
"I saw it go over and knew we had won," Tomlinson said. "It was the best feeling in the world, to win with the teammates I love."
Previously, Oxy had made three tournament finals, falling each time in penalties. This time around, Oxy was prepared, had visualized the moment and took advantage of it when it happened.
"The shootout was tense as you can imagine, but we were prepared and hit our spots," Castro said. "After Pomona missed we couldn't stop screaming. We're so excited to be moving on and can't wait to keep making history for the women's soccer program."
The Tigers did what they have done all season on defense, recording their 12th shutout of the season. Oxy's back line of Alas-Lopez, Isabella Bonomi '22 of Palo Alto, Caroline Kearney '22 of San Mateo, Devoney Amberg '20 of Redondo Beach and Tracy Watanabe '22 of Honolulu have played well all season, keeping the ball out of the net. In 14 SCIAC games and two tournament playoff games, Oxy surrendered just five goals.