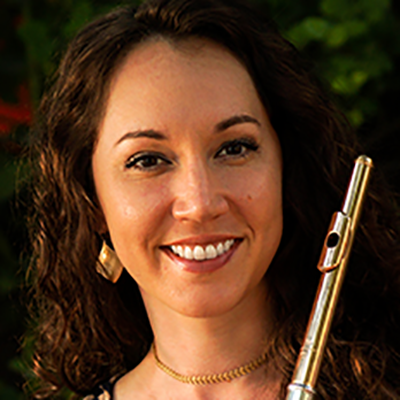 Rachel Mellis enjoys a multi-faceted career as an orchestral, chamber, solo, and recording artist. She performs regularly throughout the U.S. and has toured internationally in Europe and Asia.  She has collaborated with esteemed artists across many musical genres, including Classical, Jazz, World, Film, Electronic, and Pop. Notable collaborators include John Williams, Danny Elfman, Michael Tilson Thomas, James Conlon, Carl St. Clair, Seth Macfarlane, Rachel Platten, Lea Michele, 12th Planet, and Drake Bell.
As a recording artist, Rachel's playing has been featured on many soundtracks and albums, including on the Varèse Sarabande label. Her playing can be heard in commercials for New Balance Shoes, Sprinkles Cupcakes, and Rick Riordan's Trials of Apollo book series, as well as on the soundtracks of TV shows Siberia (NBC) and Complete Works (Hulu). She is a featured soloist in the Ori and the Blind Forest and Minecraft video games, and has appeared on screen as a flutist in Glee (FOX) and The Moment (USA). In addition to C flute, piccolo, alto and bass flute, Rachel performs and records on many world flutes, including Dizi, Queña, Shakuhachi, Ocarina, Penny Whistle, Bansuri, Ney, and Native American flute.
Rachel is passionate about new music and frequently performs and premiers new compositions for solo flute, orchestra, and chamber ensemble. She plays regularly with Bridge to Everywhere, a chamber ensemble celebrating cultural diversity through interwoven musical traditions, and with The Echo Society, an artist collective bringing orchestral and electronic music to new audiences. She is also an active flute instructor and music educator, frequently giving workshops and masterclasses throughout California and the U.S.
Education: B.M., M.M., University of Southern California