Image courtesy of Angel Navarro
Economics
Politics
History
1987
A newly appointed judge in the Los Angeles County Superior Court, Angel's time at Occidental afforded him experiences that proved valuable throughout his career. He describes those who were the most influential during crucial years of his life and offers some advice to current Oxy students.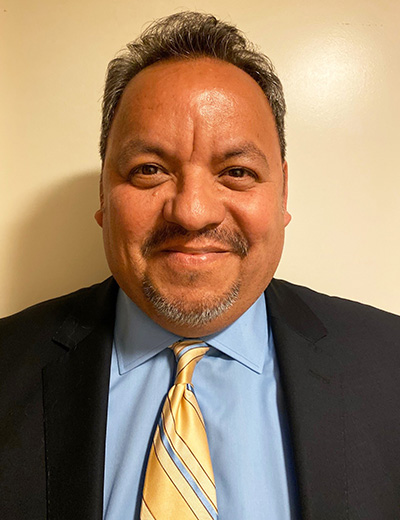 Angel has served as a Commissioner at the Los Angeles County Superior Court since 2022 and has been a Sole Practitioner since 2010. He served as a Supervising Deputy Federal Public Defender at the Federal Public Defender's Office, Central District of California from 2004 to 2010 and served as a Deputy Federal Public Defender there from 1992 to 2004. Navarro earned a Juris Doctor degree from the University of California, Los Angeles School of Law.
Unforgettable Moments at Oxy
When I was a senior at Oxy, I was getting ready to graduate. I was actually trying to get a triple major, if you can believe it. I was trying to add a major in history. But I got called into the Dean's office and they told me that I couldn't do it because although I had taken AP calculus in high school, Oxy was not going to give me credit for my AP calculus exam because I hadn't taken a single math class at Oxy. So I went back to my high school, talked to my AP calculus teacher Jaime Escalante, and told him what happened. He was a very inspirational man in my life. And he told me I could [succeed in college math]. So I took the basic calculus class at Oxy. I was a senior and there were all these pre-med students, all these first-years. And I got 100% in every test and I got 100% in the final and I finished it in an hour. And I remember the professor used my exam as the key. I was very proud that after four years of being away from math, I was still able to do pretty well. That was cool.
Influence from Jaime Escalante
Jaime Escalante became a very popular math teacher in the 80s. When I was in high school, the year before I took his class, his students were accused of cheating in AP calculus, so they had to retake it and they all passed again, the ones that were able to take it [as depicted in the film Stand and Deliver]. So when I came in the following year, we were a "test class." I remember there was a lot of media attention on us. And I know that of the 33 of us who took it, 31 passed, including myself. And I took that experience from the AP calculus class and I really used it to keep me motivated throughout college, throughout law school, and really throughout my legal career because he was so inspirational in my life. I kept in contact with him even as I got older and I became a lawyer. I remember he invited a few of us to go with him to Sacramento in 2006 because he was being honored by the Governor's office. I was his unofficial attorney because most of his other students were studying engineering. He was very influential in my life. Whenever I had a doubt about anything, I would always go back to the stuff I learned in calculus. And to this day, to be honest, I think about him all the time.
From Occidental College to UCLA Law
I think Occidental was a great place to go to school. Now that I'm older and I am doing what I'm doing, I have a lot of fond memories of the place. I have friends from Occidental that I still keep in contact with. And I felt it was a good place to be. It was close to home, and I wanted to be close to home, to East Los Angeles. I really enjoyed my time at Oxy.
When I went to UCLA back in 1997, I got in through real affirmative action. At Oxy I was a B minus student. I wasn't a particularly good student in college. I had a lot of gaps in my education because I didn't come to school in this country until I was 10 years old. So when I got to Oxy, it was eight years later. My analytical skills were not the best. My writing skills were not the best, but I was good at math. So when I got to UCLA, I was still learning a lot of things. But I noticed right away that Oxy had prepared me a lot better than high school had in many ways. Even though I struggled in law school and it was hard for me, the experiences I learned at Oxy helped me challenge myself. And I applied those skills when I was at UCLA Law and I got through law school somehow. And I took the bar and I didn't pass the first time. I took it again and then I passed it. And I became a lawyer and never looked back. 
Advice for Oxy Students
Challenge yourself at Oxy. Don't be so focused on only getting through college and graduating, make sure to take advantage of all the opportunities that you have. For example, I would definitely recommend studying abroad if you can. A lot of my friends at Oxy traveled abroad, either to Spain or England. It is always something I personally regret not experiencing. I think it is important for students to challenge themselves in areas they aren't so familiar with and step out of their comfort zone.
How Occidental Helped Him Reconnect With a Former Teacher
When I became a lawyer (I've been a lawyer for about 15 years), I wanted to find the very first teacher I ever had in this country, because I was born here, but I was raised in Mexico. However, when I came back to the U.S. I was in fourth grade. And I didn't know this, but my fourth grade teacher was an ESL student, and it was his first year teaching. I didn't know any of this until later on, so I went looking for him. I wanted to thank him. I went to my old elementary school, but I couldn't find him. I was told he was a musician in a band. Still no luck. I wanted him to know that one of his kids had done well. So one day I got my Occidental magazine. There in the magazine was a story about an Occidental professor who was teaching students who want to become teachers. And it was my old teacher! My fourth grade teacher was featured in the Oxy magazine. Crazy story. So then I wrote a letter to him. I wrote a four-page letter telling him what I've done and I thanked him. And then he called me. I was a lawyer in the federal public defender's office. He called me, and the phone rang, and I picked it up, and it was him. And that was the first time we had talked since fourth grade. And he told me that my letter made him cry and that he shared my letter with his future teachers to tell them that's the reason why you want to become a teacher. So, to me, that tells me everything about Oxy—that I was at Oxy, and it keeps coming back to my life. The teacher, now Oxy professor, is Prof. Ron Solórzano. He was someone that I reached out to because he was very influential in my life as well.