Meet Elizabeth Wiener of Politics, whose research interests include U.S. legislative institutions; representation of marginalized groups; interest groups, political organizations, and lobbying; public policy design, processes, and analysis; and U.S. state politics.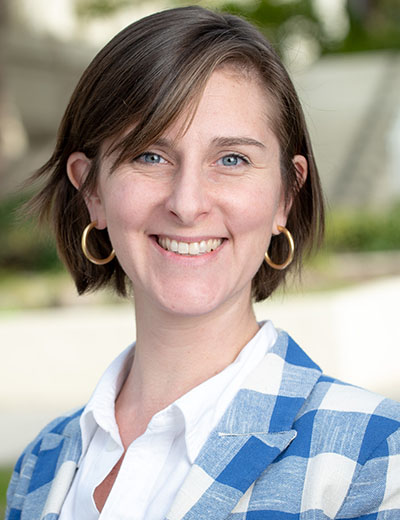 Wiener comes to Occidental from Sewanee: The University of the South, where she was a Visiting Assistant Professor of Politics. She has a B.A. from Kenyon College, and a master's and Ph.D. in political science from Emory University.
What attracted you to Occidental?
I became a professor of politics not only to share and create knowledge about our political world but also to share my love of learning. I attended a small liberal arts college myself, and I learned how to think in that community—I began to experience how fun and uplifting the cycle of learning and thinking and learning more could be. 
After graduation, I started working on Capitol Hill. After a few years of lobbying, battling inside the beltway, and facing the general identity and career crises that defines so many of our 20-something-year-old experiences, I began to consider my future self in terms of community membership. Rather than a community driven by the pursuit of money or power, I decided I wanted to lay roots, get active, and grow in a community driven by the pursuit of knowledge—like the college community I had experienced that had empowered me to use my brain, always to seek progress—or even just always to continue seeking. I endeavored to become a professor and land at a college that prioritizes preparing students not only for their best possible future careers but for their best possible lives overall. 
Occidental represents this community—and so much more. Professors get to know their students and connect with them to help them learn. The diversity of people and ideas shapes a thriving space for exchange and innovation. I love the opportunities here to be involved in students' lives and to help shape their academic and personal journeys. I am so grateful to be here.
What are your impressions of the students after your first semester?
Students here are forward-thinking, driven, and so incredibly smart. Their passion surprises me in class, and I love to see when they go the extra mile to consider concepts as they connect to outside sources or their personal lives, lifting these concepts to a higher level of abstraction to better understand and engage with the world around them. They're super cool, too!
Can you talk about your book project, Lobby Like a Girl: The Strength of Women's Organized Activism with Men and Women in Office?
My book project, "Lobby Like a Girl," analyzes the relationships between women's issue lobbyists and state legislators across the United States. It builds on my dissertation research which demonstrates how these relationships create varying pathways to women's representation in public policy. The central claim of my research is that the driving motivations, strategies, and effectiveness of women's issue lobbying depends on a legislator's shared marginalized group identity (or lack thereof). It is clear that women in office matter for women's issue lobbying. But women's lobbying can importantly influence male legislators as well, offering opportunities for increased women's representation even when the proportion of women in office remains low.
That said, I will also be incorporating questions surrounding what it means to be an "American" feminist in the post-Roe United States. The landmark Dobbs-Jackson ruling of 2022 created fundamentally different political climates from state to state for women's issue activism, bringing to bear more than ever how "women's representation" in policy can vary depending on the women in question. Moreover, recent research on women's leadership on conservative, anti-abortion issues has called into question the complex relationship between partisanship, ideology, and women's interest representation. Building on this emergent literature, this article uses a survey experiment to measure how women in different states define women's representation and feminism differently. Are "pro-life" feminists emerging in conservative states? If so, what does this mean for women's political activism and representation in the US? Operationalizing different definitions of women's representation and "feminism," my book will also explore the extent to which state context matters in shaping how women attach to and are politically mobilized by women's identity politics.