Meet Hanan Elsayed of Spanish & French Studies, who teaches French and Arabic languages and literatures. Areas of interest include Francophone writers from the Arab world, Arabic short fiction and the legacies of French colonialism.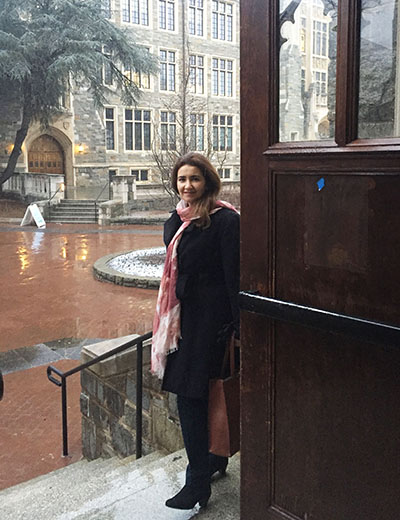 Tell us about the research you're working on right now.
I am now researching the presence and influence of Sufism, the mystical dimension of Islam, in Francophone literature. My goal is to shed light on important influences that tend to be overlooked because they do not fit the postcolonial paradigm. In my current book project, I look at the interplay between classical Sufi works in Arabic and contemporary prose and poetry in French. In one chapter, I examine the conception of love (physical, spiritual and divine) and beauty (worldly and absolute) by the famous Andalusian Sufi theorist Ibn Arabi (1165-1240) and how his work has inspired contemporary authors from North Africa specifically.
How do you incorporate your own research into your classes?
To a large extent, my interdisciplinary research informs and enriches my teaching. One of the novels, for example, that I was working on, Meursault, contre-enquête, is now a required text in my "Representations of French Colonial History" class. Students who have taken French 202 and have, therefore, read Albert Camus' most famous novel, L'étranger, appreciate reading the recent award-winning response to Camus by Algerian author Kamel Daoud. When I examine works for my research, I am also considering their usefulness and relevance to a particular course that I teach.
What has been one of the proudest moments you've had with your students? 
Recently, I felt very proud of my students when they fully engaged with a lecture by a guest speaker. The caliber of their questions and remarks at the end of the talk made me realize how much they have learned and how sophisticated their thinking has become. Also, hearing from former students and learning of their successes beyond Oxy is a tremendous source of joy for me. In a way, their success is my success.
How does Oxy's Los Angeles location influence or inform your teaching?
The annual Arab Film Festival is a wonderful opportunity for anyone interested in Arab culture and arts. Students in my "Arabic in the Media and Film" course, in particular, will benefit from such events. For French learners, the Alliance Française de Los Angeles offers a variety of cultural events and workshops throughout the year.