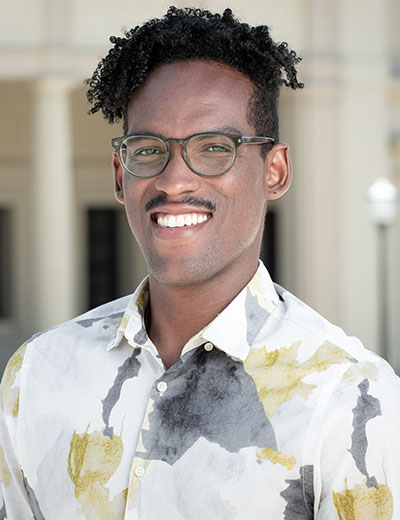 Murphy comes to Oxy from the University of Pittsburgh, where he was an assistant professor of sociology (with a secondary appointment in Africana studies). A graduate of the University of San Diego, he completed his master's and Ph.D. studies in sociology from Brown University. At Oxy, Murphy teaches courses on race and the environment, Black ecological thought, and Blackness and anarchism, among others.
What attracted you to Occidental?
I was attracted to Oxy because of its commitment to innovative teaching and scholarship, with a sustained emphasis on excellence, equity, community, and service. Oxy is also unique in that it is a small liberal arts institution in a large, urban, and global city. Perhaps most importantly, I was excited by the opportunity to contribute to the development of the Department of Black Studies, as a person whose research and teaching focus on the socioecological implications of racialization, colonialism, and slavery. 
What are your impressions of the students after your first semester?
I have been inspired by how creative, courageous, and critical students are at Occidental College. In both classes that I taught last semester, students were so engaged and willing to share their insights in the process of collective intellectual inquiry. 
You're writing your first book titled The Plantation Problem: An Inquiry into the Environmental Significance of Race. How did you land on this topic, and where are you in the process?
The ideas explored in this book have been brewing since I first started graduate school in 2012. As a first-year doctoral student, I had no intention of studying anything related to race. I arrived looking to focus on global ecological degradation from a sociological perspective. That changed when I was assigned to serve as a teaching assistant in a course on race and ethnicity in the modern world. Suddenly I found myself thinking a lot more about how race was connected to environmental conditions and dynamics. This in turn led me to focus on the processes by which the peoples indigenous to North America were dispossessed of their land for my MA thesis research. For my dissertation research, I decided to expand upon this analysis by examining the structural entanglements of race and environment in New England to demonstrate how race has long patterned human relationships to nonhuman natures and the environment given the history of colonialism. Ultimately, I am interested in how people understand the environmental significance of race, often without considering the histories of colonialism that enable race to shape the structure and quality of environments in which we live. My current book project carries forward these concerns with an additional emphasis on the possibilities and limitations of environmental justice in addressing these issues. I am currently working on revising chapters and preparing a proposal for submission to a university press.
Anything else you'd like to add?
I'm looking forward to developing courses that center community engagement, integrating Oxy students into several ongoing research projects, and working with students as they pursue their own research endeavors. I also want to note that I have had the opportunity to work with many more students of color (especially Black students) at Oxy than I ever have before, which is something that I am very grateful for.