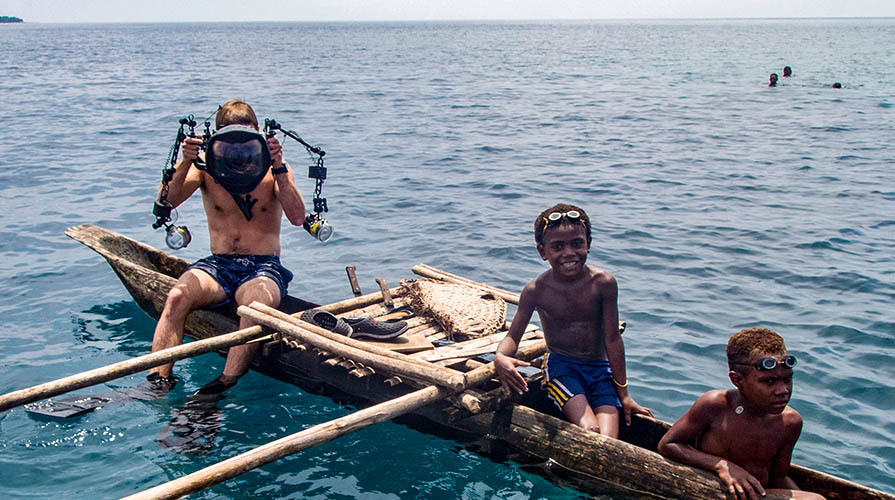 Morgan Bennett-Smith is currently a master's student at the Red Sea Research Center, and his studies of coral reef ecology and how reef organisms adapt have taken him (and his camera) all over the world.
Share the highlights of what you've been doing since graduation.
Since graduation, I've worked for the National Oceanic and Atmospheric Administration's (NOAA) National Marine Fisheries Service in Alaska. More recently, I've been at King Abdullah University of Science and Technology as a master's student in the Red Sea Research Center. I work on a few different projects, but my main focus is on clownfish population structure, connectivity and ecology in the Red Sea. I also produce media for the Red Sea Research Center, with a focus on underwater photography. Media can be a very powerful tool for research and conservation, and recently I've begun to expand my work through different projects locally and abroad. I spend a lot of time in the field, surveying coral reefs and taking samples, but we also collaborate in other regions like Papua New Guinea, where I was recently on a two-week research cruise.
Did you have a favorite class at Oxy? What did you like best about the marine biology program?
Tough call. One of my favorite classes was Professor [Gretchen] North's Plant Form and Function course. Professor North makes you appreciate plants like few else can! I liked how accessible our marine biology program was; as a freshman, it was easy to start a conversation with professors in the department and become involved in research outside of the classroom. This was an important gateway to collaborations and projects down the road, and it led to a series of important milestones in my undergraduate career. I also really enjoyed driving the lab's boat every month. I'm not sure why I was trusted with driving that thing, especially when it came to parking it in King Harbor next to two expensive yachts, but it was great to be involved in a meaningful way with an ongoing research project—with some real responsibility—as an undergrad. I understand that our lab's new boat is much nicer...perhaps they would not let me drive that one.