Critical Theory & Social Justice
2012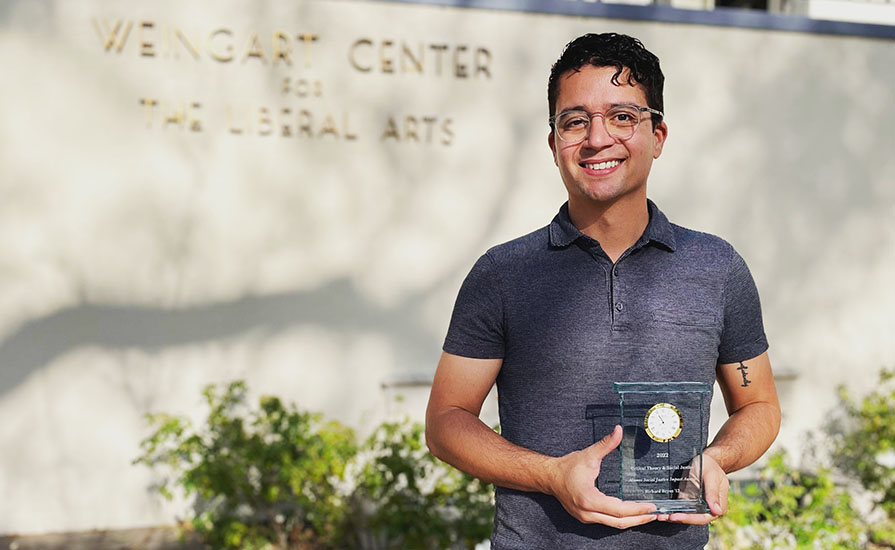 Richard empowers high school students in his Los Angeles community through storytelling, providing them with the tools to tell their own stories through his nonprofit PLUS ME, which was spotlighted at this year's Super Bowl.
Richard Reyes was recently named this year's recipient of the Critical Theory and Social Justice Department's Social Justice Impact Award for Alumni. 
"It meant so much when Professor [Caroline] Heldman emailed me saying that I would receive this award, as Oxy and the Critical Theory and Social Justice (CTSJ) Department are such a crucial part of my story," he recalls. 
It was in his CTSJ classes that Richard began to understand his identities and their importance in shaping his story—a story that he has now shared with more than 200,000 students through personal projects and his nonprofit PLUS ME. 
Growing up 15 minutes away from Oxy, Richard became familiar with the campus at a young age as he attended the Eagle Rock High School graduation ceremonies of his siblings in Oxy's Greek Bowl. 
When it came time to decide what college he wanted to attend, Oxy was at the top of Richard's list, but because his grades would prevent him from attending, he started with community college. 
Even though he was able to maintain very good grades while dealing with his lung collapsing three times in a month and missing weeks of classes, Richard was initially rejected by Oxy as a transfer student. Determined to reapply, Richard's efforts were eventually rewarded when his transfer into Oxy was accepted for the spring semester to start his junior year. 
Coming in with only 10 other transfer students in his class and being the only community college transfer, Richard realized that he had a very different experience compared to his classmates. As part of one of his education courses, Richard observed elementary school classrooms and realized that students who grew up in similar circumstances to him could potentially benefit from hearing his unique story. 
In his senior year, Richard started the 10,000 PLUS Project where he aimed to tell his story to 10,000 or more Los Angeles Unified School District (LAUSD) students in hopes of offering them inspiration that they, too, can get into a four-year college or university. By the end of his senior year, Richard had spoken at 77 schools and reached almost 13,000 students with the story of his journey to Oxy.
After graduation, Richard started a position at a for-profit university that didn't align with his values. During this time he found himself drawn back to classrooms.
"When I made time in my schedule to go back into the classrooms, I realized this is what I want to do," Richard says. "I'm good at it, I love it and there's a need." 
He bought Nonprofits for Dummies and began building out his college project to a larger and more sustainable platform. It was not without difficulty. 
"It took a long time to build a reputation where people understood that the work we were doing was important and that no one else was really doing it," Richard says. In 2013, PLUS ME was established as a nonprofit organization aimed at providing inspiration to LAUSD students through guest speakers available to schools at no cost. 
I started this project because I wanted to be a role model for kids who need that, so when students say 'I'm so inspired by you' and I see our work help them reach their dreams, it's so special.
After earning his master's in Educational Foundations at California State University, Los Angeles, Richard expanded PLUS ME to include storytelling workshops and curriculum components. These resources help high school students identify their stories and learn to articulate them for job, college and scholarship applications. 
Now, Richard is seeing the momentum of nine years of hard work and dedication come to fruition through PLUS ME recognition at this year's Super Bowl as one of the spotlighted "Champion" organizations. 
Even still, it's the little moments that Richard holds close to his heart.
"I started this project because I wanted to be a role model for kids who need that, so when students say 'I'm so inspired by you' and I see our work help them reach their dreams, it's so special." 
Moving forward, Richard wants to expand PLUS ME to be in every school in Los Angeles and continue reaching schools beyond Los Angeles with their speakers and curriculum. 
In large part, it was his experiences at Occidental that provided the foundation for Richard's success today.
"Oxy is where I accepted that I was a gay Latino man who can be in the education space and has a story that matters. That's powerful for someone like me, it allowed me to have the confidence to start PLUS ME and get it to where it is now."