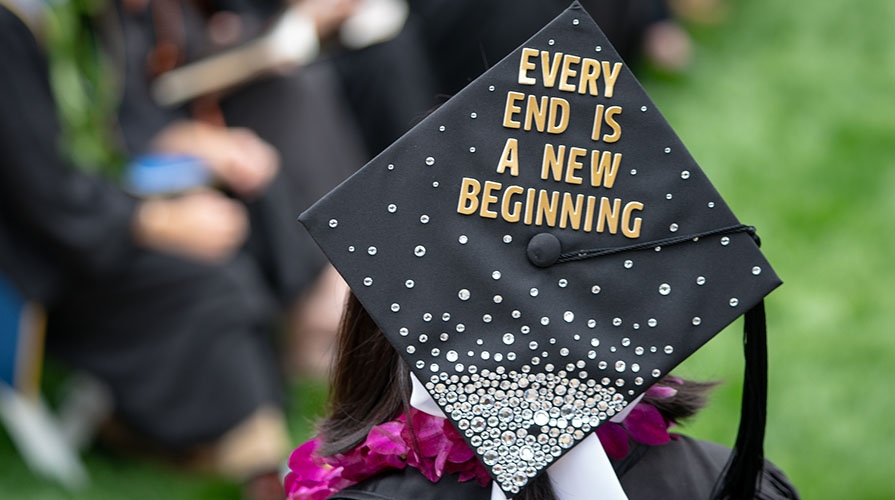 Meet the winners of this year's Senior Class Day/Mortar Board Awards, chosen by our seniors.
Mortar Board is a national honor society that recognizes college seniors for their achievements in scholarship, leadership and service, provides opportunities for continued leadership development, promotes service to colleges and universities and encourages lifelong contributions to the global community.
Lucille Y. Gilman Memorial Award
JP Flores
Nina Srdić Hadži-Nešić
Mortar Board Award for the Promotion of Women
Mortar Board Award for the Promotion of Multiculturalism
---
Lucille Y. Gilman Memorial Award
Presented annually by Mortar Board to an outstanding senior in recognition of service, leadership, and scholarship. Established in 1979 in memory of Mrs. Gilman, first wife of the 10th president of Occidental.
JP Flores
JP is a senior cellular and molecular biology major from Santa Clarita, CA. He has had the pleasure of playing NCAA DIII baseball and working most home Athletics events, and currently serves as co-president of the Student Athlete Advisory Committee (SAAC) and on the inaugural Justice, Equity, Diversity, and Inclusion (JEDI) committee. He is a member of the Diversity and Equity Board (DEB), a tour guide, an O-Team leader, and co-president of the oxSEA Ocean Conservation and Sustainability Club. He has done research for four years with Professor Joseph Schulz in the biology department and is a founding organizer for the Students For Equity and Advocacy in STEM. He also manages a nationwide Student Coalition on Higher Education and is on the data science team at the Sorenson Impact Center housed at the University of Utah. He is also the creator and host of the podcast, From Where Does it STEM? He will be attending the University of North Carolina at Chapel Hill in the fall for a PhD in the biomedical sciences.
"It was an honor to even be nominated for this award and still can't believe I was chosen! All of the other nominees are peers that I have the utmost respect for and people I look up to and admire. I'm grateful to have been nominated along with so many others who I know have made their marks on Oxy and will make a mark on the world. I am not a huge fan of individual awards and credit any and all of my success to my friends, family, and mentors. I wish I could hand this to everyone that has played a role in my life here at Oxy because they deserve this more than I do. It's been a long time coming since that GroupMe! I still do love HSM and Ed Sheeran. If you know, you know. Thank you so much, and congratulations to the class of 2021! We did it! We made it through this long, bumpy year, and I'm SO proud of all you. So glad we get to celebrate together! Onward! Io Triumphe!"
Nina Srdić Hadži-Nešić
Nina is an international student from Serbia double majoring in theater and Diplomacy & World Affairs (DWA). She is passionate about international relations, acting and activism. Nina embodies empathetic leadership and is honored to have served as student body president at Occidental (2019-20) during some particularly challenging times. During her time at Oxy, she also worked at the Hameetman Career Center, assisting her peers in reaching their career goals. In addition, she performed in theater department productions such as U-R-U, Stupid F*cking Bird and her one-woman senior comprehensive show MIRA. Nina is deeply honored to be a recipient of Lucille Y. Gilman Memorial Award.
"I'd like to thank the entire Class of 2021 for presenting me with this award—it means the world coming from you. Thank you for these past four years, thank you for believing in me and allowing me to grow and lead. I am grateful for all that I have learned from you and I will cherish all the memories for years to come."
---
Mortar Board Award for the Promotion of the Status of Women
Presented annually to the classmate voted by the senior class to have contributed most significantly to the promotion of the status of women at Occidental.
Daviona Moore
Born and raised in Houston, TX, Daviona arrived at Oxy and committed herself to a path of studying kinesiology and refining her activism in the area of reproductive justice. She discovered a knack for teaching during a fellowship with Breakthrough Collaborative, where she internalized the need for effective educators in the classrooms of scholars who look like her. Daviona went on to explore avenues of activism and mentorship within the campus community through organizations like Planned Parenthood Club (PPC). Daviona's work in reproductive justice flourished and eventually she was elected as president of the club her senior year. Following graduation, Daviona has plans to pursue a career in education with Urban Teachers, starting with a master's degree in education from Johns Hopkins University.
"I am beyond honored to be considered and to have won this prestigious award! I must highlight the numerous teams that I've worked with during my time at Oxy. I would like to thank Planned Parenthood Club, REHS, my professors, the Pauley family, and of course my mom, Donna, for always empowering me to use my loud mouth to stand up for myself and others in the face of adversity."
---
Mortar Board Award for the Promotion of Multiculturalism
Presented to a member of the senior class who has made a substantial contribution to fostering cultural, religious, and ethnic interaction and therefore enhancing a sense of community on campus.
Serena Pelenghian
Serena Karina Pelenghian is an Armenian woman from Arcadia, CA. At Occidental, Serena majored in Critical Theory and Social Justice and minored in Gender, Women, and Sexuality Studies. During her time at the College, Serena revived and became co-president of the Armenian Students Association (ASA), wrote for The Occidental for four years, was a member of the InterVarsity Christian Fellowship, helped create the Middle Eastern and North African Students Association, was on the board of the CTSJ Undergraduate Journal, and culminated with an oral historical and theoretical senior comprehensive project about the identity of the Armenian diasporan woman and the trauma of the Armenian Genocide. Outside of Occidental, Serena is an intern and activist for the Armenian National Committee of America's Western Region and a research fellow for a new project combatting genocide denial called the Impact Media Institute. Serena is very excited to be attending law school in the fall.
"This Mortar Board Award for the promotion of multiculturalism is an award that should go to the people who shaped me to be the person I am today. First and foremost, I want to thank God. Second and very importantly, thank you to my parents and my sister who have truly raised me to be a leader, a friend and a strong woman. I would not be graduating today if it were not for your sacrifices. Thank you for supporting me and for believing in me when I could not. Along with the endless love you show me, you make sure to give me opportunities you never had, and I will never know how to thank you for that. You made sure to raise me in the Armenian community, sending me to Armenian schools from preschool until my senior year of high school.
When I got to Occidental, I saw the opportunity to build an Armenian Students Association with my best friend, who I am especially thankful for. Thank you to the college and to the Intercultural Community Center, specifically Chris, for giving us the opportunity to build a community for ourselves. Of course, thank you to my family at ASA who motivates me and gives me a reason to continue to do this work. Thank you to The Occidental, which gave me a campus platform to represent my community. A very important thank you to the faculty of the CTSJ department, who made me grow into the activist I am. You always had so much faith in me, worked with my ideas and my passions and helped me name them, you showed me who I want to be, and you cared about my goals as if they were your own. Finally, I literally would not be standing here if it were not for my ancestors who gave their lives for my existence. You are the reason that I fight for our survival, because you fought for mine."
---
Donald R. Loftsgordon Memorial Award for Outstanding Teaching
Presented annually by Mortar Board to a faculty member elected by the senior class that has made a substantial impact on the personal and academic development of the Senior Class members. This award can be given to any faculty member, regardless of tenure.
Mariška Bolyanatz Brown
Assistant Professor Mariška Bolyanatz Brown is a linguist whose work focuses on socially conditioned variation in speech production and perception in Spanish, in order to understand how speakers and hearers use linguistic variation to construct and interpret social meaning. At Oxy, she teaches Spanish language, Spanish linguistics, and linguistics in English. Her pedagogical strategies are geared toward creating an inclusive classroom environment in which students from all backgrounds can explore everyday language use and relate it to issues beyond the academy. As a component of a liberal arts education, these courses require students to develop pattern recognition and data analysis skills and foster their awareness of the linguistic and social systems undergirding language use.
"I am so grateful to receive this honor, particularly from this group of senior students. This is my fourth year at Oxy, so I've known some of you since you were frosh, and it has been a delight to watch you grow and watch you learn to engage with your classmates, your disciplines and the world around you. It's been particularly gratifying to see you critically examining language and linguistics in your studies and in your everyday life, as you continue to realize the importance of language in shaping our understanding of the world and of each other. Especially over this last year, your resilience has inspired me—thank you for teaching me so much about Oxy, and about working towards a more just future."
Andrea Hopmeyer (posthumously)
Andrea joined the Oxy faculty in 1996. A prolific scholar, she published more than two dozen articles and book chapters on the social and emotional development of children, adolescents, and emerging adults, focusing on such issues as loneliness, peer victimization, and popularity. She was proud of the number of articles she co-authored with her students, some of which were the product of her participation in the Undergraduate Research Center's Summer Research Program. (Read an example of the impact of Andrea's mentorship in this interview with her and one of her student co-authors, Alexis Morse '18.) Her courses on such subjects as Developmental Psychology, Psychological Methods, and Social Psychology were always ranked highly in student evaluations. A native of Montreal, Andrea was a summa cum laude, Phi Beta Kappa graduate of Clark University. She earned her master's and doctorate in psychology at the University of Illinois at Urbana-Champaign.
"I will never forget the first time I met Professor Hopmeyer. I was a nervous first-year waiting outside my adviser's office during orientation when Professor Hopmeyer spotted me and stopped to say hello. She asked me if I was a psychology major, welcomed me to Oxy, and told me her door was always open before disappearing into her office. It didn't matter that it wouldn't be until my junior year that I would have her as a professor, Occidental was her home away from home, and she wanted the students to love the school as much as she did.
When I finally got the chance to take a class with Professor Hopmeyer, we immediately formed a special bond. I got to her class extra early to talk to her about psychology, being Jewish at Oxy, or whatever was going on in our lives. Despite being in an ongoing fight with cancer, I was always amazed that she was one of the most positive and giving people I have ever known. She made it clear that she thought of her students as her family, giving us all her phone number to text her if we had any questions about class or psychology in general. She took our opinions to heart, altering her already perfected syllabus to fit each class's unique needs. During our last in-person class, instead of giving us a lecture, she took the time to talk to us about the possibility of school getting shut down due to Coronavirus, gave us all the information she had at the time, and answered all of our questions. It didn't matter that we would be a day behind; she knew what her students needed and wanted to be the person to give it to them. It is for these reasons and more that I nominate Professor Hopmeyer for the Donald R. Loftsgordon Memorial Award for Outstanding Teaching."
–Nominator Hannah Rice '21
Gloria Orozco
I always tell my students that I have a cocktail of Spanish accents and nationalities. My family is all Colombian but I was born in Guatemala, and through my childhood and teenage years we lived in Argentina, Colombia and Ecuador. This itinerant upbringing is a big part of who I am since I feel that I am from everywhere and nowhere, an insider and outsider all at the same time. I came to the U.S. during the 80's and studied at Santa Monica College for two years, transferred to UCLA and graduated with a BA in psychology. I worked as a special ed teacher in Colombia for two years. I married my husband and came back to Los Angeles and to UCLA, where I obtained a Ph.D. in Spanish Language and Literature. I love theater, art, music, hiking in the Santa Monica Mountains, teaching at Oxy, and singing in its hallways and throughout its beautiful campus.
"I am very moved and honored to receive the Loftsgordon Award for Outstanding teaching from you, my wonderful Oxy students. I am also very honored to share this award with my colleague profe Mariška Bolyanatz who has brought so much light and enthusiasm to our department (Spanish Rules!) and Professor Andrea Hopmeyer, who was beloved by her students and left such an important legacy at Oxy. This award means so much to me because I love teaching, though I have to say it is easy to be a good 'profe' with students like you. Your intelligence, enthusiasm for learning and passion for social justice have been a powerful source of inspiration and hope, especially during these very difficult times. I remember how privileged I felt during many class discussions, hearing your fearless desire to learn, to be challenged, and mostly to be engaged and participate in the making of history. I have learned a great deal from all of you about resiliency, hard work, and your belief in the idea that together we can make this a better and more just world. I feel sad I cannot be at Commencement, giving you hugs and meeting your family to tell them how amazing you are. In any case, Class of 2021, I can see the wings of possibility growing from you. I know you will fly high and strong. I love you, I will miss you, stay in touch. De corazón, muchísimas gracias."