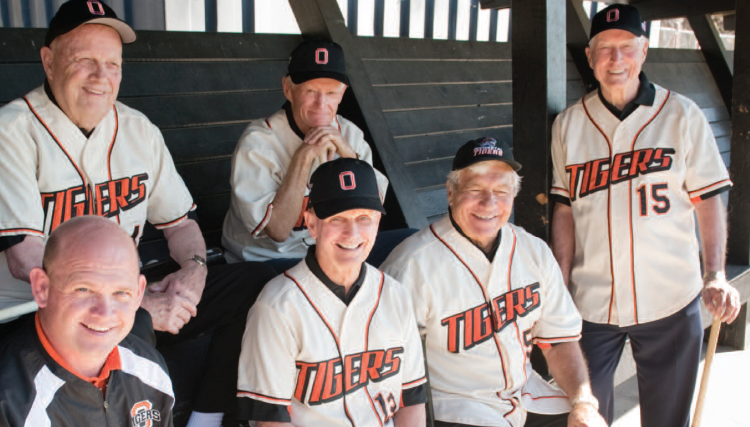 From Winter 2010: Fifty-six years after sending coach Bill Anderson out on top with a fourth straight SCIAC crown in baseball, the 1954 Tigers recount their remarkable journey
For members of Oxy's 1954 baseball team, their "ESPN moment," as pitcher Frank Bennett '54 puts it, came 27 miles from home, on the turf of their archrival, Whittier. After their first clash of the season on the Tigers' home diamond was called on account of darkness, ending in a 9-9 tie, the Tigers found themselves playing a double-header, on the road, on the last day of the season, with the SCIAC title on the line. Oxy only needed one win to secure bragging rights, and retiring coach Bill Anderson put the ball in the hands of his southpaw ace, Bennett, in the opener. The slow-hurling senior responded by pitching a two-hitter, baffling the Poets with his ball placement and notching his seventh win of the season.
"When you're slow like I was, you had to have it between the ears," says Bennett, who threw a no-hitter against Caltech on April 10, 1954 (just weeks after younger brother Tom tossed his own no-hitter at Wilson High School). "I wasn't big and strong, and I didn't throw hard. I threw mostly breaking things. I didn't walk many and I didn't get hit too often because I didn't want to get hit hard."
For an encore, 6'8" powerhouse Dick "The Stork" Sovde '56 threw a seven-inning no-hitter in the second game, tying the bow on an unblemished SCIAC mark for the second time in three years and capping Anderson's 30-year coaching career with an unprecedented fourth straight conference title.
In Anderson's valedictory season, Occidental overwhelmed the competition, going 8-0 in conference play and 17-3 overall. The Tigers batted .351 as a team, and placed a record 10 players—seven first-string, three second-string—on the All-SCIAC teams.
Besides Bennett, who was undefeated in his SCIAC career and 16-2 overall, the other first-stringers were second baseman Gil McFadden '54, who hit a league-leading .431 as a senior; center fielder Murray Via '54, who owns the all-time Oxy records for career (.434) and single-season (.500) batting average; third baseman Jim Burt '55, a career .336 clean-up hitter and two-time All-SCIAC pick; first baseman Kenny Wolters '57, a .364 hitter and three-time first-string All-SCIAC pick; hard-slugging shortstop Ed Marshall '56; and left fielder Pat Delaney '54, who will be inducted posthumously into the Occidental Baseball Hall of Fame on Jan. 30. (Catcher Jim Hollinger '56, center fielder Gary Hess '56, and right fielder Mike Bell '55 were named second-string.)
"At the end of his career, Bill Anderson said this squad was his greatest team," says Ed Harper '51, who played three years for Anderson and returned as the Tigers' assistant during the team's 1952 SCIAC championship season. "I really held him in awe, as a human being first and as a coach second," Via adds. "I would like to see what he would have been if that car crash had never happened."
A three-sport star in high school (baseball, basketball, and football), Anderson lettered in football for two years at the University of Illinois. He arrived at Oxy as an assistant coach in 1924, taking the helm of the baseball program in 1930 and varsity basketball and football two years later. In 1939, he became director of athletics as well.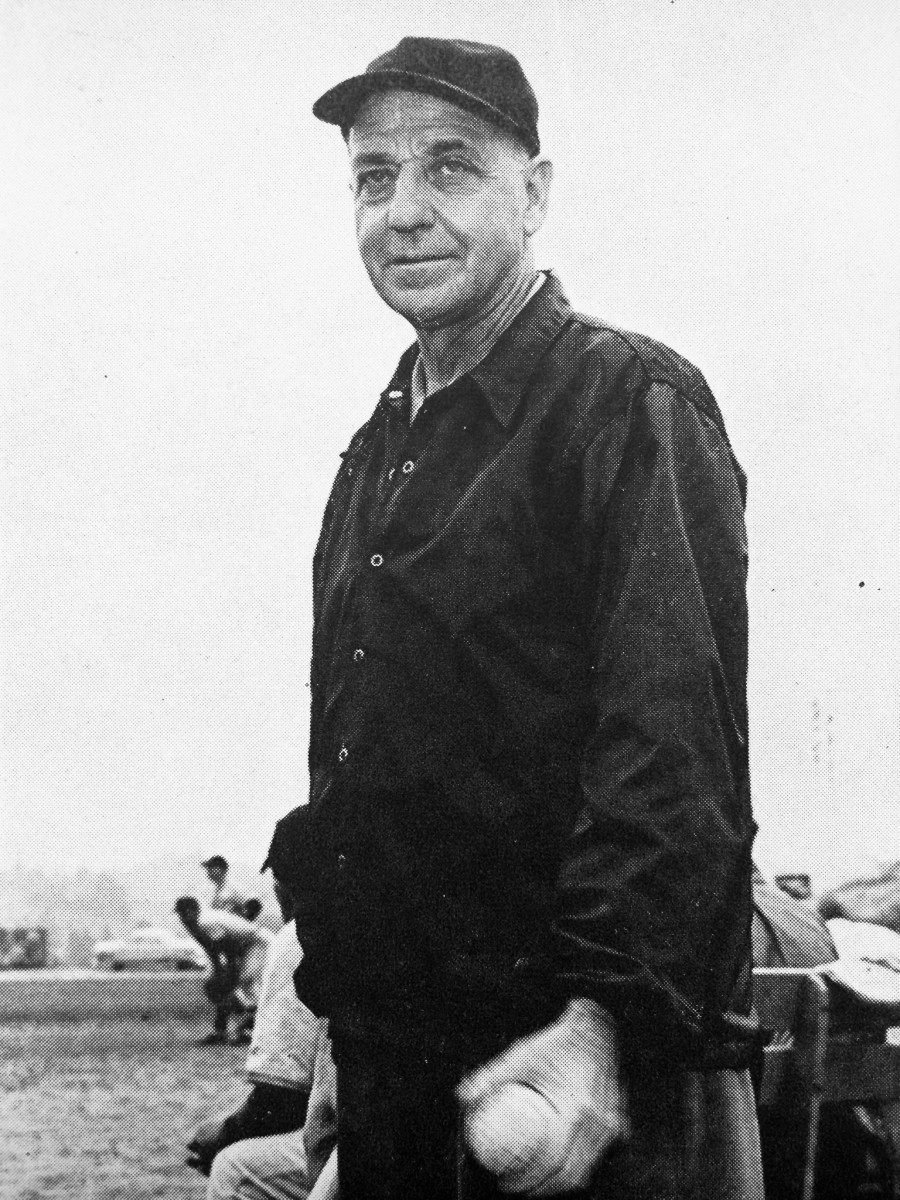 Anderson's "greatest victory," as a 1951 tribute called it, came off the field in his native Ohio. In 1941, a truck ran head-on into his factory-new Dodge, leaving the 49-year-old coach shattered and fighting for his life. Defying the odds, Anderson not only learned to walk again, he returned to Occidental after a yearlong convalescence.
Even though a nagging limp prohibited Anderson from doing much on the field, his spirit remained intact. His no-frills coaching style made him the object of some good-natured ribbing by his players to this day—he would hold two fists in front of him to make a bunt sign—but he was a leveling influence on his Tigers, many of whom came to Oxy thanks to his best recruiter.
"The reason why you had this collection of winning teams and players is because of Benjamin Hays Culley," says Via, who became the first Tiger to be chosen first-string All-SCIAC three consecutive years. "He knew all the high school coaches, he had his tentacles out there, and he was a hustler." And while he attended many games, the dean's commitment to the squad went even further: "He had this Ty Cobb glove with no webbing, like a pancake, and he would throw batting practice with us," Via adds.
Via and Bennett were introduced to Culley by their coach at Wilson High School, Jay Settle. "We were two guys from the other side of the tracks, and we didn't let him down," says Bennett, who grew up in City Terrace and has known Via since childhood.
Via made a diving catch in the late innings of Oxy's contest against Caltech to preserve Bennett's bid for a no-hitter, which he counts among his fondest memories. The game ended in a 6-0 win. "Frank's pitching speeds were slow, slower, and slowest, and he would frustrate the hell out of batters," Via says.
The players' induction as a unit in 2008 represented a personal victory for Bennett, who had long been pitching the concept of bringing whole teams into the hall. On January 30, coach Grant Dunlap '46's 1962 squad will become the 10th team to be inducted, joining the 1895, 1906, 1927, 1934, 1943, 1952, 1954, 1958, and 1967 Tigers. "Championship teams have more than nine players who make the historical events happen," Bennett says. There are the base coaches, scorekeepers, and the "holler guys" who pick up on the opponents' signals. "The covert activities of the bench are not often seen nor heard, but they make a difference in the scorebook—and they help create champions," he adds.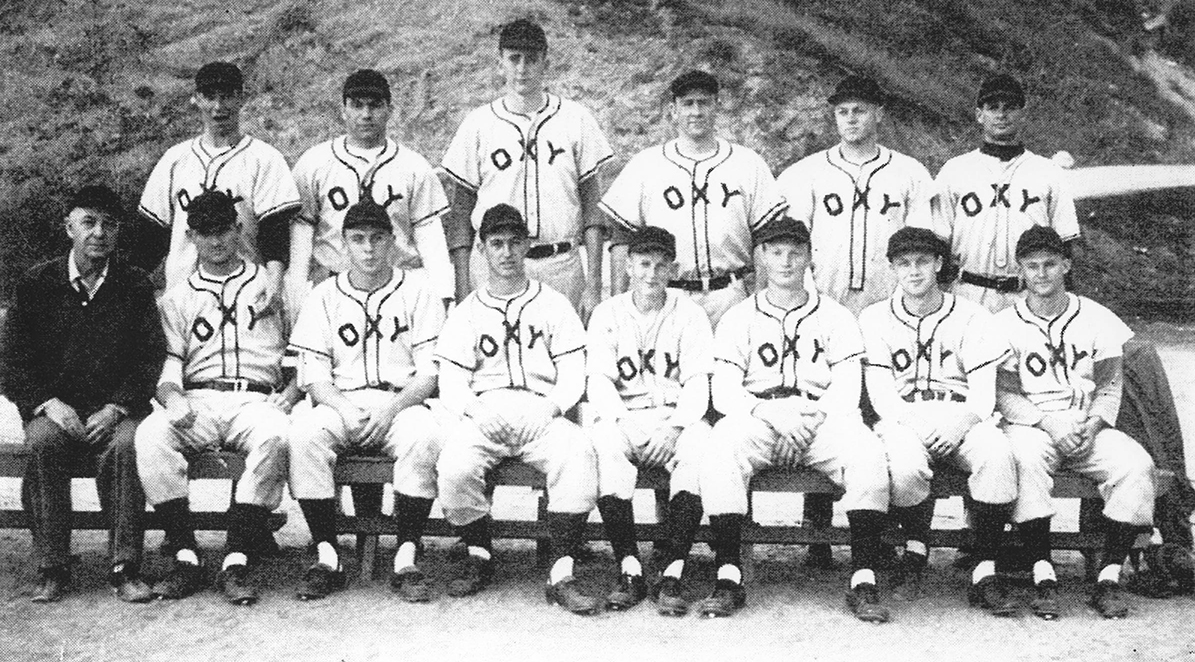 With the induction of Pat Delaney, the 1954 team will have seven members in the hall, second only to the 1952 squad. Delaney ranks 11th all-time in career batting average (.367) and sixth all-time in RBI production. Via, McFadden, and Bennett will induct Delaney, with members of his family expected to attend. Delaney, Bennett, Burt, and Via played together throughout their time at Oxy, finishing 8-2-1 as freshmen in 1951. In their three years of varsity play, the Tigers went 15-3-1 (10-0 SCIAC) in 1952, 15-4 (6-2) in 1953, and 17-3 (8-0) in 1954. "Baseball was good to us," says Bennett.
While Anderson made out the lineups in 1954, he left most of the onfield coaching decisions to his assistant, Bill Gelsinger '56. A journeyman player, scout, and coach who worked in the sport until age 45, he enrolled at Oxy at the recommendation of his coach at Glendale High School, former big-leaguer Art "Bud" Teachout '27, and returned as a sophomore in 1954 after 3½ years in the minor leagues. "I got $100 for doing it, and I needed the money," says Gelsinger, who taped ankles for Jack Kemp '57 and his teammates during football season.
When the team migrated from Patterson Field to the new baseball diamond in 1950, there was no infield grass, no fence, and nowhere to store players' gear between games. "We had chicken-wire cages where we hung our clothes under Patterson Field," recalls Ed Harper, who slugged the first home run on the new grounds. (Following its namesake's retirement, Anderson Field was dedicated in 1955, while Spencer Field House—honoring donor Paul Spencer '28—was built and dedicated in 1958.)
Harper is waist-deep into research on an exhaustive history of Bengal baseball, which has seen better days. While Oxy has fielded 28 championship teams in its 121-year history, the Tigers last won a conference title in 1982. "La Verne and Cal Lutheran coming into the league [in 1972 and 1992, respectively] was a game-changer," he says. "They began to dominate from the start."
Of all the advancements today's players have over their predecessors—aluminum bats, a grassy infield—the uniforms may make the biggest difference of all. Mike Bell guesses that McFadden—a nationally ranked junior college quarter-miler, and a refugee from Payton Jordan's relay teams—could have stolen an extra 15 bases in a more contemporary fabric: "Anything's better than those old woolies."
Originally published in Occidental magazine, Winter 2010. The 1954 baseball team will be inducted into the Oxy Athletics Hall of Fame on October 18.