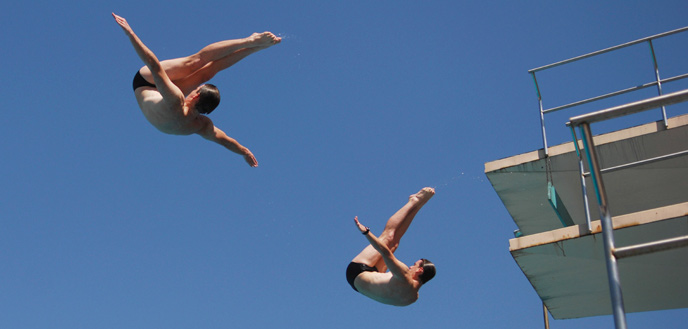 From Spring 2007: Junior diving phenoms Jon and Robert Dohring were "untouchable" all season, finishing 1-2 in the 1-and 3-meter events at the Division III nationals—and the sky's the limit for next year
Identical twins Jon and Robert Dohring of Glendale competed on the Rose Bowl Aquatic Center Diving Club for eight months when they were 13, but neither had leaped off a board in the five years prior to their enrollment at Oxy in fall 2004. Instead, they dedicated themselves to their first love: gymnastics. The brothers figured they'd find a gym nearby and work out for fun in their spare time. But when they learned that the College had a diving team, the twins figured they could transfer their gymnastic twists and leaps to the pool. After a visit to the aquatic center (where Occidental holds its practices and home meets), the Dohrings were sold on the idea. The biggest adjustment, it turned out, was learning to end on their heads rather than their feet.
At the request of head swimming and diving coach Peggy Carl, Rob Lucero '07 of Albuquerque, N.M.—then the lone male diver on the Oxy squad—gave the twins an overview of the program and filled them in on workout expectations. The brothers entered their new venture with twinges of trepidation: "We were scared because we thought everybody else would be really good and we'd be really embarrassed," Jon says. "But we fit right in, and by the end of that year we were doing pretty well and were starting to learn harder dives and better technique."
"They'd be the first ones on the board and the last ones off," Lucero says—and all that hard work paid off at the NCAA Division III swimming and diving nationals in March. Jon won the Division III national championship in the 1- and 3-meter competitions, with Robert placing second in both events—an unprecedented achievement by almost any measure. Says veteran diving coach Roland King: "It's storybook."
The 3-meter competition, held March 17, followed virtually the same script as the 1-meter event two days earlier. Robert held a sizable 32-point advantage after prelims, but Jon nailed one difficult dive after another in the finals to win the title by six points, 531-525. In the 1-meter, Jon claimed the title in his last attempt, a back 1 1/2 somersault with 1 1/2 twists, to edge his brother by less than four points.
With his wins, Jon became Occidental's first national champion in any sport since 1978, as well as the first Oxy athlete ever to win two individual titles at the same championship. He becomes the College's first national champion in diving since 1942, when Sammy Lee '43—who later went on to win gold medals at the 1948 and 1952 Olympics—won the 3-meter and 10-meter championships at the National AAU swim meet. As a team, the Tigers finished 13th in the overall standings with 81 points.
"I certainly didn't expect to make it to nationals in my four years, let alone win," says Jon, who also was named Diver of the Meet by the College Swimming Coaches Association of America and is three hours older than Robert. During the 2004-05 season it was usually Robert who beat out his big brother. Robert got a taste of heartbreak as a frosh when—needing a score of 440 on the
3-meter to qualify for nationals—he tallied 439.89 points and was forced to go home.
"I wasn't expecting to get even that close, but after I got that score I realized I really wanted to make it to nationals the next year," he says. And he did, taking third on the 3-meter and fourth in the 1-meter as a sophomore.
The brothers are modest about their feats and, if anything, the experience has focused them on next season. "I got back from nationals and learned two new dives the next day," says Jon, who is distinct from his brother in one visible way: He never removes his watch. Even at nationals, Jon took to the springboard wearing his Speedos and Casio G-shock digital watch (waterproof, of course). It's not a talisman, he's just not in the habit of removing it.
Timepiece or not, the brothers were "untouchable" this season, according to King, finishing 1-2 in their events all but once. "I was probably less surprised than they were just because I've been coaching for 20 years and I've seen a lot of athletes do amazing things," adds King, who was named CSCAA Diving Coach of the Year. "They were able to train well and compete well from week one all the way through the nationals without a slip."
Besides their physical appearance, the brothers do share other similarities. They have the same friends and both are economics with an emphasis on business management who plan to pursue their MBAs. What's different is their reaction to competitive pressures. While Robert loses his appetite before big events, Jon puts up with insomnia. At the championships in Houston, he couldn't fall asleep until 5:30 a.m. the day of competition. Dozing until 9 a.m., he was at the pool in time for his first dive an hour later. Notes Robert: "It was probably the most stressful spring break I've ever had."
The Dohrings, who have an older brother (Jason Dohring, a regular on the CW's "Veronica Mars") and identical twin sisters, don't buy into the notion that twins share telekinetic bonds. "We're more inclined to think other twins are lying when they say they know what each other is thinking," Robert says. "That's never happened to us."
The twins are on the same wavelength in one regard—both want to return to nationals next year with a wider repertoire of dives. The Dohrings' accomplishments haven't come without hurdles. "My problem was I could do all the hard dives, I just was not consistent at all," Jon says. "In practice I would be fine and in competition I would freeze up and not do very well."
As for Robert, "I'd been scared to learn a lot of the dives I should have been learning. Landing on your stomach from three meters high hurts, so you do that a few times and it gets irritating. It built up a mental block for me, so I stopped trying to learn." King says the brothers are competitive, but also supportive of one another.
The Dohrings' success did not escape the notice of Lee, who read coverage of their feats from his Huntington Beach home. When he did his diving as a student at Oxy, Taylor Pool—built in 1930—"was state of the art," Lee says. But the old white pine diving boards ultimately gave way to the compressed aluminum boards of today. "From those boards, you can get up 20 feet higher than off a wooden board," Lee says. "Now you are required to have a pool at least 12 feet deep for a 3-meter board."
Taylor Pool's 1- and 3-meter boards were removed years ago for safety reasons, with diving practice and competition having migrated to the Rose Bowl years before Carl's arrival in 1990. If and when a new aquatics facility is built at Oxy—a new pool is included in the College's master plan proposal now before the city—she hopes that the pool will be at least 13 feet deep.
The pool has shown its age more than once in recent years—most dramatically in 2005, when structural damage caused by faulty piping closed the facility for six months, forcing the men's water polo team to practice at Burbank High School for the entire fall season and the swimming team to travel by school bus each day for workouts at Flint­ridge Prep for an entire month.
In spite of the pool's shortcomings— the lack of an adequate number of practice lanes requires Carl to schedule both morning and afternoon sessions to accommodate her entire team—Oxy water sports have enjoyed a resurgence in recent years, with the Dohrings and swimmer Dickson Fai '08 of Hong Kong leading the way. Fai is a four-time All-American and record holder in the 100 and 200 backstroke and the 4200 individual medley. Not a diving fan in the least ("It's scary," he says, "and I don't like heights"), Fai makes an exception for the Dohrings. "I have faith in them," Fai says. "You know Jon and Robert will do well."
The brothers aren't wasting any time in their mental and physical preparation for their senior swan song. "It's really up to athletes to determine what their goals are, how far they want to go, and what they're willing to sacrifice to do that," King says. "Both of them going into their senior year have a good grasp of all that. I think they're going to be dangerous next season."
Photo by Kirby Lee. Originally published in Occidental magazine, Spring 2007.