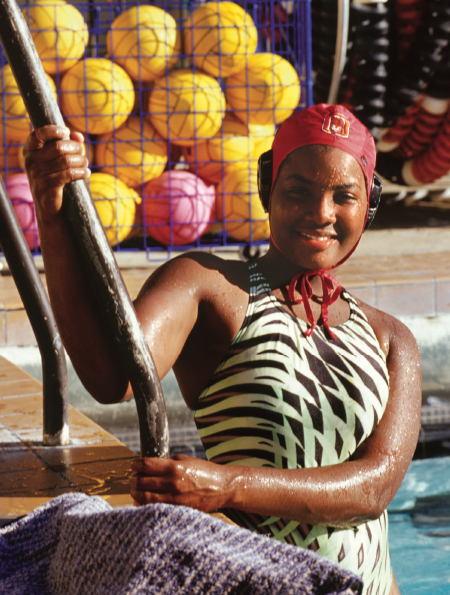 From Summer 2001: With physical prowess, fierce defense, and a killer glare, Oxy water polo sensation Jackie Provost '02 turns goaltending into an art form
Seven meters from the net, you're in Jackie Provost '02's territory. At two meters, the trademark glare steals over Oxy's star goalie. "She's not that smiley-faced person you see all the time," observes water polo coach Dennis Fosdick. "That's her house, and she takes it very personally when you get near it."
More than once, challengers have forced their shots and sailed the ball wide or slapped it against the goal posts. "I'm the last line of defense and I don't want you to get past me," says Provost, who helped the defending national champion Tigers take third place in the 2001 Division III championship, blocking 16 shots to lead her squad to a 5-4 victory over second-ranked UC Santa Cruz. The performance earned her first-team all-tournament honors for the third straight year—not that Provost, who was named Division III national player of the year as a sophomore, pays much attention to statistics. "It's something I never got into," she says matter-of-factly.
But her statistics are hard to ignore. In 2000, Provost was honored as SCIAC women's water polo player of the year, as well as first-team All-American by the American Water Polo Coaches Association. During last year's national championship game, a gripping 7-6 sudden-death overtime win over Claremont-Mudd-Scripps, Provost blocked a critical penalty shot to help seal Oxy's victory. She was named tournament most valuable player.
Provost's water polo ascendancy got its start largely by happenstance. "I'd never even heard of the sport before," she admits. She was first exposed to the game while attending Castilleja School in Palo Alto, an hour's drive from home and close to her mother's workplace. Provost had planned to play basketball, but the coach told her to scale back piano practice to focus on her court skills—a sacrifice she wouldn't make. "My options at that point were soccer or water polo," Provost recalls. "I thought I'd give water polo a try."
A competitive backstroker for some time, she became adept in her new arena in short order. "It's a difficult sport to learn, but the good thing about water polo is you're able to play year-round, so I had a lot of practice," Provost says. As the tallest player on the team, she adds, the position of goalie logically fell to her. (For the record, Provost is 5'7 1/2"—"Don't forget the half," she exhorts.)
Height has its advantages for goalies, but the position also requires brute strength and stamina. Provost's conditioning includes lap swimming, squats, leg presses, and upper-body weight training. Her discipline has paid off. Provost is an explosive force, able to propel more than half her body out of the water to protect the 10-foot goal line. Provost explains the art of goaltending in terms reminiscent of a wild animal catching its quarry. "You have to be quick, but patient. You have to anticipate. A good goalie—one who's been playing for a while—knows what shots are going to come just by looking at the shooter's position." Never watch their eyes, she cautions: "They try to lie with their eyes."
When she's not in plucky defense of the goal line, Provost barks orders to teammates—to the point that she often goes home from matches hoarse. "As a goalie, I have to take the position of defensive coach in the water," she says. "I do a lot of talking, a lot of yelling—and celebrating when they make the goal."
Like any good team captain, she is ready to sound a reality check after a title-defending season in which the injury-marred team finished with a 16-9 record (6-4 SCIAC). "We were the champs and a lot of people stepped up when they played against us. They really, really played well," Provost says. "We didn't understand that or incorporate it into our game plan." Provost hopes to lead the team to one last title before she graduates, but there's no dearth of competition in her backyard. Last season, five of the nation's top eight Division III teams (CMS, Redlands, Oxy, Pomona-Pitzer, and LaVerne) came from the SCIAC. "I'm always being challenged," Provost says. "D-III is growing extremely fast, and a lot of great players are going to D-III schools."
Occidental proved to be a perfect fit for Provost, who opted for Division III play because she wanted to focus on academics, even though she'd played against Olympians in summer club competition and had risen to the junior national level in water polo. She's already looking beyond water polo and plans to attend medical school after Oxy.
So intense is the kinesiology major from Oakland that even parents of opposing players have commended her ferocity. "I'm a strong competitor and I like to win," she admits. Nonetheless, Provost and her teammates haven't forgotten what's important in the end: "One thing we decided is we play water polo to have fun."
Photo by Kevin Burke. Originally published in Occidental magazine, Summer 2001. Provost will be inducted into the Oxy Athletics Hall of Fame on October 18.