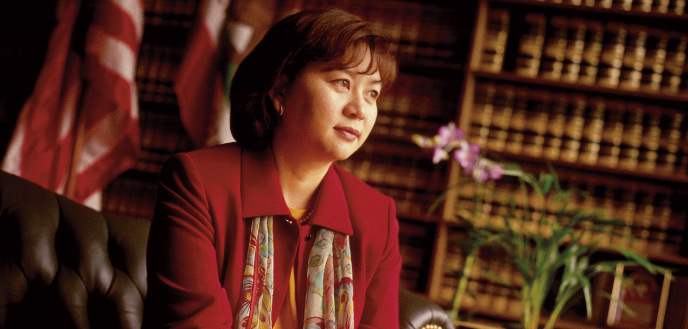 From Winter 2003: Dubbed the "Smiling Assassin" as a prosecutor, Jacqueline Nguyen '87 now wields a gavel as the first Vietnamese-American woman appointee to the California state judiciary
There's no more apt symbol for Jacqueline Nguyen '87's odyssey from Vietnamese refugee to Superior Court judge than the Fosters Donuts at Victory Boulevard and Vineland Avenue in North Hollywood. Nguyen began working in the family doughnut business as a teenager, pulling the late shift and studying between customers while her classmates navigated the social scene. "I had thoughts of resentment and many times I wanted something different for my life," Nguyen recalls. "But it was also a very grounding experience."
Until her mother sold the shop last spring and retired, Nguyen continued to work week­ends, despite her full-time job as a prosecutor in the U.S. Attorney's Office in Los Angeles. "I was sensitive to the fact it was a family business," she says. "I viewed it as my responsibility." Nguyen has since gone from the coffee counter to the state bench. In August, California Gov. Gray Davis appointed her the first Vietnamese-American woman to the state judiciary. Nguyen was sworn in Nov. 1, 2002, at the Alhambra Courthouse.
Nguyen's rise from the mountain city of Dalat, South Vietnam, was anything but a foregone conclusion. Her family was among the last to flee the country after the fall of Saigon, escaping aboard a military transport after a family friend living in Southeast Asia—an American civilian married to a Vietnamese national—lied to U.S. military personnel that the Nguyens were his relatives. The family squeezed aboard the noisy aircraft, holding hands to avoid becoming separated. Binh Nguyen, a major in the South Vietnamese Army who worked closely with U.S. intelligence officers during the war, crafted homemade dogtags for his children in the event they got lost in the confusion.
"For a child, it was kind of exciting," remembers Nguyen, who was 10 at the time. The family spent the next several weeks being processed in the Philippines and Guam before touching down at California's Camp Pendleton Marine Corps Base. For the next three months, Jacqueline's father scoured job listings while the Nguyens shared a tent with two other refugee families.
The Nguyens settled in Montrose and soon after staked their future in doughnuts, an entrepreneurial venture that required very little capital. Jacqueline and her older sister Christina (Nguyen) Deane '86 (now an optometrist in San Jose) alternated babysitting siblings and working one of the three doughnut shops the family owned over the next several years. Jacqueline, meanwhile, took English as a second language through eighth grade and practiced her language skills with Mattel's See N Say pull-string toy.
Following in Christina's footsteps, Nguyen enrolled at Occidental not only because of a generous financial aid package, but also because of the College's small setting. "I needed to develop people skills that I didn't get to develop in high school," she says. In little time, Nguyen impressed friends with her unflappable manner. Roommate Ann (Blank) Tarantine '87 remembers Nguyen as "your quintessential liberal arts person who was able to see both sides of an argument and make a fair judgment." Nguyen became quite popular among her Stearns dormmates because she would return from the doughnut shop with a box of treats, including Tarantine's favorite—apple fritters.
Nguyen nurtured a love for the humanities and majored in English. Her passion for language spurred her to take the LSAT. She did well and decided right then to enroll at UCLA Law School. Her parents objected, but Nguyen never forgot the confusion her mother endured when the Immigration and Naturalization Service lost some of the family's paperwork. Hoa Nguyen was left to founder in the system and eventually paid hundreds of dollars to a "fly-by-night" attorney to restart the process. "I remembered when we were refugees and how ignorant we were as to the legal system in the United States," Nguyen says. "It can really seem insurmountable."
After four years as a litigation associate with the Los Angeles firm of Musick, Peeler & Garrett, Nguyen joined the U.S. Attorney's Office. She tackled a caseload of complex white-collar fraud matters, earning plaudits for her 1999 prosecution of Operation Eastern Approach, in which a San Fernando Valley man pleaded guilty to running an immigration fraud ring. Nguyen's work on the case—the first successful prosecution under a new anti-terrorism measure—earned her the Department of Justice's Director's Award.
Nguyen also got a nickname within the U.S. Attorney's Office: the "Smiling Assassin." "I think the effect of her smile would be to unnerve criminal defendants," says Beverly Reid-O'Connell, deputy chief of general crimes. "Jacqueline was always very aggressive. Intellectual curiosity drives her."
Entering her second month as a judge, Nguyen is already immersed in the state's massive judicial workload. Every day, she hears as many as 80 matters on a criminal misdemeanor or felony preliminary hearing calendar. "The challenge," she says, "is how to balance the incredibly heavy calendar, and how to move cases along efficiently, with the competing demand that every litigant walks away feeling he or she has been treated fairly."
Additionally, Nguyen must balance her roles as a wife and mother. She and husband Pio Kim, a federal prosecutor, have a 3-year-old son, Nolan, and are in the process of adopting a daughter from China. Nguyen, meanwhile, has gained a following among young Asian American women eager to follow in her path: "It really presses on me the responsibility, whether I want it or not, to be a good role model." But her biggest fans are the two people whose advice she shirked in the first place. "My parents are beyond thrilled," Nguyen says. "I don't think in their wildest dreams they even thought I'd get to this point." You can bet dollars to doughnuts they're smiling now.
Photo by Kevin Burke. Originally published in Occidental magazine, Winter 2003.