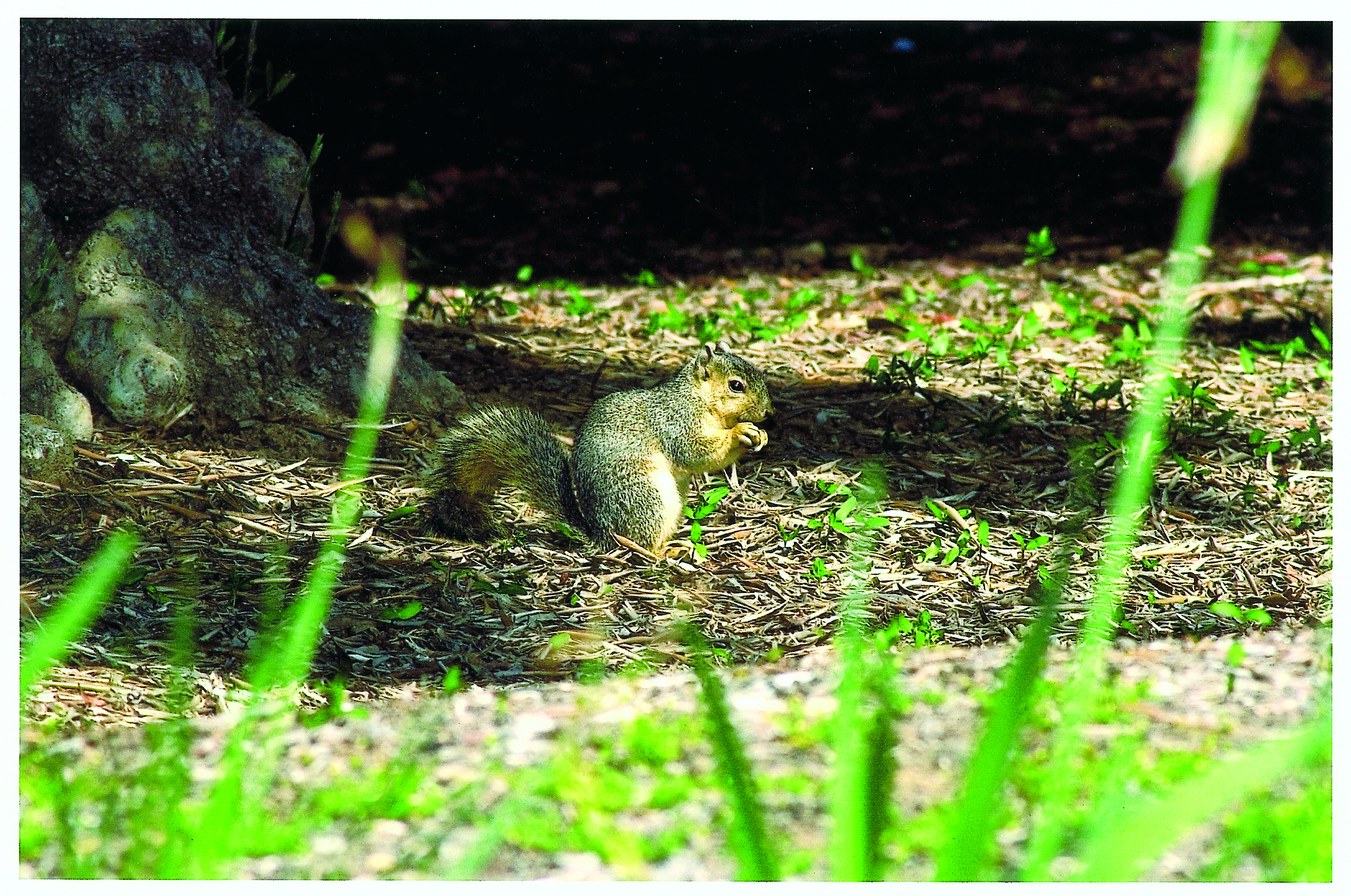 From Fall 2001: They're as endemic to the Oxy campus today as orange and black, but half a century ago Sciurus niger was a stranger to California
Occidental's newly minted status as one of the nation's "hottest" colleges should come as no surprise to those who have been looking at another measure—one that evaluates out-of-classroom experiences and the acorn-to-acreage ratio. We're referring, of course, to Oxy's four-squirrel rating (on a five-squirrel scale) in Jon Gottshall's "Academic Squirrels in California" ranking. The rating puts the College in the company of Cal State Northridge and Cal State Sacramento and within a tail's length of Stanford (four and a half squirrels) and five-squirrel Berkeley (which Gottshall hails as "the absolute best place I've ever found for a squirrel session").
"Squirrel-watching has been a hobby of mine since about 1994 or so," explains Gottshall, who got in the habit of feeding the critters while visiting various campuses doing library research for an M.A. in history (he now works at the Los Angeles Times).
At the recommendation of an Oxy student, Gottshall visited the campus early one Saturday morning in September 1997. He was impressed by the number of mature oak trees, many of which predate the College's move to Eagle Rock in 1914, and by the busy squirrel community in the trees. "You could hear lots of them above, rummaging through the leaves and branches to pick the acorns and eat them," he writes. "You could see little bits of leaves and partially eaten acorns raining down, and you could in the background hear the squirrels nibbling."
There are two varieties of squirrels living on the Occidental campus. The Beechey ground squirrel is the smaller of the two, with a silvery gray coat. Also referred to as the California ground squirrel, it is native to the state—unlike the second species, the eastern fox squirrel (Sciurus niger), which was introduced on the Stanford campus in the 1950s. "In the mid-to-late-1960s, I started seeing them in Southern California," says Professor of Biology John Hafner.
Color notwithstanding, it can be difficult at times to tell the two species of Oxy squirrel apart. "Morphologically, the Beechey ground squirrel shows many traits of a tree squirrel," including the ability to climb up to 15 feet, says Hafner, who with his students is studying DNA sequencing in kangaroo mice (his brother, Dave, did his dissertation on the Antelope Valley ground squirrel).
Whether they're drinking rainwater from a cement cavity along the sidewalk behind the Cooler; chasing each other, tails a-twitching, during their spring mating ritual; or chattering an afternoon symphony, squirrels aren't usually hard to spot on the Occidental campus. (There's even a squirrel photo in the new admission viewbook for prospective Oxy students.) So it may come as a surprise to many that, in the not-so-distant past, there was nary a squirrel to be found in the Quad, on Mount Fiji, or any points in-between. "When I was a kid here and a student at Oxy, we did not have squirrels in town," says Doreen (Peden) Siodmak '56, retired director of alumni relations. "People in the 1950s did not see the squirrels on campus."
Years ago, the state gaming commission attempted to control the squirrel population, which was a threat to various crops, by means of poison. "That was effective for the ground squirrel, but it also killed off badgers and quails," says Hafner, who views the proliferation of fox squirrels as a threat to the survival of their smaller California cousins. He's not alone. "No one thinks of squirrels as being predators, but they're pretty voracious," says Assistant Professor of Biology Beth Braker, who has observed squirrels pilfer the nests of hummingbirds, sparrows, and brown tow­hees outside her office window.
When it comes to human interaction, however, most Oxy squirrels don't go out of their way looking for trouble—save the occasional poor rodent who finds himself in the wrong place at the wrong time. "Campus Safety had one squirrel wander into our suite of offices one Saturday and refuse to leave," recalls Holly Nieto, director of campus safety. "Three officers had a time trying to herd it back out the door." Unfortunately, she adds, they scared the you-know-what—"literally"—out of the squirrel in the process: "Nasty carpet stains resulted."
Above: An unidentified fox squirrel eats his lunch in the shade of an oak tree near Thorne Hall. Photo by David Gautreau.