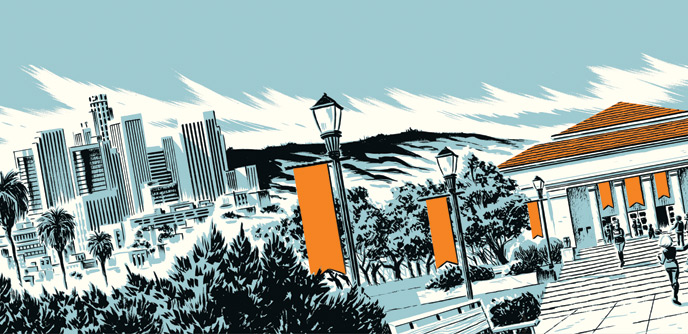 From planning the freeway system and aiding the conservation movement to bringing the Dodgers and the Olympics to town, Oxy alumni have been integral to the development of the City of Angels. We salute a baker's dozen
The histories of Occidental and Los Angeles are as intertwined as the fabled Oxy Grapevine is with the private lives of the school's students. When 27 men and 13 women enrolled for Occidental's first term in 1888, they were pioneers in a dusty outpost of a city. By 1890, with the arrival of railroads and the discovery of oil, the population of Los Angeles had leaped to 50,395, and that doubled to 102,479 by 1900. By the time the population surpassed 1 million in 1930, many Oxy alumni were busy helping to shape the burgeoning metropolis.
Occidental alums played an integral part in L.A.'s development, planning the freeway system, founding the community of Bel-Air, helping develop the state's public university system, establishing major academic libraries and museums, and aiding the conservation movement. Oxy alumni documented the city's rise in popular ­historical narratives. They brought the Dodgers and the Olympics to town. 
Today, Los Angeles ranks as the third richest city and fifth most powerful and influential in the world. It is the third largest economy globally, after Tokyo and New York City. "Los Angeles is a young city, but also the most dynamic and diverse city on Earth," notes Steve Rountree '71, Music Center president and CEO and one of the many alumni to have a hand in shaping the future of the city that Occidental calls home. We salute a baker's dozen in the pages that follow.
Alphonzo Bell 1895: Putting the "Bell" in Bel-Air
In the decades after graduating first in his class of six at Occidental in 1895, Alphonzo Bell amassed a great fortune—and almost as quickly gave it away. The son of farmer, developer, and devout Presbyterian James Bell (one of Oxy's founding fathers), Alphonzo was drilling for water on his corn and citrus farm in Santa Fe Springs when he struck oil in 1921, making him a millionaire.
Using the oil money, he invested heavily in Westside property and began developing Bel-Air Estates in 1924. Bell and his family moved into a 42-room estate on 1,760 acres, to which he added a towering rock wall, swimming pool, and a tennis court befitting a silver medalist in men's doubles at the 1904 Olympics.
That same year, Bell helped organize the Los Angeles Mountain Park Co., which bought 22,000 acres in the Santa Monica Mountains and converted them into a residential area extending westward from Bel-Air to the Pacific Ocean. He also helped develop parts of Westwood, Beverly Hills, and Pacific Palisades. And prior to his death in 1947, he donated most of that fortune to the Presbyterian church and a host of institutions, among them Occidental.
"After months researching his life and accomplishments, Alphonzo Bell remained an enigma to me," writes Michael Gross, author of Unreal Estate (2011). "He was an ascetic who loved trophy real estate, a strict father whose children ran wild, and a business visionary who ran his own business into the ground." But his contradictions, Gross  finally concluded, "made him a perfect symbol of Los Angeles, which is itself an awesome creation, simultaneously delightful, infuriating, and quite impossible to pin down."
Harrison Baker '17: Freeway Maker
When he was named by Gov. Earl Warren as commissioner of the California State Highway Commission in 1943, Harrison Baker shared the news in a letter to Oxy President Remsen D. Bird: "I feel that this office is not only a fine opportunity to take some part in the constructive development of our state,  but also that it is a heavy responsibility. ... The program which is en­trusted to us should play an important role in the post-war development of California."
Anyone who's ever been stuck on the 5, the 10, or the 405 would consider that a bit of an understatement. A Pasadena real estate broker, Baker was an early advocate of freeways, considered the "father" of L.A.'s first—the Pasadena Freeway, in 1940. During his 11 years as commissioner, he supervised the planning, financing, and building of the Los Angeles freeway system. The Hollywood, San Bernardino, Santa Ana, and Long Beach freeways were begun, setting the stage for two decades of construction of the features that today define Los Angeles. A billion dollars was spent on state highways on his watch.
In addition, Baker was also chairman of the commission that wrote the California subdivision laws, and developed the community of Borrego Springs and Pasadena's Hastings Ranch. He died in 1970.
Robert Cleland 1907 and Glenn Dumke '38: SoCal Historians
In the span of three short years, this Oxy professor and his protégé published two classics of Southern California history: Cleland's
The Cattle on a Thousand Hills
(1941) and Dumke's
The Boom of the Eighties in Southern California
(1944). Together, they describe L.A.'s transformation from a small town to a boomtown caught up in a real estate bubble that launched Occidental.
Cleland received his Ph.D. from Princeton in 1912 and joined Oxy's history department that same year. He would serve the College in many roles, including professor, vice president, dean of the faculty, acting president, trustee, and historian (writing the College history for its 50th anniversary in 1937). Following his retirement in 1943, he became a member of the research staff at the Huntington Library, but continued to teach part-time until his death in 1957. Cleland wrote 11 noteworthy books on California and the U.S. frontier, popularizing the history of the American West. His goal, as he put it, was to "light up the landscape of history."
Glenn Dumke had intended to get an engineering degree from Caltech, but his plans shifted drastically once he took some classes from Cleland at Occidental. He instead majored in history and, after earning a Ph.D. at UCLA, taught at Oxy for 17 years.
In 1958, he became one of the country's youngest college presidents when he took the helm at San Francisco State College at age 40. Four years later, he became chancellor of what was then called the California State University and Colleges system (today the Cal State system), remaining in that position until his retirement in 1982. He is credited with unifying 16 separate California state college campuses into the country's largest single state university system.
A noted authority and scholar of Western American history, Dumke's book The Boom of the Eighties is considered the definitive study of that period in SoCal history—the decade that saw the founding of Occidental.
Harold "Chad" McClellan '22: Business Before Baseball
No one would describe Chad McClellan as a baseball fan—least of all McClellan himself. "I had seen only one major league game in my life," he recalled in the
Los Angeles Times
in 1963—six years after spearheading the movement that brought one of the most storied franchises in the game to the City of Angels. A paint manufacturer and president of the powerful Merchants and Manufacturers Association, he was appointed by L.A. Mayor Norris Poulson in July 1957 to negotiate on behalf of the city and county to bring the Brooklyn Dodgers to L.A. After endless back-and-forthing, the team relocated to the West Coast for the start of the 1958 season.
The Dodgers—who have won four World Series since and who celebrated their golden anniversary in Dodger Stadium this season—have more than rewarded McClellan's efforts. He also served as assistant secretary of Commerce under President Eisenhower from 1955 to 1957, and organized the "kitchen debate" on communism and free enterprise between Russian Premier Nikita Khrushchev and Vice President Richard Nixon during the U.S. Exhibition in Moscow in 1959. McClellan died in 1979.
Lawrence Clark Powell '28: A Booksmith and Wordsmith
"Write to be understood, speak to be heard, read to grow." So wrote Lawrence Clark Powell '28, the librarian, bibliophile, essayist, and author who played a key role in fostering the book culture of Los Angeles. "At once inside and outside the academy, Powell wrote on an extraordinarily wide range of topics—books, librarianship, history, music, travel, sports cars, personal reminiscence—for a wide range of popular, middlebrow, and specialized publications," historian Kevin Starr said of Powell.
An English major at Oxy, Powell joined the UCLA library staff in 1938 as a junior assistant in acquisitions after earning his Ph.D. at the University of Dijon. His dissertation was on poet Robinson Jeffers 1905. Working with Jeffers' wife, Una, and collector Albert Bender, he was instrumental in starting the core of Oxy's Jeffers collection.
By 1944, Powell had been named UCLA's second university librarian. He headed the University Library from 1944 to 1961, and was director of the William Andrews Clark Memorial Library from 1944 until his retirement in 1966. (Powell undergraduate library is named in his honor.) Under his guidance, UCLA's library holdings grew from about 200,000 volumes to nearly 2 million—and its staff grew from 35 to 300—by the time he retired.
A regular contributor to Westways, "By the early 1960s, Powell was the most quoted, most celebrated, most respected librarian in America," the magazine noted in 2006. "He was passionate in his devotion, dedication, and defense of what he called 'the little package'"—his term for a book. And by the time of his death in 2001, he had written more than 40 "little packages" himself.
Alphonzo Bell Jr. '38: Saving the Santa Monicas
A political science major at Occidental, Alphonzo Bell Jr. grew up on a cattle ranch in Bel-Air in the shadow of his famous father, and joined the family oil business after his service in World War II. But politics was his true calling, and Bell represented the Westside of Los Angeles for eight terms in Congress (1961-1977). Considered a moderate Republican, he supported the Vietnam War, yet backed every major piece of civil rights legislation, walked with Rev. Martin Luther King Jr. in the March on Washin­g­ton, D.C., in 1963, and supported Democrat Tom Bradley as L.A.'s first black mayor.
"The extremist at either end doesn't have to do most of the work or most of the thinking—he knows what he's for and against beforehand," Bell Jr. explained to the Los Angeles Times in 1970. "A moderate has to decide each question on its own merits."
Bell Jr. was an early environmentalist as well, successfully backing legislation to block offshore oil drilling in Southern California, helping to create the Santa Monica Moun­tains Conservancy, and advocating for "the development of alternative energy sources" such as solar energy and geothermal power. He initiated the "Save the Whales" bill and wrote opinion pieces in major newspapers railing against Japanese whaling.
Three years before his death, Bell Jr. published his memoir, The Bel-Air Kid (2001). As stepson Graham Moses noted: "In his life, Al followed the example his father has set for him—he gave everything he had."
Alfonso Perez '47: Model Educator
The son of Mexican immigrants, Alfonso Perez '47 won the Distinguished Flying Cross and the Air Medal as an Air Force bombardier in World War II. What he was proudest of, however, was his 33 years of service to special education students in public schools.
Resuming his college education after the war, Perez enrolled at Oxy as a junior and earned a degree in physical education on the GI Bill, followed by a master's in special education from USC. Named the first Mexican-American high school principal in Los Angeles, Perez turned Widney High School into a national model of public education for the handicapped, mainstreaming up to a third of its students. "I find the kids an inspiration," he told the Los Angeles Mirror-News following his appointment in 1956. "We don't see their braces or wheelchairs. We just see kids."
In February 1970, Perez returned to his alma mater, Roosevelt High School, at a volatile time in its history. "Roosevelt was having problems with student demonstrations, protests, etc., and they were demanding a Mexican-American principal," he later recalled. Perez won over the student body while restoring order in his 15 months there, after which he became a district administrator.
In 1982, two years after his retirement from the Los Angeles Unified School District, the Alfonso B. Perez School for special education students was named in his honor. In 2003, a lifetime of honors was capped by his induction into the Mexican-American Hall of Fame "He excelled in his field, and he is a role model to the rest of us,"  hall president Martin Castro said of Perez (who died in 2010).
Lyle Ritz '52: Ace of Bass
Lyle Ritz '52 was supposed to be a music teacher. Instead, the Ohio native who began as a tuba player wound up as a member of the "Wrecking Crew," the legendary group of session men and women heard on many of the greatest hits of the 1960s.
As one of the most sought-after studio bassists in Los Angeles, Ritz played on more than 5,000 recording sessions, heard behind the likes of Frank Sinatra, Linda Ronstadt, Herb Alpert, the Beach Boys, the Righteous Brothers, Ray Charles, Johnny Mathis, and Sonny and Cher. "I really grabbed the brass ring with 'I Got You Babe,' Ritz says. "After that, I could make a living in the studios and not have to play in the nightclubs anymore."
To a legion of more recent fans, Ritz is equally well known as an extraordinary ukulele player whose two influential albums for Verve, How About Uke? (1957) and 50th State Jazz (1959)—the first jazz recordings featuring the diminutive four-stringed instrument—have enjoyed a resurgence in popularity. "Anything you want, you can express on the uke," says Ritz, who played ukulele during some of the Beach Boys' Pet Sounds sessions. "It's an honest-to-goodness musical instrument, and it'll do anything."
John Argue '53: Going for Gold
When John Argue '53 and John Cushman '55 were young lawyers, they would go to Clifton's Cafeteria for lunch and place a bet to see who could get the most food for $2. While the results of those contests have become clouded over time, it's hard to bet against Argue: The son of Olympic athlete J. Clifford Argue '24, Argue played a key role in bringing the 1984 Olympics to Los Angeles. "If he wanted to get something done, it got done," recalls Ginny Cushman '55. "But he followed that wonderful rule where he didn't care who got the credit."
As founding chairman of the Los Angeles Olympic Organizing Committee, it was Argue who persuaded the International Olympic Committee to agree to a privately funded Olympics, and Argue who picked Peter Ueberroth to run the Games. (Argue Plaza at USC sits on the site of the 1984 Olympic Village there.) When he received the Olympic Order award from the IOC in 1994, then-IOC President Juan Antonio Samaranch said that Argue "was content to work in the background, orchestrating the bid for the Games like a masterful conductor."
Following the '84 Games, Argue continued his quest to keep the Olympic movement alive in SoCal. Only his death in 2002 ended his quest to bring the Games back to L.A. in 2016. Los Angeles Times sports reporter Bill Dwyre later wrote that Argue was "the ultimate civic booster, passionately pushing the message of his city, his school [USC], and the Olympics to all who would listen and all who would help."
Steve Rountree '71 and Ed Rada '78: Showcasing the Arts
L.A.'s oldest and largest venue for the arts welcomes more than 2 million visitors annually. The Music Center is composed of four downtown venues: the Ahmanson Theatre, Dorothy Chandler Pavilion, Walt Disney Concert Hall, and Mark Taper Forum. And bringing showtime to L.A. are Music Center president and CEO Steve Rountree '71 and Center Theatre Group managing director Ed Rada '78.
A native Angeleno and onetime director of personnel and assistant executive vice president at Occidental, Rountree was appointed director of the Getty Center Building Program in 1984, managing all aspects of project development, design, and construction of the Getty. He remained there until he took over the Music Center in 2002.
"I've spent my whole career in the arts and higher education, on the management side. But I had virtually no exposure to the arts before arriving at Oxy," says Rountree, currently a vice chair of the College's Board of Trustees. "Through my studies of literature, History of Civ, and travel to Japan, my Oxy experience opened new windows while also providing demanding schooling in critical thinking and writing. The visual and performing arts provide compelling experiences that open us up to different ways of seeing our world. Oxy taught me to value such experiences and to recognize the central role of art in making a civil society."
Oxy's Summer Theater Festival, which Rada participated in for three years, played "a huge role" in his development. "Because the theater department was fairly small and so welcoming, it provided access and experiences that I would not have had at a larger university," he says, including parts in The Pajama Game, Hollybush Hall, and Yeoman of the Guard. But by his own admission, Rada's love for theater exceeded his skill level. "I had talent in economics," he says, so that's what he pursued as a career—while keeping his love of theater in his back pocket.
"I have been involved in Los Angeles theater for most of my life and regard the managing director job as a dream come true," says Rada, who oversees the operations of the Ahmanson, Taper, and the Kirk Douglas Theatre within the Center Theatre Group. "My whole career is rooted in the fact that going to Oxy, I was able to be an economics major and spend time in the theater department. I was able to develop skills in one area, and develop a passion in another area. That's the whole point of a liberal arts education."
Angelica Salas '93: Reforming Immigration
Regarded as one of the most gifted organizers in the country today, Angelica Salas '93 gives voice to the millions of unheard, unrepresented illegal immigrants in America. As executive director of the Coalition for Humane Immigrant Rights of Los Angeles since 1999, the Oxy history and sociology double-major (who was 5 when her family came to the United States out of economic desperation) helped lead the fight for reform of immigration policies, winning in-state tuition for undocumented immigrant students, many of whom arrived as infants, and establishing day-laborer job centers. She grew her tiny nonprofit to a 30-employee education and advocacy organization that serves immigrants from all over the world.
CHIRLA's staff runs more than a dozen programs to help educate immigrants about their rights, offer legal aid referrals, provide leadership training to immigrant youth, assist in employee/employer disputes, and improve race and ethnic relations in the city. "Salas has sought to build on a bipartisan consensus that our current immigration system is broken," then-President Susan Prager noted when Occidental awarded Salas an honorary degree in 2007.
Interviewed for the OxyCorps oral history project in June, Salas said that her Oxy education gave her "an academic framework for what my life was about. … It gave me a lot of tools to understand my world."