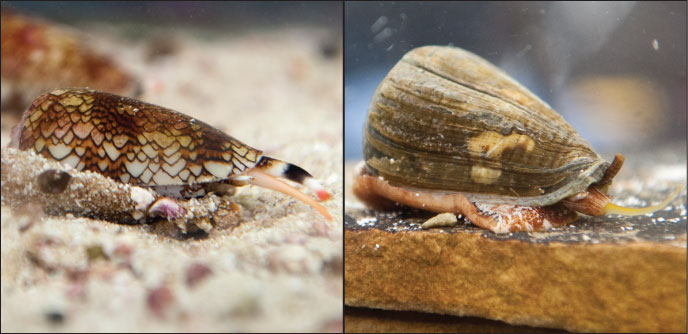 Oxy's marine biology program studies California's near-shore environment
Among its peers, Occidental boasts one of the most prestigious marine field programs on the West Coast. One of only a handful of liberal arts colleges nationwide to offer such a hands-on experience, Oxy's wealth and depth of faculty expertise, undergraduate research opportunities, and proximity to the Pacific Ocean give the College an edge in nurturing future scientists.
Oxy's marine biology faculty's groundbreaking research has been highlighted in scholarly journals as well as in The New York Times. They include assistant biology professor Shana Goffredi's ecophysiological research of the Osedax, a deep-sea worm; associate biology professor Joseph Schulz's work on the evolution and possible biomedical use of venom peptides in predatory sea snails; and biology professor Gary Martin's research on the morphology of a marine gastropod that produces a protein that may help treat cancer.
More often than not, Oxy undergraduates have helped faculty conduct research—an opportunity at other colleges and universities given only to graduate and doctoral students. Consequently, Oxy marine biology students spend more than 100 days a year on one of the College's four research vessels, and have conducted research off the Hawaiian and Southern California coasts. They have also frequently presented their findings at national and international conferences.
Student researchers, for example, have donned scuba gear to help associate biology professor and marine biology department chair Dan Pondella '87 survey kelp forests and profile shallow ecosystems off the Southern California coast. Pondella heads the College's Vantuna Research Group, which has been monitoring and researching the marine environment of Baja and Southern California since 1966. His most recent research is part of a federal and state-funded study to profile Southern California's marine ecosystems and document ecological change and human impact.
"Oxy is significantly different from most other institutions, especially in marine science," Pondella says. "You don't get to do undergraduate research at a big research university."
Not surprisingly, the College's marine biology students have gone on to top marine science labs, including the Woods Hole Oceanographic Institution and the Scripps Institution of Oceanography. "Our students have done well," says Martin, who joined the Oxy faculty in 1980. "For students who want experience in marine research, we are hard to beat."
The College's rich marine biology program dates back to 1907, when zoology professor Calvin Esterly, a founding member of what's now the Scripps Institution of Oceanography, taught Oxy's first biology course. In 1959, John Stephens Jr., the former John Irvine Professor of Environmental Biology, developed a marine program that focused on in-field studies of near-shore fish in the Southern California bight, and established the Vantuna Research Group soon after. He instituted the long-term monitoring of reef fishes at Rocky Point in Rancho Palos Verdes and Redondo Beach's King Harbor—now the longest continually studied reefs in the world.
The College—a member of the Southern California Marine Institute, a consortium of 11 colleges and universities that study the state's near-shore environment—also is helping to expand marine science education and research in the state. As head of SCMI's board of directors, Pondella has been instrumental in the development of City Dock One Marine Research Center, the nonprofit oceanographic institu­tion's proposed 28-acre oceanfront campus in San Pedro that was unveiled in May after three years of planning.
Oxy students would have access to a variety of marine programs in the new complex, which will include research vessels, high-tech labs, and a wave tank that will help researchers study sea levels, sea shifts, and the effects of tsunamis on the Pacific Ocean. "Expanding the depth and breadth of opportunities for our students is part of our strategic plan, and another important chapter in Oxy's storied marine biology program," Pondella says.—Rhea R. Borja