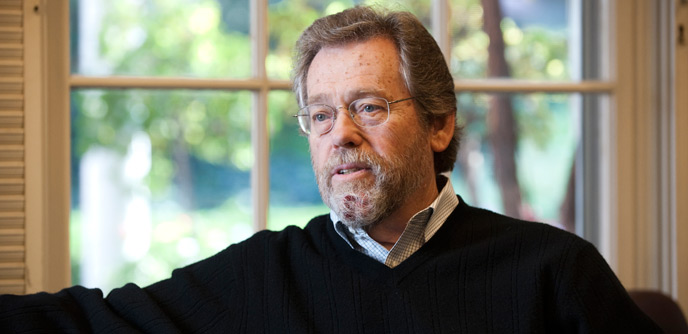 Oxy's Architect of Admission, Verbatim
William D. Tingley, who transformed Occidental's admission and financial aid programs as the climax of a distinguished 43-year career, died July 27. He was 71. In bolstering Oxy's financial stability, student retention and graduation rates, as well as the success of its athletic program, Tingley shaped the College's 21st-century profile as much as any of the five Oxy presidents with whom he served. In an interview with freelancer Andy Faught for the "Oxy After 100" article in the Summer magazine weeks before his death, Tingley reflected on the cap­stone of his career, and Occidental's place in higher education. May his contributions long endure.
Each of my first few years at Occidental, when I gave a report at the alumni Volunteer Leadership Conference, I was reporting significant upswings in applications and significant improvement in our academic profile. At the same time, I was able to report a strong commitment to diversity and strong alumni support of the College. I knew that Occidental was basically strong at its core. Admission and financial aid programs simply needed to be managed in a more effective way to convey that. We needed a unified approach at the top leadership of the College, and I think I was able to contribute to that during my time there.
I believe we did a more effective job describing the strengths of an Occidental liberal arts experience. So, students were choosing Oxy for some of the same reasons as in past years, but they were doing it more readily because the story was being conveyed more persuasively to them. Right off the bat, we made being located in Los Angeles a strength. We wanted people to recognize this is one of the main reasons they ought to choose to come to Occidental—its urban setting and the rich array of opportunities available to them. There were certain admission strategy periods where they tended to play down the urban setting because the city was going through some tough times with riots and fires and earthquakes. We were fortunate to build on that.
Perhaps my greatest satisfaction in the time that I was there was the opportunity to build a strong and stable admission and financial aid staff that was so needed at the College. I have confidence in them. The dramatic turnaround we were fortunate to be a part of from 1997 until I retired in 2010, I think put the College in a position to be successful in the years, and decades, to come.
It isn't going to be easy for any college of our type, because we're so expensive. Occidental is going to have to continue to improve, continue to offer a quality experience that students can only get at a few places, and be able to help families who have financial difficulties making it through. Those decisions will ultimately determine how successful the College is. [And my philosophy is:] Don't make mistakes when you can get it right.