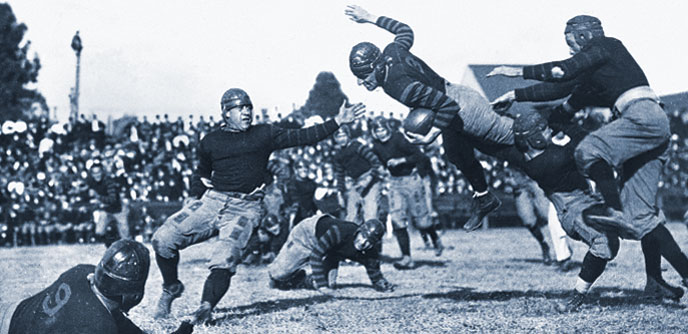 As Occidental prepares to induct its inaugural class into the Athletics Hall of Fame during Homecoming & Family Weekend, the playing field has never been more level for men and women. And today's student-athletes are primed to play
Ice hockey is not a sport one typically associates with the Occidental experience. But in the spring of 1926, a nine-man squad led by captain Hugh Noble '28 took to the then-new Glacier Ice Palace, "a huge barn of a wooden structure" located at 613 N. Van Ness Avenue in Los Angeles, for a six-game schedule that included dual contests with USC and UCLA, with games against a pair of local amateur teams—the Auto Club and Fawnskin—rounding out the schedule. Under the guidance of former hockey pro Bernie Morris, the inexperienced team was expected to "put up a stiff battle against its strong opponents," as a Los Angeles Times sportswriter put it.
While it never matched the popularity of the College's flagship sports—baseball (dating back to 1891), track and field (1892), football (1894), and basketball (1904 for women, 1906 for men)—ice hockey managed to skate by for a full decade before student interest melted away. But beyond the aforementioned sports, Oxy has never had an organization in place to commemorate all athletic achievements. Until now, that is.
Which is not to say that Noble and his successors (who at one point lost 22 consecutive games) will necessarily have their day in the sun again. But the creation of a new Occidental Athletics Hall of Fame aims to remedy other oversights by honoring the College's deep sports history. "We have several sport-specific hall of fames that are thriving, but no all-encompassing, all-sport hall of fame to celebrate so many years of incredible student-athletes, coaches, and teams," says Occidental athletics director Jaime Hoffman.
Oxy currently fields 21 active varsity teams, many of them newer women's programs without the century-plus history of many of their male counterparts. It also has a heritage of Olympic athletes whose achievements fall outside Division III parameters—beginning with 1895 alumnus Alphonzo Bell (page 13), who won silver in men's doubles tennis at the 1904 Summer Olympics in St. Louis. Those achievements—as well as those in long-established club sports such as rugby—will be eligible for hall inclusion.
The inaugural class of eight will be inducted in the Occidental Athletics Hall of Fame on October 26 during Homecoming Weekend at a dinner and awards ceremony in Jack Kemp Stadium. Among this year's inductees are Oxy's all-time baseball wins leader, Bud Teachout '27; two-time Olympic gold medalist Sammy Lee '43; two silver medalists in track and field named Bob, McMillen '53 and Gutowski '58; a pair of former pro football quarterbacks, Jack Kemp '57 and Bill Redell '64; USC's fabled "maker of champions," Dean Cromwell 1902; and the only woman to win a varsity letter after competing on a men's team, Pat Yeomans '38. (Their stories begin below.)
While Occidental has been coeducational since its founding, women's sports got the short end of the relay stick for the better part of its first 75 years. For much of that time, sports such as archery, field hockey, horse riding, and swimming fell under the purview of the Women's Athletic Asso­ciation, a student-run organization that existed to keep girls fit and prepare them for a possible  career in physical education. Although most sports were played within the confines of the College, Oxy's WAA would work with similar organizations at other area schools to plan hikes and field days (where girls would engage in friendly competitions during the day and have a picnic at night).
It wasn't until 1961, when Occidental began SCIAC play in basketball, cross country, softball, and tennis, that the College offered an extensive slate of intercollegiate athletics opportunities for women. In 1976, four years after the passage of Title IX, the SCIAC added swimming and diving, track and field, and volleyball to the mix. Today, Oxy fields 11 women's teams and 10 men's teams; in the 2011-12 season, 248 men and 183 women participated at the varsity level.
For the nearly 25 percent of undergraduates that play varsity sports, the decision to come to Oxy was one that placed a premium on a balanced liberal arts experience.
"It definitely changed the way I look at baseball a little bit," says Logan Allen '13, a kinesiology major from Atascadero and an All-West Region shortstop for the Tigers. "Realistically you're not going to be playing baseball for the rest of your life, so it taught me that it's good to be at a good school, because that's what you're going to be doing for the rest of your life."
"Of the schools I was looking at, Oxy gave me the best balance of everything—academics, athletics, and a social life—and I didn't want to have to choose between them," adds psychology major Liz Little '13, a captain on the women's basketball team, winner of three SCIAC titles in three years. "Here I feel like I can be a strong student, a strong athlete, and have friends."
The same goes for All-American women's water polo goalie Rachel Adeleye '13, a critical theory and social justice major from Elizabeth, N.J. Adeleye studied abroad in Brazil for a semester and picked up a second sport this fall, joining the women's soccer team as a backup goalie after head coach Colm McFeely approached her about trying out for the team.
"I said, 'Hey, why not? It might be fun to try this out again,'" says Adeleye. "It fit my lifestyle, because I love sports and I love being active. The fact that Oxy is D3 really afforded me the opportunity to fit in with another group on campus." It's a similar philosophy that drives the new Athletics Hall of Fame—one home for every Tiger.
Michael Wells contributed to this story.
Bob Gutowski '58
Gutowski was seen primarily as a basketball player at Oxy until coach Payton Jordan spotted his potential as a pole vaulter. He went on to win a silver medal at the 1956 Olympics and set a new world record of 15'8 1⁄4" at an Oxy-Stanford track meet the following year. (His all-time best, 15'9 3/4" on steel pole, remains the world record on steel to this day.) A two-time NCAA champion in pole vault (1956, 1957) and North American Athlete of the Year for 1957, he also placed in Nationals in the long jump and triple jump, and was NAIA champion three times in pole vault and triple jump. Gutowski died in a single-car accident in 1960.
"When I transferred to Oxy as a sophomore, Chuck Coker told me that I was going to have to start lifting weights. Back then the weight room was located down underneath the old gym, where the boiler room for the swimming pool was. So when I walked down there the next day, there was this little guy in there lifting, and I asked him if he could spot for me. Well, not only could he outlift me, he was the strongest guy I'd ever seen. And when Coker told me, 'That's Bob Gutowski,' I just about died. N He and I got to be friends, and when we were going to try out for the Olympics team in 1960, Bob was working out on our track a lot, and we made up our own little decathlon so we could be somewhat competitive. We had left-handed shot putting, and how far could you roll a discus, and so forth. I couldn't pole vault two inches, and he could only throw the shot so far."—Oxy Track and Field Hall of Famer Glen Johnson '61
Pat (Henry) Yeomans '38
Pat Yeomans became the U.S. Girls' singles and doubles champion in 1935. She played her way to No. 1 on the men's freshman team at Occidental before being forbidden to compete by the head of the Women's Society (she was the first woman awarded the Oxy "O"). Yeomans swept the College Girls' Invitational in 1936 and 1937, the "unofficial" intercollegiate tournament of the era. She was inducted into the Intercollegiate Tennis Association Hall of Fame in 2000 after a lifetime at the top of the sport as a player and advocate.
"Pat and I have been competitors since we were juniors—from about age 10. She has always been a smart, steady player with beautiful strokes. I have probably played more matches against Pat than any other player! Pat has always been a champion for women's tennis over the years, but especially for senior players. She has been instrumental in getting the U.S. Tennis Association to sanction the 'more mature' events—the 70s through 90s divisions. When we ­started playing senior events, there was only a 50-and-over division. As the two of us got older, I believe that older events were added because of Pat's work on behalf of the players. N Pat is a crusader who unselfishly, graciously, and tirelessly gets things done with a smile. She writes wonderful articles and is quite a ­historian. And, to top it off, she is also a great bridge partner."—Dorothy "Dodo" Cheney, women's tennis legend and America's No. 1 90-and-over player
Sammy Lee '43
Sammy Lee became the first Asian-American male to win a gold medal when he topped the platform diving competition at the 1948 Olympic Games in London. He added a bronze in springboard diving that year, then repeated as the platform champion at the 1952 Helsinki Olympics. In 1953, while serving in the U.S. Army Medical Corps in Korea, he was named the outstanding amateur athete in the United States by the Amateur Athletic Union. Lee would later coach the 1960 U.S. Olympic diving team, the 1964 Japanese and Korean teams, and medalists Pat McCormick, Bob Webster, and Greg Louganis.
"Watching Sammy off the diving board was amazing. By the second semester of our freshman year, he was doing things I had never seen. That semester, we went to the swimming championship at Pomona College, and all of a ­sudden Coach Dennis realized he didn't have a fourth man for the relay. So he asked Sammy Lee if he would swim 100 yards for the third leg. He went out like Johnny Weissmuller and by the third lap was Tommy the Turtle. He couldn't brush his teeth or comb his hair for a week."—Bob Malcolm '43, Lee's swimming and diving teammate
Jack Kemp '57
Despite the Tigers' 3-6 record his senior year, Kemp was the nation's No. 3 small college passer, an All-SCIAC pick, and a Little All-American honorable mention. (He held the Oxy record in javelin to boot.) A 17th-round draft pick by the Detroit Lions, Kemp played 13 years in the Canadian and American football leagues, winning the AFL's MVP honor after he led the Buffalo Bills to their second straight title in 1965. The nine-term congressman ran alongside Bob Dole on the 1996 GOP presidential ticket.
"Jack was a very competitive kind of guy. He didn't like to take ­second place in anything. In the fraternity I don't recall that he took an office—I think he was my campaign manager—but he was always at the front of the table giving opinions. Jack had a ­physical bearing that commanded a certain amount of respect. He brought up the subject that 'We don't have any minorities in ATO, let's get some.' So Jack brought in Ron Bochin—who was Jewish—and a Mexican dude. That was sort of breaking the glass ceiling. There weren't a lot of minorities at Oxy in the 1950s, but we were sensitive to it. Partly that's derived from football teams—you're in the trenches with other minorities. And you don't want that to end when the game is over."—Russell Ray '57, teammate, ATO brother, and member of Oxy's "Fearsome Foursome"
Bob McMillen '53
At the 1952 Olympics, Bob McMillen produced one of the most dramatic finishes in Olympic history during the 1,500-meter final at the 1952 Games. Trailing at the back of the pack, McMillen put on a burst of speed in the last lap that almost caught front-runner Joseph Barthel at the tape. (McMillen missed gold by one-tenth of a second.) McMillen won an NCAA championship at Oxy in the 1,500, and was on a distance medley relay team that set a new world record. He also defeated Roger Bannister (the Englishman who was the first to break the four-minute mile) three times in the Olympics.
"Bob was probably one of the most fun-loving guys who ever existed. Sometimes he was a little juvenile: We'd play cops and robbers and cowboys and Indians and all that stuff. But he had a switch in him when he was gonna work out or run—he could switch and be the most concentrated, focused person, not fun-loving at all about the business of running. John Barnes went to the Helsinki Olympics in the 800 meters at the same time Bob was there, and I can remember Bobby Mac and John would do kind of unusual workouts. We went up to a place in Fillmore, which was wide open at the time, and John and Bobby Mac would go out and chase the rabbits. I don't know that they ever caught one, but they would take advantage of any place they were to get a workout."—Oxy track and field teammate Phil Schlegel '52
Dean Cromwell 1902
A native of Turner, Ore., Cromwell competed in track and cycling and played baseball and football at Occidental. His multi-sport prowess led the Helms Athletic Foundation to name him Southern California Athlete of the Year in 1901. Nicknamed "Maker of Champions," Cromwell led USC to 12 NCAA team championships and 34 individual titles from 1909 to 1948 as the Trojans' track and field coach. An assistant coach with Team USA at the 1928, 1932, and 1936 Olympics and head track coach at the 1948 Games, he even posed for this publicity still, left, with a young Greta Garbo.
"He was [one] of the turn-of-the-century men who made Los Angeles a symbol of growth and accomplishment. These builders and shapers attracted national attention to the town. Cromwell caught the imagination by fashioning champion­ship teams at an obscure school. Others created harbors where none existed, and brought water across deserts, and changed the very face of nature here. Among them they built a metropolis and made it famous in almost every field. Cromwell made his indelible contribution to the Los Angeles-that-grew with the national acclaim accorded his champions."—From a Los Angeles Times editorial, "Dean Cromwell, One of the Mighty Men," following his death in 1962
Bud Teachout '27
At 30-6, Oxy's second-winningest pitcher (as measured by total wins), the 6'2" Teachout also played right field because of his good bat and strong arm. After pitching Franklin High School to a state championship in 1923, he went 23-0 in conference play as the Oxy baseball team's ace from 1925-27, leading the Tigers to three SCIAC crowns. After being signed by Detroit with a $5,000 bonus, the southpaw played for two seasons with the Chicago Cubs and one with the St. Louis Cardinals. The only Oxy pitcher to win a game in the majors, Teachout died in 1985, one year after his induction into the Occidental Baseball Hall of Fame.
"As my varsity baseball coach at Glendale High School, Bud Teachout was not demonstrative—and I don't mean that as a negative. We knew he had played pro ball, but he never talked about that. In that sense he was humble, not reciting his past history to impress us. He was very methodical in trying to get me to hit the ball into right field, because the left-hand curve was always coming in on me. One of our pitchers, Ray Highsmith, went on to play for Stanford, and he was a lefty—maybe old Bud had some influence on him."—Gary Hess '56, a three-time all-conference outfielder for the Tigers, and one of this year's inductees into the Baseball Hall of Fame on November 17­­
Bill Redell '64
One of college football's last great "triple threats," Redell guided Oxy to 13 wins in his two seasons (1962, 1963) at quarterback, passing for 1,567 yards and rushing for 1,583; recorded seven career pass interceptions on defense; and made 36 of 43 extra-point attempts as the Tigers' placekicker. Named to the NAIA All-America team in 1963, Redell spent six years in the Canadian Football League, leading the Hamilton Tiger-Cats to a Grey Cup title in 1967. After years as a college assistant, Redell became a head coach at the high school level. In 1991, he built the football program from scratch at Oaks Christian High School in Westlake Village.
"Bill could do everything on the football field. 1962 and 1963 were the last years of single-platoon football in colleges, meaning that everybody had to be able to play offense, defense, and special teams. Bill was the starting quarterback, defensive back, and kicker. And he was our leader. We elected our captains, but it was unnecessary because we all knew who the captain was. And he was tough; he took a pounding every game, but I don't recall that he ever missed a play. He could have been a success in any sport he chose, but he was born to be a football player, and no one did it any better than the Falcon. None of his old teammates were surprised that he was a great high school coach, and we all believe he will be a winner at Oxy."—former Oxy teammate Tim "TK" Scanlan '65