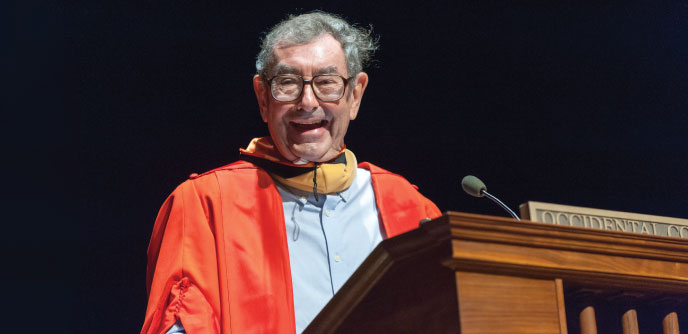 As a new school year dawns, Swan Hall reopens its doors, Oxy's website gets a makeover, and Peter Dreier goes five minutes with Bill O'Reilly. Here's what you might have missed
Big orange paws, parents toting furnishings, and hundreds of first-years attempting to line-dance: These are only a few of the sights characteristic of the start of the new school year. But Oxy was anything but quiet over the summer. Here are a few of the highlights as the College began its 126th academic year.
After 18 months of exile, Oxy faculty moved back into historic Swan Hall. The 98-year-old men's dormitory-turned-office space has had a $19-million makeover—a complete renovation of the original building and construction of a new 22,500-square-foot wing that more than doubles its size.
"The offices are large and comfortable, the lighting is well considered, the configuration of the offices allows for both social space and privacy, and the conference rooms are generous and convenient," says English and comparative literary studies professor Michael Near. But the unusual floor plan that gives the original building its "labyrinthine quality" remains largely intact, he adds.
While faculty from American studies, ECLS, history, politics, psychology, and sociology are happy to leave trailer life behind them, the two temporary complexes they occupied during construction won't be going away soon. They are now home to the faculty and staff of Johnson Hall, who have been moved to allow for construction of the new McKinnon Family Center for Politics and Global Affairs.

The renovated and ex­panded Swan will be dedicated during Homecoming & Family Weekend on October 27.
Oxy's virtual home has a new look as well. After more than 18 months of planning, www.oxy.edu went live in time for the All-Class Reunion with several thousand pages completed and ready, as well as an upgraded content management system and hosting platform "which will allow us to keep the site updated for years to come," in the words of Brett Schraeder, associate vice president for strategic initiatives. "It is a vast improvement over the previous oxy.edu site in its ability to tell the Oxy story both visually and textually in a compelling and substantive way." If you haven't checked it out yet, get to surfing.
A Caltech chemist proclaimed Oxy "the best." In his Convocation speech on August 29, Harry Gray told the Class of 2016, "You guys are, in my opinion, at the best college on this planet. I've interacted with Oxy over many years, and your faculty are a tremendous group to work with."
To demonstrate his regard for Oxy faculty, who were seated behind him on the Thorne Hall stage, the Beckman Professor of Chemistry and National Medal of Science winner led first-year students in a prolonged standing ovation.
Gray, who was presented with his 17th honorary doctorate by Oxy President Jonathan Veitch, was praised for revolutionizing the study of the electronic structure of small molecules, and, through his search for new applications of solar energy, placing inorganic chemistry "in the vanguard of scientific action to solve the most important problems in biology and sustainable energy."
Oxy has been a formal academic partner with Caltech since 1954, when the two schools launched their 3/2 program in the liberal arts and engineering. Students at both schools also can take classes at each other's campus.
Peter Dreier went mano a mano with Bill O'Reilly. On August 8, Dreier—the Dr. E.P. Clapp Distinguished Professor of Politics and author of The 100 Greatest Americans of the 20th Century: A Social Justice Hall of Fame—prepared for his visit to "The O'Reilly Factor" by assembling a list of folk singer Pete Seeger's political and cultural accomplishments. "But it was clear from the get-go that Bill didn't want to talk about Pete Seeger," Dreier subsequently wrote on his blog. "He wanted to talk about why I called him a 'right-wing buffoon' and paint me as an example of the alleged left-wing bias rampant on America's college campuses today."
"I didn't go on 'The O'Reilly Factor' thinking that I'd persuade most of Bill's loyal viewers … about the importance of Eugene Debs, Jane Addams, Walter Reuther, Dorothy Day, Martin Luther King, Saul Alinsky, Ella Baker, Betty Friedan, and Pete Seeger," he wrote.
 "But I was pleased to also get a handful of emails from 'O'Reilly' watchers who said they'd buy the book." Within minutes of Dreier's appearance, sales of his book spiked dramatically on Amazon.com. But check out the debate on YouTube. We'd call it a draw.