Remembering former trustee Dave Roberson '63 and tradebook buyer Dennis Johnson
A Tiger With a Song in His Heart
Although illness would prevent him from attending, Dave Roberson '63 played a key role in his 50th class reunion in June, preparing and delivering 30 copies of the 1963 fraternity spring sing CD, paying for the development of Tigers football game films shown prior to the reunion dinner, and providing transportation that made it possible for track and field coach Jim Bush to come. Roberson—who died July 20 at his Newport Coast home—attended Orange Coast College for one year before transferring to Oxy on scholarship. A political science major, he played football, ran track, and performed in spring sings with his Alpha Tau Omega brothers. Following service in the U.S. Coast Guard Reserve (where he also played clarinet in the band), Roberson began selling personal life insurance, and then formed his own firm in 1975 specializing in estate insurance planning and corporate benefits. A trustee at Occidental from 1998 to 2005, Roberson is survived by his wife of nearly 49 years, Linda; daughters Cari Coleman and Wendi Bowers; son Jim Roberson; and nine grandchildren.
Oxy's Champion of the Printed Word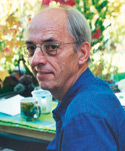 Dennis Johnson, tradebook buyer for the Occidental Bookstore from 1987 until his retirement April 30, died September 14. He was 73. A 35-year employee of the College, he built an award-winning department that was an invaluable resource for students and faculty, and discerning readers far and wide. Johnson "knew that a good bookstore for browsing is as important to a great college campus as is the library," politics professor Roger Boesche observed, while associate professor of art history and visual arts Mary Beth Heffernan added, "Dennis' passion and commitment to rigorous books put Oxy on the art-world map." In 1991, Johnson received the Sarah A. Gilman Award for outstanding service to the College. A native of Eagle Rock, he is survived by his daughter Jennifer and granddaughter Charlotte, a graduate of Oxy's Child Development Center.