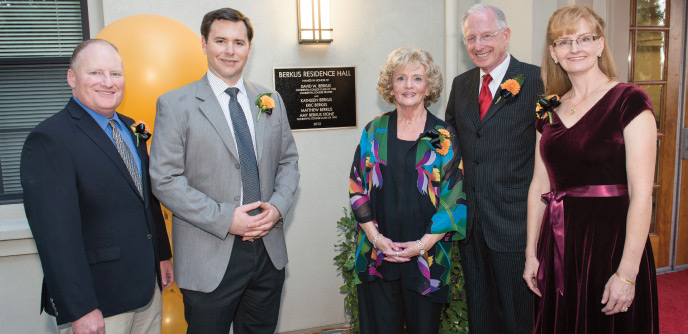 Oxy's largest residence hall gets a new name in recognition of the generosity of David Berkus '62, wife Kathleen, and the Berkus clan 
Occidental's newest, largest, and most popular dormitory was formally dedicated as Berkus Hall on September 29 in recognition of a $5-million gift from David Berkus '62, wife Kathleen, and their family to create a new technology endowment. Berkus, a prominent venture capitalist and longtime College trustee, played a major role as a member of the board's buildings and grounds committee in the development of the 5-year-old, 274-bed residence hall formerly known as Rangeview Hall.
"For 55 years, Occidental has been the beneficiary of the involvement of Dave and his family on every level, from student to trustee," President Jonathan Veitch said during a ceremony tinged with laughter and showered with confetti. "Their willingness to give of their time, their talent, and their resources has left us deeply in their debt."
When the president challenged him to think about a naming gift for the residence hall, "'Impossible!' is the polite way to characterize my response," Berkus said. "But it challenged me. I couldn't sleep well that night. Or the next night."
Although he graduated just a few months before Occidental acquired its first computer, Berkus has been a major advocate for the creative use of technology at Occidental, Veitch noted. And the demand has never been greater, said Marsha Schnirring, Oxy's associate vice president for scholarship technology, with a campus that includes 1,500 College-supported computers and 500 wireless network access points.
The gift from Dave and Kathleen Berkus and children Eric, Matthew, and Amy '95 "will ensure that Occidental will continue to be a premier educational, residential, and technological experience for our students," Schnirring said.
According to Veitch, Berkus had one other, non-technological reason why he was interested in naming Rangeview Hall, which sits next to the Sigma Alpha Epsilon fraternity house. "When we were talking to Dave about the various possibilities, it was he who suggested this building because, as he said, it looms over the SAE House. As a loyal Kappa Sig, he was very interested in putting his name on something that looks down on the SAEs," Veitch said with a grin.
In 2008 the former Kappa Sigma fraternity house at 1601 Campus Road—now a student residence—was named Berkus House in honor of a gift of $1.25 million to the College's endowment.
"I got a great education here," Berkus said. "I owe a lot to Oxy."