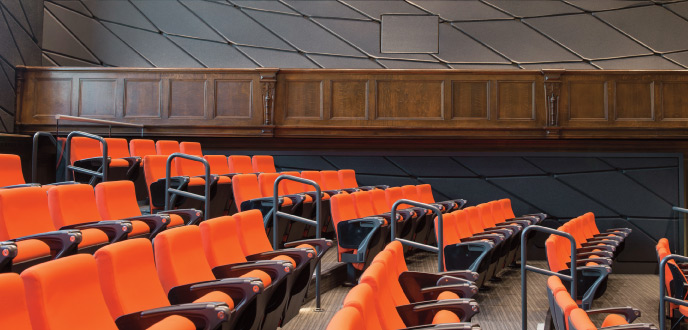 With bold colors, reimagined interiors, and 21st-century technology, Johnson Hall and Johnson Student Center reopen to new possibilities 
Since its first incarnation nearly 100 years ago, Johnson Hall has been at the center of activity on campus. While the Myron Hunt-designed exterior has weathered generations of Oxy students, faculty, and staff, H.C. Chambers' interiors have been more malleable to technological advances and the ­College's pedagogical needs. As time marches on, the cost of keeping up Johnson has gone up. The original structure was built at a cost of $118,425 in 1915. A 1981-82 makeover was ticketed at $1.75 million.
Now, the latest—and greatest, if first impressions mean anything—iteration of Johnson Hall has opened its doors, after a year of construction at a price tag of $11.7 million. And it has a new identity as well: the McKinnon Center for Global Affairs at Johnson Hall.
The four-story structure offers a number of surprises to returning visitors, including a Great Hall that will serve as the heart of global activity at Oxy; the Global Crossroads, a content-rich high-tech amalgamation of student and faculty research; and the Choi Auditorium, which reimagines the old Johnson 200 classroom space as a showcase for major speakers and events as well as everyday classroom teaching.
If that wasn't enough new for one semester, the opening of the Rose Hills Foundation Student Activities Center on the first floor of Johnson Student Center in August ushered in a centralized home for student life at Oxy. "I'm blown away," says ASOC president Nick McHugh '14. "It's a great community space. I think it'll be a great hub for conversation and ideas."
The Choi Auditorium
In reimagining Johnson 200—the original College chapel, which was last remodeled in 1982 with the rest of Johnson Hall—architects combined the best of the old and new. They restored the original ceiling and wainscoting, removed stucco to expose the east windows, and rotated the seating 90 degrees. Using the latest digital technology, the Choi Auditorium now gives Oxy a showcase space for major speakers and events, as well as classes.
The McKinnon Center for Global Affairs at Johnson Hall
Designed to maximize the College's capacity to educate students in global citizenship, the $11.7-million McKinnon Center renovation has transformed the interior of historic Johnson Hall—one of three original Myron Hunt buildings anchoring the Oxy campus—while creating learning spaces and public venues appropriate to the interactive global society of the 21st century. Faculty, students, and visitors are greeted by the Global Crossroads, a two-story media display designed to highlight student work, Oxy Abroad, faculty research, and pressing global issues. Academic departments and program offices related to global education have been brought together in a single location with the Office for Global Affairs, which was established to spearhead teaching and research on all aspects of global and political economy. The Beaux-Arts exterior of the four-story Johnson Hall remains intact, while the 40,325 square feet within have been entirely rebuilt.
The Rose Hills Foundation Student Activities Center
A lead gift from the Rose Hills Foundation enabled the College to renovate the space on the Johnson Student Center's first floor. The enhancements maximize student interaction with Student Life programming and with key program offices— previously scattered across campus— that advance Occidental's commitment to diversity, career development, and civic engagement. Almost 80 percent of Oxy's 2,128 students live on campus, and most pass through JSC each day.