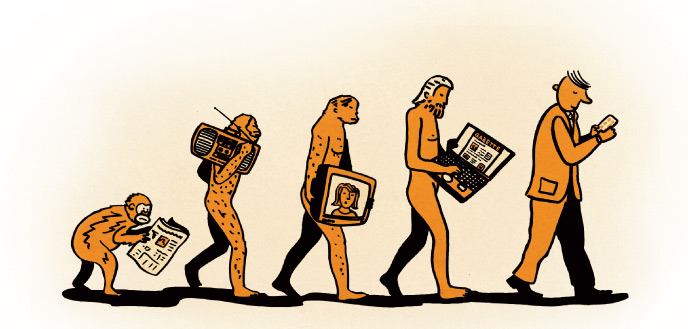 In a world of blogs, tweets, alerts, and clickbait, is there still room for news? Five Oxy journalists working in old and new media are optimistic. Here's why.
By George McIntire '11 | Illustration by Oliver Weiss
In his role as president of Southern California Public Radio, one of the things that Bill Davis '80 has been focused on is developing the next generation of public service media reporters. So he took one of his best young reporters—25-year-old Ashley Alvarado, SCPR's public engagement editor—out to lunch one day and asked her: "What do you want to do in 15 years?"
"She looked me and said, 'Why would you ask me that?'" Davis recalls. "I replied, 'Well, if I'm going to provide mentorship for you, I need a sense of where you want to head.' And Ashley looked me like I was crazy and said, 'My job did not exist five years ago; how can I imagine what my next job five years from now will be?'"
Welcome to the state of journalism. As new technology rewires people's reading habits, many newspapers and magazines have withered in size and influence while new media outlets have emerged that use various models to reach their target audience.
So, what's next? For our first installment of OxyTalk, Occidental talked to five alumni working in different areas of journalism—and at different stages in their careers—to contemplate the future of an industry in flux.
Bill Davis '80 is president and CEO of Southern California Public Radio. He runs one of the few news outlets that has been hiring reporters in Southern California over the last decade.
Berit Anderson '09 is managing editor and associate publisher of Crosscut, a 7-year-old nonprofit news organization that covers the civic and cultural life of Seattle and the Pacific Northwest.
Steve Coll '80 is a two-time Pulitzer Prize winner, staff writer for The New Yorker, and dean and Henry R. Luce Professor of Journalism of the Columbia University Graduate School of Journalism.
Yvette Cabrera '94 was laid off from the Orange County Register in 2012 after 12 years as a reporter/columnist. She's now an investigative reporter for Voice of OC, a nonprofit news agency.
Elaine Woo '76 is a native Angeleno who has written for the Los Angeles Times since 1983. A former education writer, she now writes news obituaries—also known as as the "dead beat."
Occidental: What are some trends in journalism that have affected radio?
Bill Davis: As commercial broadcasters retreat from serious news and public affairs, they created a niche for broadcasters to fill in terms of general news as well as public service journalism. We in public media are not beholden to the cross-subsidization, so we have been able to carve out niches in terms of in-depth, high-quality coverage that used to be a hallmark of commercial news entities. I see an emerging division between commercial for-profits and nonprofits.
Have podcasts and other forms of Internet radio affected radio journalism the way Internet has affected print?
Davis: Podcasts are still a niche play, even within public media. Some podcasts do reasonably well, but it's not anything that's going to make "Morning Edition" or "All Things Considered" lose sleep. What's more interesting are these Pandora-like services for news and information programming. Apple just bought a company called Swell, which uses algorithms to find news and information that might come from NPR or the BBC and aggregates it in a way that's specifically interesting to you. … It's going to require everyone from public to commercial media to rethink their approach providing content.
What differentiates Crosscut.com from other organizations?
Berit Anderson: Our goal is to help educate citizens of the Northwest, provide a forum for them to get involved, and inspire them to participate locally. We don't try and compete when it comes to breaking news. Crosscut does a lot of features, and we're a place where people with different opinions can come together to talk about how to solve a problem.
As a journalist at a nonprofit, what is the benefit of this model and structure?
Anderson: One of the biggest challenges in the news industry is financial sustainability and the biggest draw for a news organization like ours is that [the nonprofit status] gives you a lot more options for fundraising. We're supported by members as well as individual donors, and those donations are tax-deductible. Online ads don't make as much as they used to. Organizations are doing things like creating events, forging corporate partnerships to fill in those gaps, or—if you're Vice—making media for your partners. Nonprofits have way more options as far as what you legally can do.
How is the digital era affecting Columbia Journalism School?
Steve Coll: The big thing is to figure out how to adapt to the digital age of journalism for people embarking on a long career, when technology changes continuously. You can't just teach a series of skills that are going to be obsolescent five years from now. You have to teach deeper knowledge and critical thinking that will survive. What's new is that journalism now requires computational science, data science, coding, and statistics.
What are some interesting projects and initiatives you've seen at CJS?
Coll: Students are carrying out investigative projects that use data or other related forms of computation to do the things that journalists usually do. We had a student last year who's an Iraq and Afghanistan veteran, and he did a project using a laser range finder to measure the amount of fresh produce that retailers were displaying in order to get a tax break, and he was able to demonstrate they were gaming the system.
Are your students leaning toward new media such as BuzzFeed and Vice as opposed to traditional media outlets?
Coll: We have our Career Day every spring, and wandering through it last year, it was a portrait of the transition of journalism. It had all the traditional news outlets and services, and you also had the new media in addition to the nonprofits such as ProPublica. And I would say that the lines were sometimes longest at BuzzFeed. However, there is plenty of interest in the legacy media.
How does a journalist adapt and change to fit the changing state of journalism?
Yvette Cabrera: What I recommend is always focus on the storytelling; the need to be able to tell the story is always going to be the important thing. But photography and video skills—and the ability to create product—are what's going to make a journalist stand out across multiple platforms.
Two years ago, when I was laid off from the Orange County Register, my first instinct was to find a way to stay in the business, and it was difficult. It didn't happen overnight, but I was able to get a position at a journalism nonprofit called Mission and State.
How has the Web changed the way you research, report, and edit stories?
Elaine Woo: On the plus side, I am able to do so much valuable research on the Internet with the emergence of reliable sources. I rely strongly on Google books, saving me many trips to the library, and online databases like Nexus have also been a tremendous boon. The Internet also allows us to post news much faster. On the downside, the speed of the Internet brings new meaning to "yesterday's news." Stories that break early in the day are all over the Web in minutes, forcing us to put second-day spins on what used to be first-day stories in print. It also has given rise to the 24-hour news cycle.
When actor James Garner's death hit an online news site around 11 p.m. one night, I and a couple of my colleagues spent the next few hours trying to confirm it so that we could post the news ourselves. … Most major newspapers follow this policy, but many other media organizations, especially Web-based ones, do not, which makes life difficult for those of us trying to be responsible. The work that responsible journalists do will always be needed. The form that our stories take, whether print or digital, is in flux.
Do new media organizations make you optimistic or pessimistic about the state and future of journalism?
Coll: They make me more optimistic. You see a lot of investment in reporting—that to me is the measure of whether this transition is going to work. So, yes, their audience strategy can involve listicles and algorithms to attract eyeballs, but I understand they are part of a business model. What I see is that new media are investing in the kind of reporting that they see as important. I am encouraged that these innovators see reporting, investigative reporting, and foreign correspondence as essential to their growth.
Cabrera: I'm cautiously optimistic. When I was first laid off, I didn't see many opportunities. This time around when I was laid off at Mission and State, I was amazed at how many new opportunities there were with the nonprofit model. But we still have a long way to go because a lot of these nonprofits are still trying to figure out how to fundraise and how to maintain those funding sources.
Anderson: One good thing is that people are willing to pay for good investigative journalism. But for a long time, there were a lot of people who were very discouraged about journalism—and going to conferences became a group therapy session.
What are the benefits of a liberal arts education in the field of journalism?
Woo: Journalists need a broad-based education because especially at the beginning of a career one will probably be covering a wide range of topics. Oxy definitely taught me how to think and write cleanly and persuasively.
Coll: In the end, a career in journalism is made up of a lot of different attributes. You have to be hungry to report, you have to be willing to go out into the world and ask uncomfortable questions. The one thing that remains at the heart of it is the ability to write clearly and think in a way that allows you to distinguish what matters from what doesn't. And that you can learn through a deeper liberal arts education. 
San Francisco-based freelancer George McIntire '11 wrote "Second Calling" last issue.