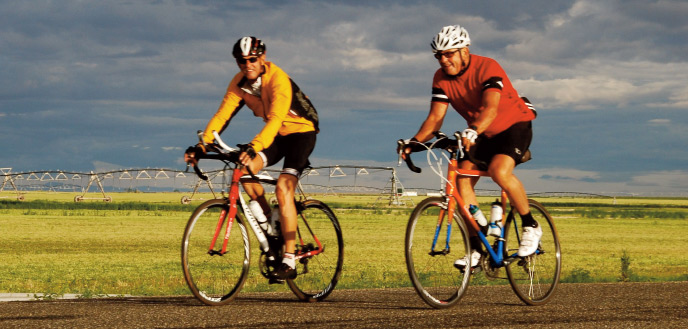 David Farmer '67 could have coasted into retirement—but he took to the road instead for the ride of a lifetime
"What a thrill it is, after 50 motel nights, to have a closet instead of a suitcase, to have a home-cooked meal instead of what passes for a meal at Denny's, and to have my own pillow and wife to sleep with," says David Farmer '67 of San Luis Obispo. After retiring as a partner from the Farmer & Ready law firm this summer, Farmer traded his legal briefs for Spandex and his Prius for a carbon fiber bicycle made by Calfee Design.
Over the course of 50 days this summer, Farmer pedaled 3,667 miles from Astoria, Ore., to Portsmouth, N.H.—from sea to shining sea. He completed this journey in the company of 41 others, with an average daily riding total of 80 miles.
The inspiration was a birthday gift from his Oxy girlfriend, Tina Forster '67—a 1992 memoir by science fiction writer Richard Lovett titled Free-Wheelin': A Solo Journey Across America. In cycling across the United States in the summer of 1986, Lovett "made the trip all alone with no set plans," Farmer says. "By the time I had enough leisure time to do the trip, I was a bit worried that I was too old to go out there alone. I had no friends willing to drive across the country at 20 miles per hour behind me."
So Farmer did the next best thing, signing up for an assisted tour with America by Bicycle, departing with the group June 15. While he continued to provide pro bono assistance in civil matters to underrepresented groups back home, "Thankfully, none of my legal skills were needed on the trip," he says.
The most exciting thing about the trip "was seeing the country at a speed that allowed us to really see the country, and to stop whenever I wanted to talk with the people who live here," he says. "I cannot believe how much corn and soy is grown in the Midwest and how hard folks have to work to make that happen." A close second goes to "jamming down from the Continental Divide at 50 miles per hour into Jackson, Wyo." Another keepsake: having authorities close the Blue Water Bridge to traffic so that his group could ride into Canada from Port Huron, Mich., alone except for a police escort.
The time-management skills that Farmer developed as a student served him well in this endeavor. At Oxy, he says, "I learned when it was time to study, when it was time to participate in sports, and when social life prevailed. Too much of one, and the others would suffer. It was not much different on the ride. Not just eat, ride, sleep—we needed to sightsee, talk to the locals, take photos, do laundry, call home and friends, write letters, swim, and do bike maintenance. Every night we each had to figure out a plan for the next day that would maximize our experience."
Without the support of his family (in­cluding older brother Dixon Farmer '63, a former NCAA champion in the 440 hurdles and Oxy's athletic director from 2000 to 2007), "I wouldn't have been able to make the first mile, let alone the 3,668th," Farmer says. "I made preparation a substitute for the job I had just retired from. I spent more than four hours a day in the bike saddle from February 1 until our start date, knowing that once the trip started that I would be spending up to seven hours riding on some days, only to turn around and ride six hours the next."
Now that he's had some time to rest his legs since completing his odyssey, Farmer's next challenge is to adjust to his new life—  "But to be honest, there is a bike race in New Zealand that is quietly calling my name just in case this retirement thing doesn't work out."—JOY HEPP