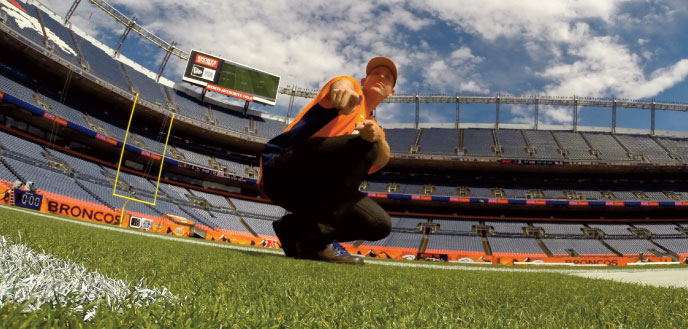 Cassidy Bednark '98 turned a turntable passion into a bankable profession with a mix of persistence, prowess, and more mixtapes than you can shake your booty at. After a decade with the Denver Nuggets, DJ Bedz now has a home with the Broncos as well.
By Dick Anderson
If you were to measure a typical week for Cassidy Bednark '98 in beats per minute, you'd wind up with one continuous jam. The habitually cap-wearing disc jockey—known in the business as DJ Bedz—is on the radio seven days a week in one capacity or another, with mix shows on 95.7 The Party ("Denver's Mile High Hit Music") and 98.9 Magic FM in neighboring Colorado Springs. He also produces performance edits for a variety of dance teams at the high school, college, and professional levels; works the turntables at his weekly club residencies on Thursday, Friday, and Saturday nights; mixes in weddings and the occasional corporate gig; and records and distributes homemade mixtapes in between. "I manage to stay busy," he says.
Things got even busier for Bednark with the kickoff of the 2014 NFL season. When the Denver Broncos opened at home with a Sunday night game against quarterback Peyton Manning's old team, the Indianapolis Colts, Bednark was on the sidelines of Mile High Stadium as the official team DJ—the culmination of a longtime dream. "That first game was like nothing I've ever experienced in my life," he says. "The challenge is [to] simply focus on the task at hand of mixing records together, but it's not easy considering how grand the stage is."
With more than 500 games (and 11 consecutive winning seasons) under his belt as the Nuggets' official DJ, Bednark had been  "actively promoting" his availability to the Broncos long before Tim Tebow ever suited up for the team. "Maybe they just figured it would be easier to hire me than to have to deal with my solicitations every off-season," he says with a laugh. "All kidding aside, maybe they thought it was good timing as a franchise to incorporate that particular element into their in-game entertainment package. And because there's a mutual respect and admiration for the jobs that people do in Denver among those of us that work in the entertainment field, I think they felt comfortable with my experience and range."
Growing up in Boulder, Colo., Bednark came of age at a time when rap and hip-hop began penetrating the mainstream. "When I started to actively listen to music as an adolescent in the mid-1980s, I was drawn to hip-hop immediately," he says. "Musically, it was fresh, it was new, it was edgy. And sociologically, it was such a powerful encapsulation of the pulse of the racial frustrations that existed. Being a kid growing up in a largely homogeneous place, hip-hop was the exact right music at the exact right time for me."
Bednark's first hip-hop concerts were Run-DMC and the Beastie Boys—whose "Walk This Way" and "(You Gotta) Fight for Your Right (to Party)," respectively, crashed the pop charts in 1986 and 1987. A few years later, his mother bought him tickets to see N.W.A, whose "F*** tha Police" was hardly Top 40-friendly. "I had the good fortune to be raised by two amazing parents whom I would warmly characterize as old-school East Coast hippies with a liberal sensibility," he says. "I was always raised to be in tune with the world around me."
With an eye toward the world beyond the confines of the Rocky Mountains, Bednark looked at a wide variety of options when considering college—"large schools, small schools, East Coast, West Coast, Colorado, everywhere," he recalls. "Ultimately I felt strongly about placing myself outside of my comfort zone and really trying to immerse myself in an environment unlike what I had grown up around in Boulder.
"Oxy's urban setting, academic reputation, and commitment to a multicultural curriculum was exactly the situation I was looking for," he adds. "I ended up being a music major with a composition emphasis. Professors [Allen] Gross and [Richard] Gray­son in particular taught me so much." Out­side of the classroom, Bednark tried his hand at everything from basketball and cheerleading to taking Afro-Haitian dance with Elizabeth Chin and serving as a resident adviser for Pauley Hall. He also got his first taste of radio as a DJ on KOXY—which ignited an interest in the ones and twos.
Bednark's parents, their cool credentials intact, eagerly supported their son's passions, "so naturally they decided to get me a turntable for Christmas in 1995 to see if I'd like it," he says. "I tinkered around with it, bought some records, and later got myself a second turntable to complete the pair."
Oxy gave Bednark his first opportunity "to play to real live people in a public setting," he says. "To kick off the school year in September 1996, Pauley Hall threw a party called 'Play That Funky Music.' From there a buddy of mine, Eddie Barajas '99, and I operated under the moniker White Shadow Productions and played an assortment of Greek events, club events, and resident hall events over the next few years."
After graduating from Oxy, Bednark moved to Denver. "I kept DJing, but not as a primary source of income by any means." He worked an assortment of jobs, from waiting tables to being an administrative assistant—all the while producing and distributing "a substantial amount of mixtapes" that led to some steady nightclub gigs.
In 2001, Bednark landed a part-time gig as radio mixer on KS107.5/Denver, and the following year he became the official DJ of the NBA's Denver Nuggets. "At that point I realized that maybe—just maybe—my DJing had the potential to become something more substantial and long-lasting," he says.
Bednark, who just launched his 12th season with the Nuggets, recalls landing the gig as a moment of "cosmic serendipity." "Music and basketball are sincerely the two things in the world that I love the most. Just being able to get to watch my favorite team play basketball while I provide the soundtrack still seems surreal to me."
Since 2008, Bednark has designated 100 percent of the proceeds from his mix CDs to Safehouse Denver, a nonprofit organization committed to the prevention of domestic violence against women and children. "For as long as I can remember, I've felt that domestic violence is a very important and underrepresented cause," he says. "Being affiliated with Safehouse Denver is one of the most rewarding things that has ever happened to me. Occasionally they will ask me to speak on their behalf, as someone who can help convey their message to men and to a younger demographic. I also try to be as creative as possible in thinking of fun, social events to raise donations and awareness."
What's the most unusual request he's ever had? "Where do I start?" he says with a laugh. "People ask me if they can plug in their phones to play music. People ask me if they can jump in and take over. I've had a few polka requests over the years. Literally nothing would shock me at this point."
As the Broncos' official team DJ, Bednark provides a live on-field mix during player warmups, works with the Broncos Cheerleaders, and edits music for their performances.
18 Tunes for the Ultimate Oxy Party
What's a story about a DJ without a sweet music mix? We asked Cassidy Bednark to create a playlist for the ultimate Oxy party—and DJ Bedz delivered.
Michael Jackson / Don't Stop 'Til You Get Enough
Earth, Wind & Fire / September
Marvin Gaye / Got to Give It Up (Part I)
Because there's never a bad time to play Michael Jackson. Classic Motown and old-school disco funk always get people in a good mood.
Rihanna feat. Calvin Harris / We Found Love
Disclosure feat. Sam Smith / Latch
Icona Pop feat. Charli XCX / I Love It
Some poppy house with vocal qualities? Why not? Maybe even a little fist pumping will break out.
AC/DC / You Shook Me All Night Long
Van Morrison / Brown Eyed Girl
Bon Jovi / Livin' on a Prayer
Again, we'll tap into nostalgic party hits—this time with a little rock 'n' roll slant.
Benny Benassi / Cinema (Skrillex Remix)
Flux Pavilion / I Can't Stop
Major Lazer / Original Don (Flosstradamus Remix)
Throw in a few dubstep and trap standards and see how dirty this crowd can get.
2Pac feat. Dr. Dre & Roger Troutman / California Love
Notorious B.I.G. / Hypnotize
Big Punisher feat. Joe / Still Not a Player
Rest in peace, '90s hip-hop legends.
Daft Punk feat. Pharell Williams / Get Lucky
Al Green / Let's Stay Together
Roger & Zapp / I Want to Be Your Man
It wouldn't be the end of the night if you didn't try to set the mood a little bit.
Follow DJ Bedz on Facebook (djbedzfanpage), Twitter (@djbedz), and Instagram (djbedz).