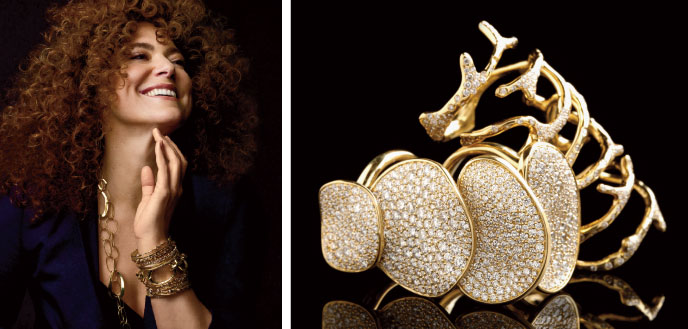 Ippolita Rostagno '86 studied in Italy to be a sculptor. As an English literature major at Oxy, she aspired to be a choreographer. She ultimately found her calling designing luxury jewelry for the modern woman—and turned that into a nine-figure global enterprise
By Samantha B. Bonar
Ippolita Rostagno '86 embraces the concept of wearing fine jewelry in a casual manner. She even sports her usual $15,000 worth of bangles in the shower. Every piece Rostagno designs, she says, must be "cool enough to covet, classic enough to keep."
With a celebrity clientele that includes Kerry Washington, Kate Hudson, Jessica Alba, and Queen Latifah, Rostagno's fashion aesthetic has found favor among a well-heeled customer base. "Ippolita's jewelry is beautiful, sleek, and graphic," Halle Berry told New York magazine in 2012. "Each piece has a sexy, feminine essence."
In 15 years, Ippolita has grown from a startup to the second-largest brand in the $1.1-billion fine-jewelry marketplace, with 2013 revenues north of $100 million. From a single window display in Bergdorf Good­man, Ippolita has added many more charms to its retail bracelet, including Saks, Neiman Marcus, Nordstrom, and Bloomingdale's. In 2007, Castanea Partners, a Boston-based private equity firm, bought a controlling interest in the company. And after opening its first boutique store on Madison Avenue in 2012, Ippolita has since planted its flag internationally in Abu Dhabi and Saudi Arabia, with the possibility of partnerships in China, Japan, and Russia.
It's a long way from the hills of Tuscany, where Rostagno—the daughter of a Chicago-born mother who, as a Smith College undergrad, went abroad to study and wound up eloping with an Italian—spent her childhood immersed in the art and architecture of the Italian Renaissance. "Growing up in Florence definitely shaped my aesthetic," she says. "When everything around you is well crafted, you necessarily favor beauty in all aspects of your life." 
After studying sculpture at a trade school in Florence, she migrated to Silver Lake at age 18 to stay with her aunt, took a job at a bookstore in Beverly Hills, and later applied to Oxy at the suggestion of a writer friend.
"Beauty is no abstraction but a body gently concealed in the warp and weft of syntax."
—Ippolita Rostagno, May 1, 1986 (in Feast)
As a student at Oxy, Rostagno explored her creativity through both poetry (editing the 1986 edition of Feast, the campus literary magazine), and dancing. Not only was she active in Dance Production, choreographing three consecutive years, but she and Anna Stump '86 formed a dance group, Rime, whose choreography revolved around live poetry readings. "I've always been a fan of mixed media art and theater and also in creating identifiable vocabularies, so studying literature helped me pinpoint those interests," says Rostagno, who earned a B.A. in English literature after three years at Oxy. 
After a summer residency with her father's experimental theater company in Venice with Rime, Rostagno moved to New York City, giving choreography a go before taking a job as an assistant to the managing editor at Harper & Row. She also married a fashion photographer and gave birth to daughter Maya in 1988.
After a few years, however, Rostagno realized the book business wasn't for her. "When my daughter was born I decided that I wanted to get back into craft, so I got a bench and started working on small sculptures and jewelry," she says. "I discovered that it came easily, and I was also interested in creating a sculptural language that crossed over into the world of fashion."
Rostagno quickly developed an understanding of the marketplace—how the Bergdorf Goodman customer was "one kind of woman" and the Ann Taylor customer was another. When she discovered that Banana Republic did not have a jewelry line, she cold-called the retailer—without any product—and suggested they go into business together. It was "one of those crazy opportunities," she says.
The venture started in three stores, but grew to 300 in short order. But Banana Republic didn't pay her for her designs—only for the manufacturing. After a few years, Rostagno decided to try to make a line for herself. And what she wanted to do was not costume jewelry like she had been designing for Banana Republic, but "everyday" fine jewelry. She started designing cool, fun pieces that she wanted to wear; jewelry for "me and you."
In 1999, Bergdorf Goodman became Ippolita's first customer. The fashion director saw Rostagno's original designs—oversized, gold pieces that looked more like sculpture than jewelry, and displayed some in the window as an experiment. They sold. Her business grew "organically" from there.

"The very first thing I ever made was an 18-karat 'squiggle bangle,' " she says. Several years of experimentation led to what would become Ippolita's iconic 18-karat-gold collection. Her dedication to craftsmanship and background in sculpture means that every piece of her jewelry is handmade, using tiny hammers and chisels.
Rostagno went from using only gold to using every stone under the rainbow, but her favorite is turquoise. Lately, she says, "I am really attracted by ceramics and enamel over copper, but I haven't found the right way of integrating those techniques into my work. When I slow down one of these days, I'll have to figure it out."
Last February, while in Los Angeles on business, Rostagno came back to Oxy for a "very fun and nostalgic" visit, speaking to a group in Dumke Commons at the invitation of psychology professor Jaclyn Rodriguez. "I love Ippolita's story—her trajectory, her creative and entrepreneurial vision, and her passionate spirit," Rodriguez says. "She is a powerful model for the liberal arts."
When Rostagno thinks of the iconic Ippolita Woman, it is her time at Oxy that may have most influenced that look, seen in many of her jewelry advertisements. "The picture I have in my mind of my muse is a girl in a string bikini with lots of jewelry and a big hat," she says. "I think my years in California helped crystallize that image."