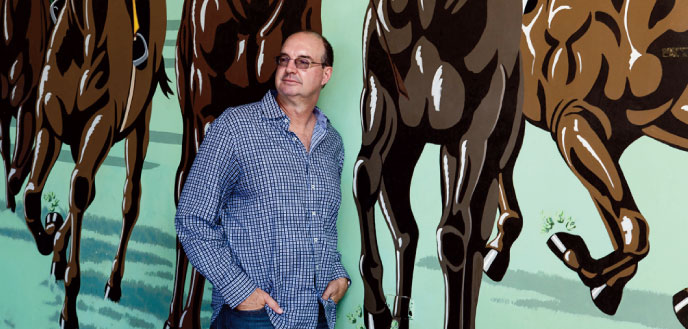 Handicapper Bob Ike '85 has made a career out of picking the ponies. Now he wants to change the game as an owner and online cashier
By Peter Gilstrap
The track wakes up early. As the sun inches toward a dazzling blue morning sky, Santa Anita Park in Arcadia is a hive of activity. Thoroughbreds go through their workout trot with pent-up energy as jockeys bounce in their saddles. Tractors plow stretches of tobacco-brown turf. And the smell of coffee, cigars, and horse manure perfumes the air as various racing characters mill about chatting.
"This is my office," says Bob Ike '85, sitting in the grandstand with the magnificent San Gabriel Mountains looming to the north. "I've been extremely lucky to be able to do something that I love and come out to a place like this and work."
Ike has been a professional horse handicapper since the summer he graduated from Oxy with an American studies degree 29 years ago, his predictions appearing in numerous Southland newspapers.
Now, for the uninitiated whose winner-picking savvy is based on which horsey is prettiest, Ike explains handicapping. "It's basically looking at the horse's past 10 or 12 performances in various publications, learning what distance a horse ran, what class of race it ran, where it finished, and what the times were. You just filter through all that information and try and pick a winner."
Simple enough, right? "Anyone who thinks it's easy is crazy or not telling you the truth," Ike says. "Every aspect of this game is hard."
Ike is a daily fixture during the respective seasons at Santa Anita and Del Mar to the south, near his hometown of Vista, where playing the ponies was an Ike family passion. "My grandmother liked it and my dad liked it, so I started tagging along with them when I was a little kid and just fell in love with the whole thing," he explains. With his aptitude for math and statistics, the Daily Racing Form became his Mad magazine. "I started splitting $2 show bets with a friend of mine when I was 10 or 12," he says. "The handicapping part became fun for me."
Though his 6'6" height nixed a jockey career, it helped Ike land at Occidental. "I was recruited to play basketball. I loved the place and the coaches. And it was 10 miles from Santa Anita," he adds. "I was a shy kid, and it was great for my self-confidence to have some success at basketball."
Brian Newhall '83—now entering his 27th year coaching the men's basketball team—played alongside Ike, whose 1,245-point career ranks sixth among all Oxy scorers. "He had an outstanding career here, and he's in our basketball hall of fame," says Newhall. "There's not a mean bone in Bob's body, and racing is a dicey world. He's consistent in his work, he was consistent on the court, and he's been a lifelong friend."
During college, Ike worked for two summers handicapping for the Oceanside Blade-Tribune. He returned post-graduation, ultimately getting regular bylines in other papers, where his skill at analyzing winners became legendary.
Despite his success at the cashier's window, Ike never quit his day job.  "It can be a roller coaster ride," he says. "Like anything, you're going to have your good streaks and your bad streaks, so it's nice to have an income coming in if you can make a living that way, something that's fairly stable."
When the streaks have been good, Ike has done the near impossible. Twice in his career he's swept the card, picking all eight winners at Del Mar last year and all nine in 2010 at Hollywood Park. "The chances of that happening are mathematically so remote that for anybody to do it once, let alone twice, is really remarkable," says Jeff Siegel, the so-called "dean of California handicappers" and on-air analyst for Horse Racing Television network. "I've never been able to do it."
Siegel and Ike first met as handicappers in the press box in 1985. "Bob knows all the theories and applies them well," Siegel says. "This is really an art form, and he's a very good observer."
In 2008, Ike realized a longtime dream by getting into the thoroughbred business, forming a partnership group with Brett Lindenbaum called Summit Racing LLC. (His horses won two races at Del Mar in 2013—Ike's first victories at his home track as an owner.) More recently, Ike left the ever-shrinking newspaper business to concentrate his energies online. In addition to maintaining bobikepicks.com, his "smart money" website, he and Marc Doche launched horsebills.com, an online bill-paying option for the industry.
"Racing's pretty archaic in that aspect—everything is through the mail, paying by check," Ike says. "We think this is going to make things much more streamlined and efficient." He notes that his business partner's mother, Maryse (Toutounghi) Doche '71, "went to Oxy, so that's a good sign."
After nearly 30 years of winning bets and torn-up tickets, Ike still gets a Runyonesque high at the track. "On the big race days, like Breeders' Cup, I have an adrenaline rush from start to finish. When you're trying to cash out a sizable bet and your horse comes to the quarter pole at the top of the stretch, if you don't get a rush at that point, you're not breathing."
Freelance writer Peter Gilstrap of Los Angeles wrote "Kitchen Nightmares" in the Summer issue.