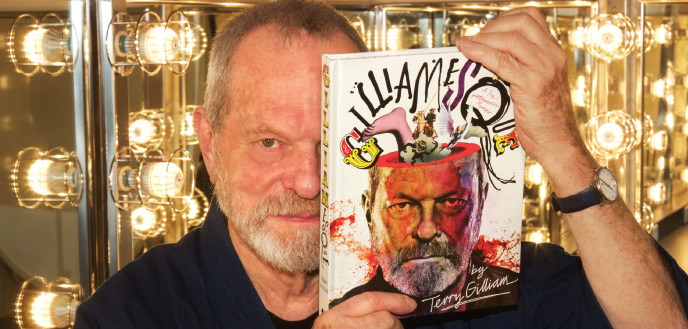 "The advantage of having rich kids around is that they have this thing called privilege … And practical jokes were in their expertise."
—Terry Gilliam '62, recalling his undergraduate days at Oxy
For a guy whom Variety declared dead—a posting gaffe on its website that made international headlines—Terry Gilliam '62 gets around. The Monty Python alumnus/auteur terrible chatted with moderator Sam Rubin '82 at the Alex Theatre in Glendale on October 19 in conjunction with the release of the aptly titled Gilliamesque: A Pre-Posthumous Memoir. Oxy students Sam Page '19, Jackson Beck '18, Brita Loeb '16, and Maddy Farkas '16 (right) wore T-shirts that read "Fangs for the memories—Occidental College remembers Terry Gilliam '62 (1940-2015)*" on the front—and "*Not Dead Yet!" on the back.
"Frankly, the best thing about accumulating wealth is redistributing it to serve others."
—Bill Kahane '70 (below, with his wife, Elizabeth, and their son, Harry), speaking at the October 2 celebration of the Kahane United Nations Program at the Waldorf Astoria in New York City. A $5.5-million pledge from the Kahanes last year will endow Occidental's 30-year-old U.N. program in perpetuity.
"I would get texts at 3 a.m. because Barbara was always thinking about how we could do things better."
—Tim Chang, associate dean of students, on his boss, Barbara Avery, above, vice president for student affairs and dean of students for the last decade. Avery left the College in October to become vice chancellor for campus inclusion and student life at the University of Michigan-Flint.
"People at the networks have good intentions: They want to be diverse, but when they put us in, they don't know what to do with us."
—Cristela Alonzo, comic, actress, and the first Latina to create, produce, write, and star in her own network TV show—ABC's "Cristela," which aired for a single season before its cancellation last May. Alonzo (above, center), participated in a panel titled "I Am Latino in America" moderated by Soledad O'Brien (above, right) on October 15 in Thorne Hall.
"I tell parents, 'Give me your son, and I'll give you a better young man in four years.'"
—Doug Semones, now in his third season as the Tigers' head football coach, to Los Angeles Times columnist Chris Erskine. When he's not herding a 65-player roster, Semones and his wife, Linda, work with rescue dogs and strays—including Helen, below, a blind St. Bernard, whom he regularly walks around the Oxy campus.
Words of Wisdom: Junot Díaz
Ranging from profane to profound, from wisecracking to wistful, author Junot Díaz discussed the complexities and heartbreak of race and identity in America with a ­capacity crowd at Thorne Hall on October 22. For two hours, the ­Dominican-American writer mixed readings from The Brief Wondrous Life of Oscar Wao (his Pulitzer Prize-winning 2007 novel) and This Is How You Lose Her (his 2012 short-story collection) with thoughtful, often self-deprecatory answers to questions from the audience of ­students, faculty, staff, alumni, and community ­members. Inevitably, many of the ­questions related to his craft and asked for advice. "Google 'writer advice' and see how many hits you get," Díaz, 46, replied at one point. "When this ­civilization ends, all that's ­going to be left is porn, cat videos, and writer advice. If I have to add to this apocalypse of advice, all I can say is what every writer already knows: My only advice is to read."